Despite missing eight games last season, Kris Boyd was the Portland Timbers' leading scorer, albeit with a modest seven goals. And while that status is augmented his place as the club's highest paid player, the former Rangers star finds himself out of his team's plans before his first training session with new head coach Caleb Porter, the situation creating a quandary for both player and club.
At least, that's the situation the sides find themselves in after a surprisingly blunt assessment during Porter's introductory press conference.
The 29-year-old striker was signed as a Designated Player during last year's preseason, his $1.5 million total compensation dwarfing the salaries of a team whose next-highest 2012 earner made $356,250 (Danny Mwanga). For that, the Timbers expected a player who would be among the league's leading scorers. Instead, they got a striker who failed to have a consistent impact on games, head coach John Spencer unable to forge a connection between his countryman and Darlington Nagbe.
By the time Gavin Wilkinson stepped in for Spencer at the beginning of July, Boyd was losing his place in the team. Bright Dike started seeing the bulk of time as the Timbers started auditions for Porter' eventual arrival.
With their formation shifting from a 4-4-2 to a 4-3-3, Boyd no longer fit. He finished the year injured and out of the team.
In that respect, it's not surprising Boyd doesn't seem to be in Porter's plans. What is surprising is the nature in which the news was revealed.
During his Tuesday introduction, the tone seemed to change when a reporter asked about Boyd. Porter paused, seemed to consider how blunt he wanted to be, and then offered a euphemism before laying the truth bare, providing a startlingly frank assessment that gave the room pause.
Here's the full question and response:
Q: Coach, can you tell me how Kris Boyd fits into your plans?

A: Kris Boyd is obviously contracted to be a member of the Portland Timbers. But what I will say is after watching him play quite a bit — and I have watched this team play quite a bit — Kris Boyd is a player that I think will have a hard time playing the way that we want to play.

That's no knock on Kris. He would fit in a lot of different systems, but with what I want out of my strikers, it's going to be very difficult for him to offer what I'm looking for in that position.

At the same time, if he comes back and proves that he can offer those things, then certainly he'll be given the chance to play like anybody else. But based on what I've seen, based on certainly what he's shown as a player, it's going to be difficult for him to fit in.
Later, Porter was asked to describe what he looks for from his strikers:
Q: What do you need out of your striker?

A: I like … (my strikers) to score goals.

Q: But there are things that lead to that, obviously.

A: Yes. The striker, to me, is more than that, actually – than (just) scoring goals. They need to fit into the team. They need to be the first line of pressure when we're defending. They need to be obviously a guy that can also be a linking player when we're playing through them. They help with our connection with the midfielders in combination play. They need to be a guy first and foremost who's threatening to the back line.

Ultimately, I prefer a bit more pace-y, athletic, powerful, presence in the striker position. But ultimately, they need to score goals, too.
I'm of two minds about how this went down. There's no doubt Boyd doesn't fit in Portland. He didn't fit under Spencer or Wilkinson, and he's even less likely to fit under Porter. He hasn't contributed anything beyond his modest goal total, has none of the qualities Porter wants in a striker, and seemed an inferior option to Dike, a player who spent part of the summer in USL Pro. Boyd just wasn't very good, and with one of Major League Soccer's few million dollar salaries, he's practically untradeable.
Still, there is an element of message-sending to Porter's response that's disconcerting. An introductory press conference seems a poor venue for singling out spare parts, particularly considering Porter has yet to meet or train with his full team. The coach said he has been in touch with almost all of his players, but he's still a week away from his first practice.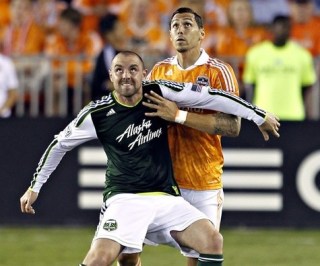 This hugely expensive asset, this player that's "contracted to be a member of the Portland Timbers" – Porter hasn't evaluated him in person, yet. While Portland's new coach eventually said Boyd will have a chance to impress him, the comment seemed more a concession than legitimate opportunity.
But judging Boyd is not the problem here. Porter has also passed judgments on Will Johnson, Michael Harrington, Ryan Johnson, and Diego Valeri – the new Timbers who will to help where Boyd could not. Nobody can begrudge a coach's right to evaluate somebody outside of practice, regardless of whether those evaluations are positive or negative.
How that judgment was delivered is the problem. Whether he was effective or not, Boyd put forth effort for the Timbers last year. Even at the end of the season, when he'd been out of the team for some time, Boyd was reportedly willing to come back an help the team play out a string of inconsequential games. That willingness may seem obligatory given his lucrative contract, but the attitude underscored Boyd's commitment.
In time, we may see this kind of honesty as one of Caleb Porter's virtues. Perhaps he is intent on being open and forthright while trusting us to process the information correctly.
Even by that standard, there was still something strange about how Porter's comments. He made it very clear the Timbers organization wants to move on from their expensive mistake. While that's an understandable position, an introductory press conference may not have been the right platform for that message.