The looming Landon Donovan decision always had two distinct branches where the LA Galaxy was concerned. (Obviously, there's a third big branch here, the U.S. national team implications, but let's stay on mission here.)
First was the obvious, Donovan himself. Was he coming back for a 13th MLS season? What was the impact on a club looking for a historic third consecutive MLS title? What were the ramifications as Donovan chases the league's all-time goal-scoring total? He's not so very far, as I've pointed out several times, from ensconcing himself as perhaps the only man who would ever lead MLS in all-time goals and assists.
(MORE: Donovan will return in 2013…we just don't know when)
But the less obvious consequence was on the Galaxy's choice of third Designated Player.
Just for grins, let's suppose the two men highest on AEG's list were Kaka and Frank Lampard. It's not a completely baseless supposition.
Had Donovan decided to retire or take a longer sabbatical (say, for all of 2013), Kaka would make more sense as the MLS champ's primary target. Go get both players? Sure! It could have raised the financial stakes, but from a personnel standpoint, that seems to work fine.
Today Kaka (pictured below) makes less sense as a Home Depot Center target. Yes, having an attack of Donovan, Kaka and Robbie Keane (the Galaxy's other DP) would create one of the best three-headed goal-getting monsters Major League Soccer has ever seen. (The best since, well, Donovan-Keane and David Beckham, I suppose.)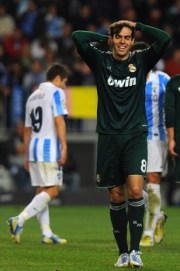 But the overall tactical balance would look skewed, especially if prize center back Omar Gonzalez were to be sold in the next few weeks or this summer, which seems unlikely but does remain a possibility.
In seeking better offense-defense 0balance, a two-way man like Lampard checks the box. As a partner for Juninho, that's a wonderfully effective central midfield waiting to happen.
Lampard's recent revival at Stamford Bridge makes all this a fluid equation; his value keeps ticking upward, never mind that the clock keeps ticking on his 34-year-old legs. But now we're talking about something different, about leverage, value, larger financial considerations, etc.
If we're just talking about what makes sense for the Galaxy, putting Lampard's name the "bulls eye" on LA's target's board makes great sense today.
(MORE: Where Lampard's England ambitions affect his transfer dealings)