Eden Hazard may be a two-time French league player of the year, but after this incident Wednesday night in Wales, the 22-year-old Belgian attacker will always be known as the guy who kicked a kid in the stomach to try and get a ball.
The gif:
I don't know what that ball boy was doing, but short of trying to get a weapon from under his coat ahead of an assault of Hazard, there's no justification for what he got: A kick in the ribs from a professional soccer player. Thankfully, he seems fine.
At the time, Chelsea was just over 10 minutes away from being eliminated from the League Cup, Swansea holding the 2-0 lead they earned at Stamford Bridge. So you can see how Hazard would be upset … if he were a petulant 12-year-old that had never received any guidance from an adult.
More: From new angles, re-Telling the Eden Hazard-ball boy incident.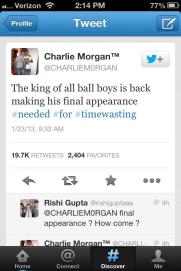 What if the Swans ballboy was trying to waste time? That's something you will hear a lot about, especially given the tweet (right) the ball boy sent out before the game. So we're dealing with two idiots instead of one, but Hazard's actions are still those of somebody who doesn't gasp the limited significance of a single soccer game. And as we saw on Wednesday, that's dangerous.
One guy's a moron. The other assaulted a ball boy. These are two entirely different discussions.
Hazard was red carded, leaving his team to play out the tie's last moments with little chance of coming back. After seeing what their teammate did, Blues' players could be forgiven for wanting to get out of Wales as soon as possible.
Now Swansea are on their way to Wembley to meet fourth-tier Bradford City in the League Cup final, but for the next couple of days, all anybody will want to talk about is one young man who lost his head. Expect Hazard to be suspended for a long time.
EDIT: Excuse me for linking directly to my Twitter account, but you'll find the language of @ChelseaFC's original tweet …
Pathetic. RT @chelseafc Hazard sent off for kicking the ball under ball boy trying to smother the ball rather than return it

— Richard Farley (@richardfarley) January 23, 2013
… that has since been deleted. An accompanying apology:
Apologiesfor earlier ballboy tweet. Hazard has now met with the ballboy and has saidsorry. #CFC

— Chelsea FC (@chelseafc) January 23, 2013