There comes a point in your life when two and a half years seems like "the blind of an eye." That's because you're old. As an infant, two years is monumental – the time you'll learn to speak, walk, and do basic life tasks that will carry you through the rest of your life. In adolescence, it's the difference between fifth grade naiveté and seventh grade micro-maturity. In high school, it's the span between freshman innocence and junior-year consequences.
When you grow up, there's no difference between 26 and 28, 35 and 38, 62 and 64. The spans that redefined your younger self become worryingly irrelevant. You're too busy trying to stop time and avoid birthdays to see those small increments dissolve. The type of changes that spanned two teenage years take decades to manifest as adults.
Two and a half years ago, Wesley Sneijder was being billed as one of the best players in the world. He had just let Internazionale to titles in league, Europe, and Inter's domestic cup. He'd also been a focal point for a Netherlands team that made the World Cup final. Ten months after being deemed surplus to requirements and Florentino Perez's second attempt to make the Santiago Bernabeu cosmic, Sneijder was completely redeemed. The potential that compelled Real Madrid to pry the savant from Ajax finally manifested its brilliance in Italy.
Memories of 2010 resurfaced last week when the 28-year-old moved to Turkey, a long-rumored link to Galatasaray finally coming good. This weekend, Sneijder made his first Turkish appearance in an Istanbul derby against Besiktas, coming off the bench in Gala's 2-1 Sunday victory. Though celebrated, the debut was the denouement of a mini-saga born of a huge contract, fueled by a lingering perception, concluded by the paradox of a move both inevitable and surprising.
Sneijder has never really been the player he showed in 2009-10, even if expectations always cast him as such. But it was failure to meet those expectations that  left out of Manuel Pellegrini's team after the Chilean's 2010 arrival at the Bernabeu. Failed hope led him to be sold to Inter at a loss, to get one of the biggest contracts in Italy after one breakout season, and to being one of the worst deals in Serie A when he couldn't maintain his outlying form. They also let to the gasps, awes, and shock of fans when Sneijder's Turkish move was finally confirmed, Inter also taking a loss.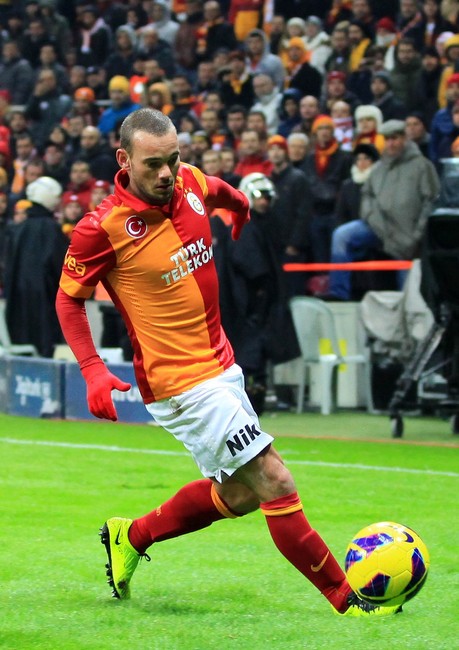 Nerazzurri fans who followed the Sneijder saga weren't surprised by the move, but for others whose relationship with Wesley was still anchored in South Africa, the transfer illustrated our flawed perceptions – two-year-old images subject to the same dilations that separate our infancy from adulthood. As far as time is concerned, professional soccer players may as well be infants for whom and a half years is huge. The time can make Arsenal snipers into Manchester United linch pins, modestly competitive Bundesliga club into enviable projects, and talented right wingers into the best player of all time.
They can also defy our assumptions and make Serie A's best player into a competitive irrelevancy. Some memories want to hold on to visage of Sneijder as an elite player, but with that player now lodged in the annuls of Nerazzuri history, the move to Turkey made sense. The world in which Sneijder was a poor fit for Gala was a reflective, mental one – outdated knowledge that reminds us how old we've become. Too expensive for his talent, too young to be giving money back, Sneijder was always destined to end up somewhere that would defy his reputation.
Today comes word that Gala's made another perception-challenging splash, the Turkish champions reaching an agreement for Chelsea icon Didier Drogba. Given his age and the fact that he's been away from Europe for eight months, Drogba's no longer a bank-breaking capture. With Shanghai Shenhua having reportedly failed to pay Drogba for three months, the Ivorian becomes a bargain for the Turkish champions who will reportedly not have to pay a fee for his services. A $5.4 million signing bonus on top of a $2.7 million annual salary makes Drogba's signing worth the marketing alone.
MORE: Former Chelsea star signs with Galatasaray
As the news gets assimilated, expect the same bewilderment the met Sneijder's capture to greet word of Drogba's new home. On one level, fans newly interested in the Super Lïg will not only wonder how Gala captured the duo but how good the team can be. How were they able to get two of the world's biggest stars? And matched up against Schalke in Champions League … oh just imagine how far they could go.
On another level, that kind of reaction is just another of the same temporal distortion that portrayed Sneijder's move as a shock. The Dutch midfielder is too good for Galatasaray, the thinking goes, because of the player he was two years ago. And despite the fact that few have seen him play in the last eight months and he's yet to have an impact on the Africa Cup of Nations, some will let perceptions from last May convinced them Drogba can buttress a Champions League threat. There is, after all, a reason a club like Juventus was thought to be pursuing him (or not).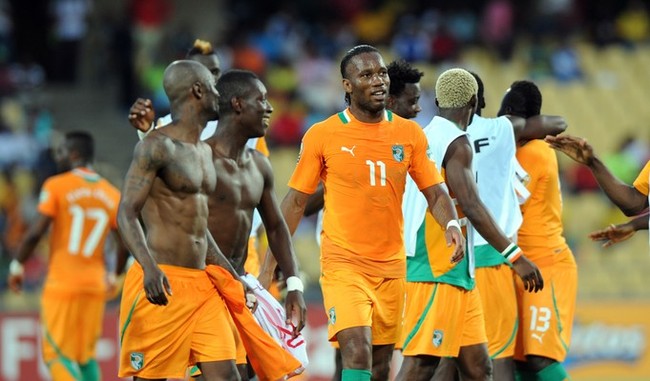 It's a vision of Drogba that overlooks that mere 13 goals in 35 all-competition games he scored last season. Or the 13 in 46 he scored the season before that. We think of his header in the Champions League final and his Europe-winning penalty kick and remember Drogba as the player who scored 37 in 44 during the 2009-10 season. But as is the case with Sneijder, our image of Drogba is nothing more than a strange distortion that's prevented us from recasting our heroes.
Maybe we're all getting lazy. Maybe we're tired of trying to stay up-to-date or we've run out of room in our imaginations, space that could had conceived a world with a changing Didier Drogba and Wesley Sneijder. Perhaps the metronomic consistency of the Lionel Messis, Cristianos Ronaldos, and Xavi Hernándezs deceived us into believing soccer's stars are immutable, a notion that explains our continued fascination with Kaká and Steven Gerrard.
But as we move farther and faster from the world that created Sneijder and Drogba's stars, we fall deeper into this time dilation. The last World Cup cycle speeds farther from us, we allow ourselves to dwell on the outdated images that lead to our empty shock. If our minds were in 2012 instead of 2013, we'd take Sneijder and Drogba's captures in stride. Our stubborn focus on that retreating world means we'll never have an accurate view of yesterday's stars.
Maybe all of us, as a soccer culture, have become so old that two and a half years still seems like a yesterday. Our younger selves would have never got hung up on this before. Maybe a less mature soccer culture wouldn't have gotten hung up on why stars are moving to Istanbul.