Mario is leaving Manchester, if AC Milan's to be believed. The whimsical Manchester City striker, brought to Eastlands two and a half years ago, is on his way to Milan ahead of a Wednesday physical. If passed, the exam will be the last step before a return home. For a $31.5 million fee (that could climb after performances bonuses), the Rossoneri will get the 22-year-old Italian international on a deal that's said to run until 2017.
One of the most talented strikers in the world, Balotelli gave the world a glimpse of his game-defining potential with two Euro 2012 semifinal goals that led Italy to an upset victory of pre-tournament co-favorites Germany. In 75 appearances for Manchester City, the versatile striker has scored 30 all-competition goals, including 17 in 35 games last season. Bought from Inter Milan for $30 million in the summer of 2010, Balotelli has been a productive if mercurial presence for the English champions.
(MORE: Mario Balotelli's top moments of madness)
It's a label Balotelli's earned off the field and on, his three years in Manchester having affirmed one of the more notorious reputations in world soccer. While most who've covered him closely describe a mischievous and mostly harmless character, the list of high-profile incidents linked to Sicily-born attacker have endowed him with a comical fame. Perhaps the most emblematic incident came in October 2011 when Balotelli set his house on fire after igniting fireworks in a bathroom. In a game the next day, Balotelli celebrated a goal by lifting his jersey to reveal a t-shirt which read "why always me?" – a reference to the media attention he attracts. Balotelli later became a firework safety ambassador for Great Manchester.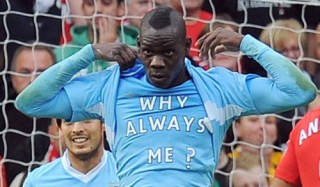 Among other famous anecdotes, Balotelli crashed a car soon after his Manchester arrival only to be found with near-$8,000 in cash on him when police came to investigate the incident. He was photographed in the company of Mafia members during his first spell in Italy, and out of curiosity, he has made unsolicited visits to prisons. Closer to the field, Balotelli's immense talents have been mitigated by confrontations with coaches, brow-furrowing behavior like the ball heel shot that saw him pulled from a preseason game in Los Angeles, and a series of training ground fights with teammates, including captain Vincent Kompany.
Amid whimsy and volatility is a player who possesses an elite array of talents – the type of gifts that lead clubs like City and Milan to pay transfer fees that would be the records for near-every club in the world. His supreme technical skills endow him with an enviable first touch, one which, combined with his 6'2″ frame, allows him to play as a target forward. But his speed and athleticism have seen him spend time in wide positions, with a brilliant ball-striking ability making him a threat from distance in open play as well as from dead balls. There is a reason why people like Italy coach Cesare Prandelli and Manchester City boss Roberto Mancini continue to find room in their teams for "Super Mario."
His tendency to constantly defy his antics and win back playing time is something that's frustrated critics who decry Balotelli's fickle antics. Having already put in five-and-a-half seasons between Internazionale and City, many understandably see the talented striker as a seasoned if still maturing player. How many 22-year-olds are professional soccer players? (A lot.) And how many leverage their talent for such selfish pursuits? (One.) Well-compensated by the deal that took him to Manchester, it's not unfair for onlookers — particularly, City fans — to expect more from somebody for whom greatness is only a mental tweak away.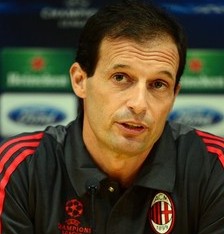 It bears reminding that not all 22-year-olds are created the same. Balotelli's past is one of relative turmoil. An impoverished family of Ghanian immigrants burdened by medical bills from Balotelli's early childhood health problems gave him up to foster care when he was two years old. The biological family eventually faded out of his life, leaving a Sicilian-born foster child of African descent to be raised by a Jewish-Italian foster family in Brescia. For many familiar with Balotelli's story, the player's personality reflects a type of extended adolescence born of early childhood uncertainties.
Now Balotelli is Massimiliano Allegri's pleasure and problem – the newest piece of what could be an incredibly dynamic if but maturing attack. Twenty-year-old Stephan El Shaarawy has been the Italian season's breakout star, his 15 goals from mostly a wide-left position trailing only Napoli's Edinson Cavani for the league's lead. On the right, 18-year-old M'Baye Niang has seen more time of late, though the summer acquisition from Caen has yet to notch his first Serie A goal. Together, the trio gives Allegri a collection of players who will be among the most fearsome one-on-one talents in the league, their speed and athleticism allowing the Rossoneri to attack with defense-collapsing talents from all angles.
In reality, a player like Bojan Krkic will likely need to be mixed in to provide a more creative presence in possession. And Milan also have Giampaolo Pazzini and (for now) Robinho in the squad. For a team the cleared their shelves of talent this offseason, Milan suddenly have an enviable collection of quality attackers, even if the best of them are still 22 or younger.
All of them are going to be overshadowed by Balotelli now. Having transcended pop curiosity to semi-national hero this summer, Balotelli becomes the preeminent figure in the team, if not the league. If Allegri gets more out of a player who's rejoining the club he supported in his youth, $31.5 million will prove a reasonable price for somebody so talented. And it's a move that always seemed inevitable when
Whether this move sees Balotelli fulfill his potential, well, that's not up to Allegri. When Mario decides to be great, he'll be great.