HOUSTON – Don't believe the "Camp Cupcake" silliness, the pejorative term applied to Jurgen Klinsmann's national team camp.
Laying aside the fact that the athlete's warm-up during the tough conditioning workouts of the last three weeks would make most of us forfeit breakfast, the players now in Houston for tonight's contest against rebuilding Canada represent a mix of quality players who will be in Honduras in a week's time for a final stage World Cup qualifier, and guys with some level of potential to get there.
The talent includes Omar Gonzalez, Matt Besler, Graham Zusi, Kyle Beckerman, Eddie Johnson (pictured), Juan Agudelo, all of whom will be front and center in the U.S. effort tonight at potentially stormy BBVA Compass Stadium. (Kickoff is 8 p.m. CT) They should all like their chances of being called next week when the United States begins its final push for Brazil 2014.
Meanwhile, the players tonight on the other side of the Houston Dynamo's new downtown home can only help ready the banners for their own extended push: "2018 Russia or Bust!"
That's not to be disparaging to the Canadian Soccer Association; rather, it's just to say that these are teams in two very different places.
U.S. manager Jurgen Klinsmann had his men in camp for about two weeks longer. He needed the extra time to prep the legs and lungs of 8-10 players for next week's match against Honduras. A group of 10 or fewer will join the U.S. front-page types, Tim Howard, Clint Dempsey, Michael Bradley and the rest of the lot from abroad.
(MORE: Predicted U.S. lineup for tonight)
Canada has been in camp only a few days, so fitness is on the U.S. side, big time.
The Canadians have played a friendly already, and that might be a check for the Maple Leaf. But seeing as that match was just three nights prior, any edge in greater unit cohesion is marginalized by the fatigue factor.
And let's talk about that match Saturday in Phoenix, a 4-0 Canadian loss to a Denmark side that was hardly fully equipped; like the American team, most of its first string remains in Europe.
Yes, the Canadians have the best attacker on the field tonight in Dwayne De Rosario, who will presumably be motivated, still with many friends and fond memories of his years in Dynamo orange. But "De Ro," valiant and talented as he possibly can be, is 34. He played 62 minutes less than 72 hours ago, and that was his first full run-out in about five months. Translation: Don't expect anything more than about ¾ De Ro tonight.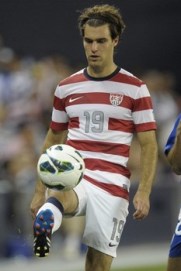 Canada today, in full youth build-'em-up mode, is more about guys like Kyle Bekker, the 22-year-old recent MLS draftee out of Boston College. Bekker is a great young talent, but a U.S. midfield of Beckerman, Zusi (pictured right), Benny Feilhaber or some combination thereof should and likely will overwhelm a man fresh out of college.
Gonzalez will be the best defender on the field, probably by some measure.
Let's not forget that the Klinsmann's men are playing at home. Just because it's a friendly, that remains a decided advantage.
Toss in these historical edges: The United States is protecting a 15-game unbeaten streak (8-0-7) in the series since 1985. Plus the obvious, that the United States has been to every World Cup since 1986, while the Canadians haven't been to once since then.
The United States needs a resounding win here, if only to keep supporter confidence high around Klinsmann ahead of next week's opening of "Now it counts" time.
Best bet: a 3-0 or 4-0 win for the United States.