Let's say you don't have to go to work tomorrow. What would you do with your day? Get all those errands done? Finally clean up the house? Maybe this will be the year you get your taxes gone before April 15?
Probably not. Call it a hunch, but I'm since you're the type of person that comes to ProSoccerTalk, you're much more likely to sit around all day and watch soccer. Cup of Nations, World Cup Qualifying, or just run of the mill friendlies – it doesn't matter. Since national teams don't get together that often, hardcore soccer addicts are going to try to cram in as match possible.
So let's entertain that. Let's assume you've got a couple of displays in front of you and can access any game you want. Let's also assume that your better half, little ones, and pets completely leave you alone. Which matches would you watch? Which matches should you watch?
Starting very early in Asia, here are PST's recommendations.
All times Eastern. Please consult your physician before trying to watch all these games.
5:20 a.m. – Japan vs. Latvia (Kobe)
If you're going to make Wednesday into a marathon, skip that highly anticipated 4:30 a.m. Nepal-Pakistan kickoff, sleep an extra hour, and see Asia's best team host one of Europe's worst. At 102nd in the world (for whatever FIFA rankings are worth), Latvia's not going to be much of a challenge for the Samurai Blue, but for a chance to see what Asia's best is building for the next World Cup, this might be worth an extra cup of coffee. Alberto Zaccheroni has his team eight points up on the competition in Asia. Only one point short of qualifying, this team is already starting to look toward Brazil 2014.
Players to watch: Japan: Shinji Okazaki (right, F, Stuttgart), Shinji Kagawa (M/F, Manchester United, Keisuke Honda (M/F, CSKA Moscow)
9:00 a.m. – South Korea vs. Croatia (London)
For what could be one of the best-played games of the day, the key for both coaches is to see their teams taking the match seriously. Croatia head coach Igor Stimac, new to the position, saw his team stumble at home to Switzerland in their last friendly. Korea's Choi Kang-hee will be using the match to evaluate how to approach the final four matches of the team's qualifying cycle.
Players to watch: Croatia – Luka Modric (M, Real Madrid), Dejan Lovren (D, Lyon), Darijo Srna (RB, Shakhtar); South Korea – Ki Sung-yeung (M, Swansea City), Son Heung-min (F, Hamburg), Park Chu-Young (F, Celta de Vigo)
10:00 a.m. – Mali vs. Nigeria (Durban)
The day's first Cup of Nations semifinal should be the round's best match, the two teams' skill-plus-style combination likely to produce a fluid, entertaining affair. Nigeria's semifinal spot came at the expense of tournament favorites Cote d'Ivoire while the Malians reached the final four after a penalty kicks victory over the hosts.
Players to watch: Mali – Seydou Keita (right, M, Dalian Aerbin), Modibo Maiga (F, West Ham United), Mohamed Sissoko (M, Paris Saint-Germain); Nigeria – John Obi Mikel (M, Chelsea), Victor Moses (W, Chelsea), Emmanuel Emenike (F, Spartak Moscow)
12:00 p.m. – Chile vs. Egypt (Madrid)
The coaches are the focus for this one. For as much admiration Bob Bradley's garnered during a turbulent time in Egyptian soccer, he is starting to see more criticism of the team's on-field performances. In recent matches against Ghana and Cote d'Ivoire, the Pharaohs lost by a combined 7-2. For Chile, former Universidad de Chile head coach Jorge Sampaoli is set for his third match in charge, with La Roja set to resume World Cup Qualifying in March.
Players to watch: Chile – Alexis Sanchez (F, Barcelona), Humberto Suazo (F, Monterrey), Arturo Vidal (M, Juventus); Egypt – Mohamed Aboutrika (M, Bani Yas), Gedo (F, Hull City), Mohammed El-Nenny (Basel)
1:00 p.m. – Spain vs. Uruguay (Doha)
The match means nothing (except €4 million the Spanish federation banks for playing it in Qatar), but each team's brought up almost all of their big names. Xavi, Xabi, and Iker are out, but the rest of the Spanish stars are here, giving players like David Villa, Alvaro Negredo and Pedro Rodriguez a chance to nail down Spain's striker spot. Expect an entertaining though not particularly intense match. It's being played in Doha, after all.
Players to watch: Spain – Andres Iniesta (M, Barcelona), Sergio Busquets (M, Barcelona, Sergio Ramos (D, Real Madrid); Uruguay – Luis Suarez (F, Liverpool), Edinson Cavani (F, Napoli), Diego Godin (D, Atletico Madrid)
1:30 p.m. – Burkina Faso vs. Ghana (Nelspruit)
One of Africa's legendary sides faces a team making their first semifinal appearance, with Burkina Faso's Stallions hoping to slide on their glass slippers on Wednesday against the Black Stars. Ghana is the new tournament favorite (with the elimination of Cote d'Ivoire), but having reverted to type slightly in the quarterfinals, it remains to be seen whether the Ghanaians allow themselves to be draw into a coin flip they could lose.
Players to watch: Burkina Faso – Alain Traore (F, Lorient), Jonathan Pitroipa (W, Rennes), Bakary Kone (D, Lyon); Ghana – Asamoah Gyan (F, Al Ain), Kwadwo Asamoah (M, Juventus), Wakaso Mubarak (W, Espanyol)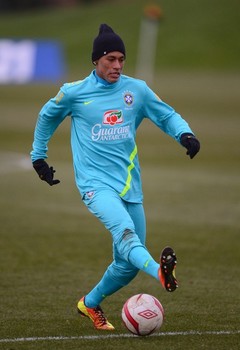 2:30 p.m. – England vs. Brazil (London)
It's England. It's Brazil. So it's a big deal, right? Given the other games on the Wednesday's schedule, I'm having trouble justifying too much excitement for this one, even if it's going to be Ashley Cole's 100th cap. Slowly, he's catching up to Beckham's 115. We'll see if he can hold Leighton Baines off long enough.
Players to watch: Brazil – Neymar (right, F, Santos), Ronaldinho (M, Atletico Mineiro), David Luiz (D, Chelsea); England – Wayne Rooney (F, Manchester United), Steven Gerrard (M, Liverpool), Joe Hart (G, Manchester City)
2:30 p.m. – Netherlands vs. Italy (Amsterdam)
Louis van Gaal's continued Oranje makeover will be reflected in his lineup on Wednesday. The omission of a player like Wesley Sneijder isn't surprising, but players like John Heitenga and Nigel de Jong are also finding it difficult to re-establish their place in this team. The likes of Adam Maher, Stefan de Vrii and Bruno Martins Indi are likely to see time against a talent-rich Italian attack.
Players to watch: Netherlands – Robin van Persie (F, Manchester United), Kevin Strootman (M, PSV), Ron Vlaar (D, Aston Villa); Italy – Mario Balotelli (F, Milan), Andrea Pirlo (M, Juventus), Gianluigi Buffon (G, Juventus)
3:00 p.m. – France vs. Germany (Paris)
This is a great test for both sides. While Joachim Löw may take this chance to look at some players who don't normally make his starting XI (perhaps giving Rene Adler a start in goal for Manuel Neuer), Germany has still reached a level where they should expect to go on the road and perform well even against the France's world (and even in a friendly). France have gotten results from Spain and Italy in their last two matches. Another strong performance will further consolidate the team behind Didier Deschamps.
Players to watch: Germany – Mesut Ozil (M, Real Madrid), Philipp Lahm (D, Bayern Munich), Thömas Müller (F/M, Bayern Munich); France – Karim Benzema (F, Real Madrid), Franck Ribery (W, Bayern Munich), Hugo Lloris (G, Tottenham)
4:00 p.m. – Honduras vs. United States (San Pedro Sula)
Steve's got you covered on this one: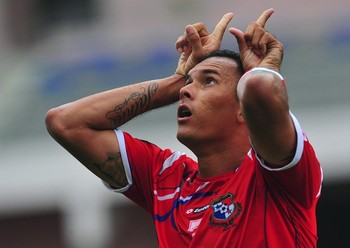 9:00 p.m. – Panama vs. Costa Rica (Panama City)
Panama's the newcomer to this level of the tournament (the one team in the final round that didn't qualify for 2009's Hex), but as they showed at the 2011 Gold Cup, they've got the players to qualify for Brazil. One of the keys will be getting three points at home instead of settling for draws. Against an experienced Ticos team, Julio Valdés will need to make his team rises to the occasion. By the opening whistle, Panama's players need to realize the stakes. Slipping in round one could come back to haunt them in November.
Players to watch: Panama – Blas Perez (right, F, FC Dallas), Gabriel Gomez (M, Junior), Felipe Baloy (D, Santos Laguna); Costa Rica – Bryan Ruiz (F, Fulham), Alvaro Saborio (F, Real Salt Lake), Michael Umaña (D, Saprissa)
9:30 p.m. – Mexico vs. Jamaica (Mexico City)
This could get ugly. Jamaica would have a hard time matching up with El Tri under normal circumstances, but this is the Hex opener, on the road, against a Mexico team that has gone beyond winning. This team is starting to push itself for results. They not only want three points from these games, they want to perform in a way that puts them in a conversation with the world's best. Unless something fluke-y happens early, this should be a multi-goal victory for the tournament favorites.
Players to watch: – Giovani dos Santos (F, Mallorca), Javier Hernandez (F, Manchester United), Hector Moreno (D, Espanyol); Jamaica – Rodolph Austin (M, Leeds United), Nyron Noseworthy (D, Watford), Jason Morrison (M, Aelesunds)