When predicting U.S. rosters and lineups under the current regime, one must always consider the "Klinsi Caveat."
That is, the tendency of U.S. manager Jurgen Klinsmann toward unpredictability.
Anyone remember Jose Torres stationed at left back to begin the semifinal round of World Cup qualifiers? We rest our case.
That said, here is our best effort to dissect what Klinsmann will roll out today vs. Honduras. Given a shortage of offensive-minded choices in midfield, it will be safety first in the heat and humidity of San Pedro Sula – a strategic choice that is sure to rankle more than a few U.S. Soccer supporters.
(MORE: Tension high as U.S. final push begins; match preview with loads of links)
Seeing a selection of strikers (but not wingers) that looks stronger than a less inspiring choice of midfielders, expect to see a 4-4-2. The 4-3-3 that we saw late last year, with Eddie Johnson wide left? There will be time for that one … but not at Honduras in the final round opener.
GOALKEEPER: Let's not pretend like there's anything to discuss here. It's Tim Howard, who will start his 23rd World Cup qualifier.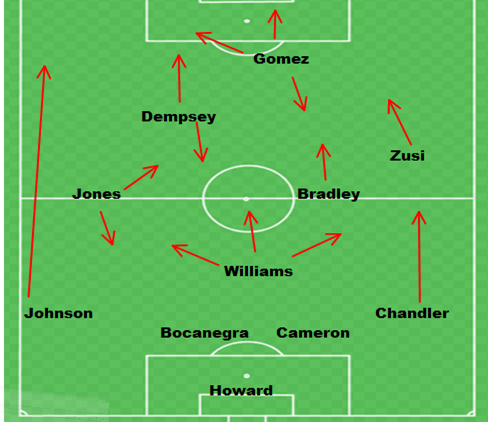 DEFENSE: The back line looks fairly predictable given Steve Cherundolo's injury. Timothy Chandler (about to be cup-tied) and Fabian Johnson are the clear choice at outside backs. Carlos Bocanegra, 33, may not be the starting center back as final round qualifying finishes, but he looks like the best choice to partner Geoff Cameron for starting it. The future is surely Omar Gonzalez, but it would be too soon to go with the commanding LA Galaxy center back alongside Cameron; just too much inexperience in a match with so much nervous tension attached.
MIDFIELD: Danny Williams seems the likely choice to sit deep. Technically, the arrangement may look more like a 4-1-3-2.
Yes, Torres, Brad Davis and Sacha Kljestan are available, all equipped with more technical craftsmanship and offensive string-pulling ability. And it will not be a shocker if Klinsmann deploys one of them along the left, to provide more width and more offensive push.
More likely, it will be Jones, who has played there before, leaning significantly to the inside. Yes, he remains an unstable element, liable to twist off and collect a card. (Or two!) But Klinsmann loves the confidence Jones inspires in players around him, and even depends to a point on Jones' infectious, fearless warrior spirit.
Unless Clint Dempsey is deployed into the midfield in something than looks more like a 4-5-1, Bradley will be the most forward element in the midfield. He will still be a two-way presence, always keeping defensive discipline and reliably seeking to link with Williams through the middle when the United States wins the ball.
FORWARDS: Klinsmann loves Herculez Gomez's work off the ball; it's not hard to see why.  There's a chance we could see Johnson or Jozy Altidore paired with the Santos Laguna striker as Dempsey moves into an attacking midfield role. That set-up would look more like a 4-3-1-2.