If you were under the impression soccer's racism problem is confined to the stands, let me introduce you to Paolo Berlusconi, a man who used a Tuesday political forum to describe the new face of his club as his "family's little n—–."
Yes, this is still 2013, and yes, there is at least one person that still talks like this, let alone apparently feels something that corresponds to the words. That he's the vice president of AC Milan and therefore one of Mario Balotelli's new bosses may be the most disturbing part of this story.
There are a lot of racists in this world, but usually the ones that are stupid enough to flaunt their antiquated ideology in front of cameras at a right-wing political event aren't in a position to buy soccer players for $31.5 million. And if history tells us anything, letting racists buy people is a profoundly horrible idea.
I feel like that should go without saying.
On Tuesday, Berlusconi (pictured, left), brother of Milan owner and former Italian primer minister Silvio, was appearing at a People of Freedom party event in Monza where he said the following about Balotelli:
"Okay, we are all off to see the family's little n—–. He's a crazy head. All the young ladies are invited as well — you can even have a chance to meet the president (Silvio Berlusconi)."
Not even a creepy sexual overture from a 63-year-old man could offset five dashes worth of race hate.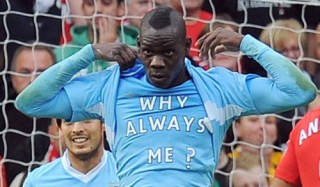 Racism played its part in Balotelli's first spell in Milan – the four seasons he spent at Internazionale from 2006 to 2010. Subjected to racial taunts from fans, Balotelli received a brief sojourn during his time at Manchester City. Now, eight days after returning to Milano, Balotelli's back to the future moment comes courtesy of one his new club's executives.
While reports say the Italian media's reaction has been appropriately harsh, it's not a given that Berlusconi will lose his job, something that would happen at almost any other club (or business) in the world. He's a family man in a family business, something that may help him weather this storm. And the Berlusconi family knows a few things about weathering storms.
What was it that the shirt said? "WHY ALWAYS ME?" This may be the first time we can truly get behind that message. When Mario returns home to Italy to find he's working for a man with a plantation mindset, you do wonder: Why always him?