Three surprise results later, it's far more difficult to know what to make of CONCACAF. Even the results that were somewhat explicable developed in ways that prompted new questions. Are the U.S. defenders a bigger problem than we thought? Is Mexico really that far ahead of the rest of the region? Is Panama ready?
One round into CONCACAF's final stage, it's time to pause and reevaluate The Hex – assess our new knowledge and determine to what extend that we need to change our outlook for the rest of the tournament.
Let's go from winners to losers:
Honduras – There's a temptation to label winning at home as merely holding serve, a description which might be true for Mexico and the United States. But Honduras is not a perpetual World Cup qualifier, even if they did make 2010's show. To take three points that their competitors for third are less likely to grab is a huge result. Perhaps more importantly, if the midfield led by Roger Espinoza and Boniek Garcia performs like this through the next nine rounds, the Catrachos are unlikely to be pulled into a battle for third. This is a team that could compete closer to the top of the standings.
Costa Rica – Particularly after failing to qualify for South Africa, the Ticos have become the region's neglected power. For half an hour on Wednesday, Costa Rica dwelled in realms of the forgotten as they spotted Panama two goals. But coming back to claim a point, the Costa Ricans gave us a nudge, woke us up, and reminded us they're weren't that far from qualifying for a third straight World Cup in 2010. While Bryan Ruiz's overhead, game-tying goal may be the type of effort you can't write into the game plan, Jorge Luis Pinto's team put themselves in position to benefit. A valuable road point should open our eyes, a little.
Jamaica – This game had blowout written all over it before kicking off, but Jamaica were able to get the round's most surprising result. Parts of the Reggae Boyz' result reek of an underdog riding a goalkeeping blinder, but applying that description to the entire match would understate Jamaica's performance. They had real chances to take full points, and while earning a surprise result at Azteca shouldn't vault them to the top of our Most Likely to Qualify lists, the draw was reminds us Jamaica have enough talent and athleticism to frustrate anybody in the region. Even Mexico.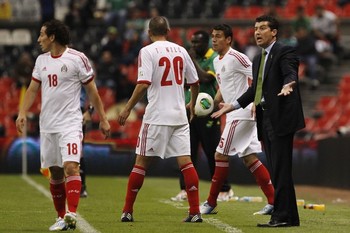 Mexico – They came out flat, and their fans let them know it. Second half boos and ironic cheers for the Jamaicans reminded El Tri that they're playing under higher expectations. Whether the standard's fair or not, teams like Jamaica aren't supposed to trouble Mexico, especially at home. Still, it was only 90 minutes of a 900 minute tournament, and while 'Chepo' de la Torre's side performed well below expectations, nothing we saw on Wednesday should convince us their round one disappointment was more than a one-off.
Panama – It's hard to call any team a "big loser" one match into the tournament, but Panama was the team that lost the most on Wednesday. Not only did they give up a two-goal lead, they capitulated to one of the two teams they should be targeting for third place. We alluded to it in yesterday's preview: The inability to play to the stakes could hurt the Canaleros early in the tournament. Their inexperience may have cost them two points they're unlikely to reclaim at Estadio Saprissa.
United States – The somewhat strange-cum-freakish way it happened overshadowed the remainder of a disappointing performance, but Wednesday's loss didn't tell us anything new about the United States. They're still not generating enough chances, have problems in defense, and have a surprising number of questions in midfield (both in personnel and style). But even though the team is not playing to fans' expectations, they still project as the second-best team in the region. The fact that they almost got a result against a good Catracho team (that got strong individual performances) only affirms that status.