Zlatan Ibrahimovic was on the bench. So were Blaise Matuidi and Ezequiel Lavezzi. Paris Saint-Germain's home game against Bastia would be a rotation opportunity under any circumstances, but with UEFA Champions League resuming next week, Carlo Ancelotti employed a strategy we're sure to see throughout the weekend from other prominent managers.
Starting Tuesday, Champions League resumes with two Round of 16 first legs: Valencia hosting PSG and Celtic welcoming Juventus to Glasgow. On Wednesday, German champions Borussia Dortmund travel to Shakhtar Donetsk while Manchester United, in the week's marquee match, visits Real Madrid.
For bosses like United's Alex Ferguson and Real's José Mourinho, the decisions will be relatively straight-forward. While both teams host talented teams this weekend (United facing Everton, Real against Sevilla), squad depth makes their compromises easy. Their reserves would be starters for most of their competition.
Other head coaches face more intriguing dilemmas. Take Valencia's Ernesto Valverde. The former Athletic Club, Espanyol, Olympiacos and Villarreal boss replaced Mauricio Pellegrino at the Mestalla in December. While Los Che have clawed their way back into Champions League contention (only two points behind Málaga for fourth in Spain), a tight race that includes Real Betis, Rayo Vallecano, Real Sociedad and Levante means there's little margin of error. Valencia needs to get into next year's Champions League. Is it worth Valverde resting players Saturday at Celta de Vigo when the team has little chance of winning Champions League regardless?
Jurgen Klopp faces a completely different dynamic. Borussia Dortmund's not going to defend their title. They're 12 points back of Bayern Munich in Germany. They're also likely to safely qualify for next year's Champions League while having the talent to compete for this one. Hosting mid-table Hamburg ahead of a mid-week trip to Ukraine, Klopp could rotate his squad.
Here's a quick look at the European weekend. We've highlighted the matches with mid-week Champions League clubs (they're in bold).
English Premier League
Big match: Sunday's game at Old Trafford gives Everton a chance to steal points. And when I say steal, I mean pick up points where competitors expect them to fall. The late Sunday start guarantees Manchester United will rotate ahead of Wednesday's match with Real, while Everton won the reserve, season-opening fixture. Sunday, 11:00 a.m. Eastern.
Intriguing: Newcastle has picked up two wins since their latest French invasion. Now it's Tottenham's turn to deal with the likes of Moussa Sissoko, Mathieu Debuchy, Yoann Gouffran, and Mapou Yanga-Mbiwa. Saturday, 7:45 a.m. Eastern.

German Bundesliga
Big Match: This match shouldn't be that close, but when Bayern Munich faces Schalke, it's going to be Germany's big game. The Miners have plummeted to sixth place, their mid-December move to replace Huub Stevens with Jens Keller meeting with mixed results. Compounding an already difficult task, Schalke is expected to be without Klass-Jan Huntelaar, Jefferson Farfan, Ibrahim Affelay, Christian Fuchs and Kyriakos Papadopoulos. This may be the weekend's marquee matchup, but it's unlikely to be that close. Saturday, 12:30 p.m. Eastern.
Others: Borussia Dortmund vs. Hamburg (Saturday, 9:30 a.m. Eastern).
Spanish Primera Division
Big Match: Málaga's Champions League success (winning their group) and performances against Barcelona and Real Madrid suggest they have the quality to avoid a battle for Spain's last Champions League spot, but their stumbles against the rest of La Liga leave them only one point clear of fifth-place Real Betis. Another stumble at Levante, where they have been outscored 6-1 in their last two visits, could see the Andalusians drop out of the top four. Saturday, 2 p.m. Eastern.
Intriguing: The scheduling is more interesting than the matchup. Since La Liga started their Asian-time kickoff last season, we're used to seeing mildly interesting matchups scheduled for the early Sunday kickoff. This week, Barcelona gets the slot, kicking off at 6:00 a.m. Eastern against 12th place Getafe.
Others: Celta de Vigo vs. Valencia (Saturday, 12:00 p.m. Eastern); Real Madrid vs. Sevilla (Saturday, 4:00 p.m. Eastern).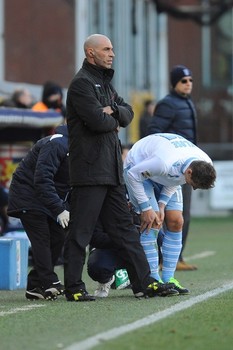 Italian Serie A
Big Match: Lazio has claimed only one point from their last three, leaving second place to a surging Napoli team that's pulled league-leading Juventus within three. Tomorrow at the Olimpico, Lazio gets what might be their last chance to salvage their faint title hopes. Given recent losses to Genoa and Chievo (and the absence of Miroslav Klose), Lazio looks unlikely to derail the surging Azzurri, even if Napoli haven't beaten the Eagles in Roma since 2008. Saturday, 2:45 p.m. Eastern
Intriguing: In the wake of his infamous "little n—–" comment, Paolo Berlusconi tried to make peace with Mario Balotelli mid-week. Milan's visit to Cagliari will be the club's first match since their VP screwed up. Sunday, 9:00 a.m. Eastern
Others: Juventus vs. Fiorentina (Saturday, 12:00 p.m. Eastern).
French Ligue 1
Big Match: Lyon's upset loss at Ajaccio last week fueled speculation that resentment lingers from a contentious transfer window that framed leading scorer Bafetimbi Gomis and others as a potential cost-cutting casualties. Now, OL goes into Round 24 trailing PSG by three points. With the Parisians' Friday win over Bastia, OL can't hold out the hope that Champions League considerations will help their cause.
They can, however, keep up by adding to Lille's misery. When LOSC visit Stade Garland, Les Gones will look to extend Lille's league road winless streak to seven games.