News of Sacha Kljestan's new deal with Anderlecht was greeted with lots of social media "atta boys!" and back slaps from some of his U.S. international teammates. See below for why that's meaningful.
What Kljestan Tweeted out this morning on the new deal that keeps him with the Brussels club through 2016:

And then just a few of the response from some the men who have been in U.S. red, white and blue with Anderlecht's midfielder, who also spent four seasons at Chivas USA: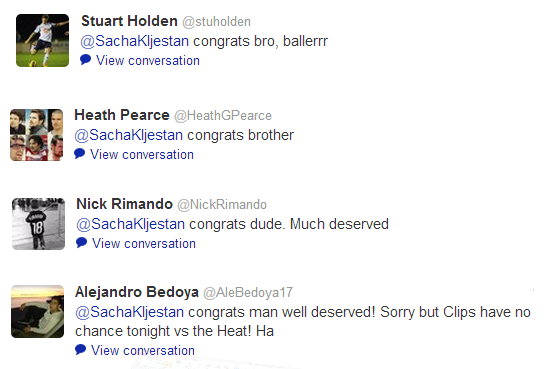 Why is this important? Team chemistry cannot be over-emphasized when it comes to national teams. Keep that in mind when rosters are built, as you ponder why This Guy may have been selected over That Guy when talent appears roughly equal.
Every U.S. national team boss since 1998 has talked about the need to carefully build and manage team chemistry through prudent roster selection. (In fairness, before that Steve Sampson and others had less from which to pick, so their hands were more or less tied.) Not so much for a quick-stopper like this week's match in Honduras – although you certainly don't want any real problem children there, either.
But in longer camps and tournaments (Gold Cup, World Cup, Confederation Cup, etc.) these guys are together day and night for three, four, five weeks or more. Asking guys who don't really like each other to keep the peace for those longer stretches is truly asking for it.
So, congrats to Kljestan – not just for the new deal, but for being the kind of guy where teammates are truly excited for him.