If you're not an international women's soccer expert and need a quick and dirty way to assess U.S. competition, watch the midfield. No team capable of winning major titles gives the States' midfielders time on the ball. When Carli Lloyd and Shannon Boxx go up against Japan, Germany, and France, they have to make quick decisions to get the ball out of their feet or they're going to give it up.
Against Scotland, the U.S.'s central midfielders had all the time they wanted. Trap, look, pass. Maybe take an extra touch. That was the first 30 minutes of their night. Scotland was much more interested in keeping the play in front of them than breaking their lines, even if that meant the supply line to the U.S.'s dangerous wide options went unchallenged.
Carli Lloyd would venture forward, Shannon Boxx would put in some challenges, but for the most part, the U.S.'s midfield duo just knocked the ball between the flanks, tried to maintain passing lanes for the attackers, and never had to worry about their Scottish counterparts. It was too easy.
That's what life was like during the U.S.'s 4-1 win Saturday in Jacksonville, a game that broke at a canter and never reached a gallop. The U.S. were up two by the 32nd minute, added a third through Shannon Boxx in the second, and cruised through the final half hour. Aside from some Scottish frustrations over the last half hour, a trademark late goal from Sydney Leroux was the only thing to write home about.
For head coach Tom Sermanni, it was a comfortable opening to his national team  career. If comfort was the primary goal, then mission accomplished, though as we were reminded during most of the U.S.'s just completed gold medal celebration tour, there's very little to learn from these types of matches. If the competition is so low that the opposition can't even periodically mimic situations you'd face against even the Australia, Italy, and Norways of the world (teams that are not going to compete for big trophies anytime soon), these are little more than public appearances.
There were, however, a few interesting tidbits (and one huge morsel) Sermanni could glean from Saturday's friendly: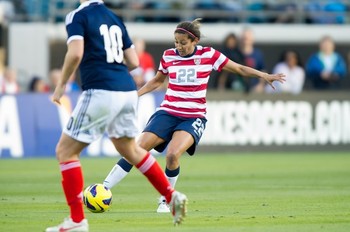 Pressheads, rejoice – Among hardcore women's national team fans, the "Pressheads" are the fans who have pined for Stanford alum Christen Press's national team inclusion. Ever since the attacker won the MAC Herman Trophy in 2010, Pressheads have insisted she'd be a factor, but because of Pia Sundhage's loyalties, players like Press where left out.
In his first game, Sermanni proved so eager to get Press into the team he played the 24-year-old out of position. The outcome of the Christen Press, right midfielder experiment? Two goals in the Tyreso forward's debut. A 18-yard blast from the top of the box opened the scoring in the 13th minute, while her header from a Tobin Heath cross just past the 30-minute mark completed her double.
Out-leaping her mark that the right post to score he second international goal, Press became the third player in national team history to record a double in her debut. Pressheads, rejoice.
She may not have been a regular under Sundhage, but under Sermanni, Press is definitely on her way. Her debut was so impressive, we'll have more on it later tonight.
Was that Kelley O'Hara?  – We all know O'Hara, another Stanford alum, is a very good player. We just don't know if she'll be an elite left back. A dearth of full back options led Sundhage to convert the former attacker in 2011. For better or worst, Sermanni's elected to persist with the experiment.
On Saturday, we saw why. Her eagerness took her out of position at times, but that's something you can live with at left back, especially when that energy proves so dangerous going forward. The best example led to a goal, her aggressive 32nd minute run freeing up Tobin Heath to put in a perfect cross from Press's second.
For years the U.S. has talked about full backs that can get forward, but O'Hara finally provided that on Saturday. And provided it in a way that was more than a tip of the hat, idealistic, but ultimately empty tactical ambition. With her and Heath reading each other perfectly, building down the left flank became the team's most dangerous option.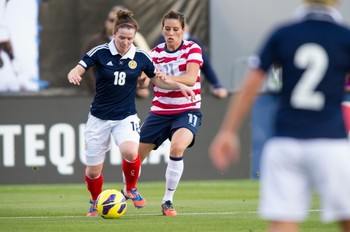 Ali Krieger's back – The U.S.'s other fullback did her share of attacking, too, though the big news surrounding Ali Krieger was her mere presence in the team. This time last year, Krieger's Olympic dream was shattered by a knee injury suffered in CONCACAF qualifying. Now, she's back. And she looks as good as ever.
Krieger had already returned to club soccer in Germany, but she wasn't included in the team's celebration tour. Ready to reclaime her first choice spot, Krieger's instincts as a natural right back showed obvious benefits. Multiple times during the first half, she was able to get forward and offer Press support on the right flank, twice putting shots toward goal.
She may not be the type of all-out wide runner O'Hara teased us with tonight, but she she can definitely get forward. And she was the best right back at the 2011 World Cup. Her recall is a welcome addition.
Dead ball specialist? – For a team that wins a lot of fouls, the U.S. doesn't have much of a dead ball threat on goal. There's Carli Lloyd and Tobin Heath, but unless they're within a few yards of the penalty box, you know they're going to target Abby Wambach. It's predictable, rarely fruitful, and ultimately a waste of chances.
Enter Yael Averbuch, a 26-year-old Goteborg midfielder who has slowly been squeezed out of the team over the last three years. But new coach, new life, and Averbuch almost took advantage of it late in the game, blasting a 30-plus yard restart off the Scottish woodwork.
Welcome back, Yael Averbuch. That will give you something to talk about in the next #wsoccerchat.
Wambach was off – Most of the team looked sharp. Sure there was a wobble from Christie Rampone, and Becky Sauerbrunn's failed clearance led to the only goal, but most of the team looked in shape, alert, moved well an looked comfortable on the ball.
Not Abby Wambach. Saturday was one of the rougher games we've seen in a while from the FIFA Player of the Year. She missed two sitters, had multiple brow-furrowing giveaways, and failed to match her teammates' sharpness. She did well in the air, knocking down passes for Alex Morgan and Press. But that was about it.
Just a rare bad night.
Wait for news on Morgan – Alex Morgan locked ankles with a Scotland midfielder and had to leave just before halftime. Helped off the field by medical staff, the new Portland Thorn was unable to put any weight on her left leg. While the team could have just been practicing caution, the injury didn't look good. She didn't even try to put any pressure on it.
No diagnosis was announced during Saturday's broadcast, so keep your ears open for what U.S. Soccer has to say about their striker's prognosis.