A single moment of brilliance separated the teams on the scoreboard, but the gap in quality was greater. After the match's initial settling in period, we knew Nigeria were better. Their superior quality on the ball gave them more promise in attack. As the first half unfolded, the favorites started enjoying large advantages in possession.
Those advantages eventually allowed midfielder Sunday Mba — a 24-year-old midfielder who's never played outside of native country — to break through, scoring the 40th minute goal that downed Burkina Faso and gave the Super Eagles their third African title, 1-0.
Three Mba touches won the Cup for Nigeria. Trying to settle after poor first touch, Mba (right) poked the ball into over an onrushing Mohamed Koffi and into the penalty area with his right foot before getting a shot off with his left. The ball didn't hit the ground. Volleying a shot toward the right post before Bakary Koné closed him down, the Nigeria-based midfielder gave the Super Eagles the only goal they'd need. Mba put his name in the history books as the man who reclaimed the title.
[youtube http://www.youtube.com/watch?v=MGIZN-O1Sm8%5D
That title had been in others' hands for 19 years. For all the acclaim the Super Eagles have received as a result of being a near-perpetual World Cup qualifier, Nigeria had failed to live up to their reputation at home. With this win, the team turns back the clock, winning their first major title since Jay Jay Okocha and Sunday Oliseh were patrolling the midfield.
Another name on that 1994 team was defender Stephen Keshi, the man who coached Nigeria on Sunday. While Mba may have been the man of the moment in Johannesburg, Keshi was the story of the tournament. Much maligned at home for declining to call in veteran stars Yakubu Aiyegbeni, Peter Odemwingie, Obafemi Martins, and Taye Taiwo, Keshi put his coaching livelihood on the line by wagering a house cleaning would restore some of the Nigerians' spirit – a pride that had lacking during a 2010 World Cup disappointment and failure to qualify for the 2012 Cup of Nations.
Electing to play a younger, more balanced, and more cohesive team, Keshi saw his gamble vindicated when the Super Eagles ousted tournament favorites Cote d'Ivoire last Sunday. With their 4-1 win over Mali on Wednesday, Keshi's team got their chance to make history. From the moment Mba's shot crossed Burkina Faso's goal line, there was little doubt the Nigerians would have their breakthrough.
Man of the Match: Sunday Mba's individual effort takes this award, but take that moment away and Burkina Fasi's Jonathan Pitroipa (right) would have won the award, just deserts for a player who was clearly this tournament's best. On Sunday, he was the Stallions' one bright spot in attack, his skill on the ball creating a number of near-opportunities for the underdogs. Whether playing through the middle or back in his customary wide position, he was the only player that troubled the Nigerians.
From the tournament's outset it was clear: It was time for Pitroipa to step up. To this point in his international career, the Rennes star had failed to replicate his club form for country. As one of the Stallions' few elite talents, Burkina Faso was only going to go as far as Pitroipa took them.
With a breakthrough performance, the 26-year-old put that criticism behind him. Seeing his red card suspension overturned before the final, Pitroipa nearly completed the first-time finalists' Cinderella story. With a little more help from his teammates, he might have done it.
Threesome of knowledge: What we learned
Not all sacred cows shouldn't be worshipped – Nigeria's diminishing results gave Keshi reason to show his icons the door, but the Super Eagles had to hit rock bottom before somebody (and really, only a few people) saw the light. Other countries with iconic burdens should look to the 2011 Not-So-Super Eagles as a lesson. You should act before you're forced to do so.
Here in the States, we're having a debate about Carlos Bocanegra. Fairly or not, people are also starting to whisper about Tim Howard. Italy had to fall flat in 2010, while England's just recently started moving on from their almost golden generation. These debates happen all over the world.
The lesson to draw from Nigeria: Sometimes moving on doesn't necessarily mean moving down. Teams get scared that moving the Bocanegras, Cannavaros, and Gerrards of the world aside represents a one-step back, two-step forward scenario, but that's not always the case. Sometimes the difference in talent doesn't match the gap in reputation. And reputations are only earned by playing.
Sometimes, you have to take a chance.
Oh these cagey, cagey finals – Burkina Faso wasn't bad, but Nigeria was a much better team, just as Spain was a much better team than the Netherlands in South Africa. Both games ended 1-0 mostly because of the styles the teams employed. When the difference in reward between winning and losing is at its greatest, it's no surprise teams become risk averse.
Mexico came out cagey and almost got burned in the last Gold Cup final. Japan beat Australia 1-0 in extra time of the last Asian confederation final. Only Uruguay (2011 Copa America) and Spain (Euro 2012) took recent finals by the horns, though Spain's 2008 European title was also a 1-0.
There've only been three goals in the last five Cup of Nations finals, but that's not all Africa. Games with these stakes usually produce cagey soccer.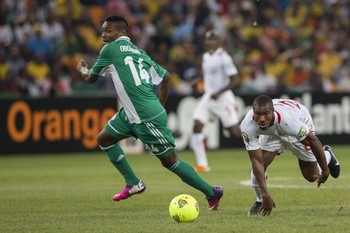 Not every talent plays in Europe – Of course, nobody thinks Europe has a monopoly on world soccer's talent, but in an age of YouTube, internet streams, and blogs about everything, there is a sense that there are no undiscovered talents, only neglected ones.
Sunday's final dispelled that notion. The Man of the Match is still playing in the Nigerian league. Godfrey Oboabona (right), one of Nigeria's central defenders, also plays in his domestic league, while Burkina Faso's impact substitute, Willy Sanou, is playing in the second division of Japanese soccer.
Those stories might not get people watching Morocco 2015, but it is a reminder that good soccer exists beyond our usual haunts. Tournaments like Copa America, Asian Cup, Cup of Nations and even our own Gold Cup are great showcases for it.
And if you're lucky, some of that soccer will involve something distinct to that corner of the world. Like vuvuzelas. BZZZZZZZZZZZZZZZZZZZ!
Packaged for takeaway
Mba's goal wouldn't have happened if it wasn't for Victor Moses. The Chelsea attacker's skill during a 1-on-3 produced the shot that was blocked out to Mba.

Burkina Faso played a 4-2-3-1 formation. Nigeria stayed with their 4-3-3, but electing not to press high during the early portion of the match, the defensive shape folded into a 4-1-4-1 through most of the first half. Rather than pressure Burkina Faso's defense, Moses and Brown Ideye, the wingers at the onset, played very deep in Keshi's initial base setup.
Sanou came closest to a Burkina Faso goal. A blast along the ground from 18 yards to the right of goal forced goalkeeper Vincent Enyeama to palm the ball wide of the far post.
The referee mistakenly awarded Nigeria a goal kick on Sanou's shot, meaning Burkina Faso finished their only Cup of Nations final without a shot on goal.
The win qualifies Nigeria for this summer's Confederations Cup. They'll be grouped with Spain, Uruguay, and Tahiti.