When Alex Ferguson's starting XI was announced, many assumed Manchester United was trying to outgun Real Madrid. A lineup featuring all of Robin van Persie, Wayne Rooney, Shinji Kagawa and Danny Welbeck would certainly attack, it was thought. It was also destined to leave United too exposed to a Merengues attack that would take them apart. If points were awarded before kickoff, El Real would have claimed all three.
But while United proved potent throughout the match, the team Ferguson selected were ultimately capable of playing exactly as many expected. In the pre-XI buildup, most assumed Manchester United would play cautiously and be content to leave the Santiago Bernabeu within striking distance of their opponents. Thanks to an early goal from Danny Welback and some standout goalkeeping from former Atlético Madrid netminder David de Gea, the Red Devils are closer than mere striking distance. Taking a 1-1 result out of the Bernabeu, United has an away goals lead ahead of March 5's second leg.
The result leaves both teams reason to be encouraged. For Real Madrid, they can reasonably feel they were the better team, giving a performance that would win on most nights. The success they had down the flanks — Cristiano Ronaldo on Rafael and Angel Di Maria against Patrice Evra — is something that can be replicated in Manchester. The Red Devils have less reason to believe all of Rio Ferdinand, Jonny Evans, Phil Jones and de Gea will meet today's high standards.
But United have reason to think they can win even if their defense doesn't replicate Wednesday's performance. Today's goal was containment, yet they still were able to generate a number of opportunities. Robin van Persie had two chances to steal a late victory. If United ends up tasked with scoring goals at home (something they won't need to do at kickoff two weeks from now), they can believe their clinical finishing combined with a more ambitious style will sink Real Madrid.
Man of the Match: Only one or two of the saves that David de Gea (right) made couldn't have been made by another goalkeeper (how many players are going to make a hockey-style kick save?), but like Gianluigi Buffon yesterday, much of de Gea's value was in what he didn't do. On a series of hard, well placed shots, de Gea consistently pushed balls into touch or innocuous areas that prevented Real Madrid from building on their pressure. Once the ball was out for corner kicks, United used their aerial superiority to defuse any danger.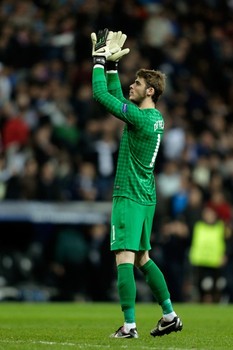 The English media has derided de Gea for his trouble coming out for crosses, a criticism that makes sense given the emphasis English soccer has traditionally put on wide play and crossing for target strikers. But some time ago, that derision crossed the line and started depicting de Gea as a much worse keeper than he actually is. Today may help correct the record.
Threesome of knowledge: What we learned
Manchester United's central defense continues to improve – We talked about it this weekend, but after another strong performance, it bears repeating: If Manchester United's problems in central defense are solved, the team has little worry about over the rest of the season. They'll continue cruising away from England, and they'll be a dark horse contender to win Champions League.
Rio Ferdinand got the call along side Jonny Evans today, and thanks to help from de Gea and the midfield-deployed Phil Jones, the duo managed to withstand constant pressure from the Merengues. Whether it was dealing with Karim Benzema and Gonzalo Higuaín or having to contain Cristiano Ronaldo on those occasions the Real winger cut insider Ferdinand and Evans were up to the challenge, winning their battles against Real's No. 9s while forcing Ronaldo toward the byline and limiting him to crosses.
The difference a healthy Ferdinand offers is striking. Organization we rarely an issue, and Ferdinand still possessions great judgment choosing when to come out of defense to challenge in midfield.
Unfortunately, he's rarely healthy, but if he can stay fit for the next four months, United could have their strongest team since Moscow.
A lot of chances, just not the right ones – From their final third to the edge of the penalty area, Real Madrid's attackers (particularly Mesut Ozil and Angel Di Maria) were given room to run at the defense, an approach that resulted in a number of long distance shots, many of which were blocked. United's defenders kept play in front of them an absorbed attacks rather than challenge for the ball and potentially leave themselves exposed.
The results were huge deficits in possession (61-39) and total shots (28-13) but few danger moments for de Gea and, for a road team, a relatively competitive difference in shots on target (8-6).
Real Madrid needed to be more patient. Particularly given the way de Gea was managing the shots that got through on goal, they needed to craft something more dangerous.
Because the little through balls they're used to playing were unavailable against United, los Blancos may have elected to try and burn the Red Devils from distance. But it didn't work, and unless they get a deflection or a hand ball call in the second leg, it's unlikely to work at Old Trafford.
The value of Phil Jones – It's easy for a defense to look good when somebody like Phil Jones is protecting them.
On Sunday, Jones was tasked with marking Marouane Fellaini, an approach that helped United keep a clean sheet against Everton. Today, Jones was a wrecking ball in front of the United defense. Late in the match, his experience at center half came into play as he dropped deeper and to help the Red Devils bleed out the draw.
Because of his versatility (able to play center half, right back, and defensive midfield) it's been difficult to say United have missed Jones in any particular role, but with the former Blackburn prospect injured for much of the season, the Red Devils certainly have missed him to come degree. It's games like Wednesday's that illustrate how much.
Packaged for takeaway
Whenever there's a job to do wide, Wayne Rooney gets the call. Today in United's defensive phase, Rooney often played on the right of a 4-4-2/4-4-1-1 shape and helped shield right back Rafael. His usage was reminiscent of five years ago when Ferguson temporarily converted used Rooney  as a left winger.
In attack, United tried to get Danny Welbeck forward from the left as Rooney and Kagawa operated behind him and van Persie. With so little meaningful possession, it was difficult to tell how well it worked.
With United electing to absorb so much of Real Madrid's attack, the Merengues would have really used somebody capable of driving forward from midfield to help create isolated advantages along the defense. Sami Khedira sometimes does this, while Xabi Alonso's out of his element too close to the box. This game might have needed more Kaká.
Pepe was back from injury and saw some late time, coming in late when José Mourinho decided to guard against a second United goal. Iker Casillas was injured and failed to make Real Madrid's bench.