A severe step back from their Saturday form was still good enough for the U.S. Women's National Team to cruise to a 3-1 victory over Scotland, but if Tom Sermanni is looking for Christen Press-esque positives from Wednesday's match in Nashville, the team's new head coach will be hard pressed. A flat performance against inferior opposition left the U.S. with few lessons learned as they closed out a two-match set with Scotland.
A choppy beginning to the match saw the U.S. fail to establish any rhythm against a Scottish defense that was quick to collapse into its own end. With Tobin Heath, Carli Lloyd and Alex Morgan all missing from Sermanni's starting XI, the U.S. lacked fluidity going forward, single-touches throughout their team failing to generate any meaningful scoring chances. Without somebody willing to assume a creative presence, the U.S. had initial difficulty creating opportunities against a Scottish defense content to keep the world's No. 1-ranked team at arm's length.
The U.S.'s opening goal came in the 21st minute after the Scots turned off on a cross from the U.S.'s left. Megan Rapinoe, having switch flanks with Heather O'Reilly five minutes earlier, was allowed to collect the pass and wait for it to drop toward her right foot before curling a shot inside the left post with the outside of her boot. Taking advantage of a moment's indecisiveness, the U.S. was up 1-0.
After playing out the rest of a choppy first half, the U.S. looked sharper in the second. Thanks in large part to the effort of forward Sydney Leroux, the U.S. was finally able to open up the Scottish defense. In the 51st minute, that running finally paid off when Leroux cut under defender Jennifer Beattie and onto a pass from O'Reilly before crossing for Abby Wambach. Heading home the 153rd goal of her career, Wambach gave the U.S. a 2-0 lead.
Thirteen minutes later Christen Press, who had just come on for Wambach, slid a 10-yard shot inside the right post to make it 3-0. For Press, it was her third-goal of the week, but with no defender within eight yards of her as she raced into the right side of the box, it was clear the Scots had finally worn down.
The scoring ended in the 81st with a consolation strike, Scottish striker Suzanne Grant one-timing a Emma Mitchell cross past Hope Solo to score in her 100th international appearance.
At 3-1, the final score ultimately mirrored Saturday night's in Jacksonville, but the performance wasn't as strong. Over the first half, little separated two teams who are miles apart on the international ladder.
Here are some of the other takeaways from Wednesday's match: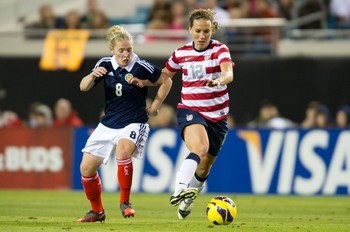 Lauren Cheney, midfielder, is still a question mark – She has all the skills to be a great forward, but on a team that has Abby Wambach, Alex Morgan, and Sydney Leroux being great is no guarantee of playing time. So Lauren Cheney, who also has the intelligence and technical quality to play in midfield, has been slowly adapting to a middle-of-the-park role since post-2011 World Cup.
On Wednesday, that learning curve was exposed. Cheney was competent and mistake-free paired with Shannon Boxx in the middle, but for a team at the U.S.'s level, being competent is not enough. One-touch passes into defense and wide to O'Reilly and Rapinoe need to be complemented by a threat going forward. When Scotland's midfield gave her time to turn and look upfield, Cheney demurred. Until Sydney Leroux started dropping back and to take the ball high in midfield, the U.S. had no threat coming through the middle.
That lack of creativity is a problem when Carli Lloyd is in the team, too. Tonight, however, Cheney failed to show she can be an improvement.
It's almost an unfair challenge to give somebody – asking a player so close to becoming a world-class striker to, in her mid-20s, become a world-class midfielder. And when, in the second half, Cheney was near the penalty area and put a nice touch on a ball hit out of the back, we saw that forward's skill set still rests in her. And yet she's being put in position to be judged against players who've trained most of their lives to be midfielders.
Wednesday's was only one game, but it's a game that's consistent with a larger body of work. It's still unclear Cheney is an answer in midfield.
Wide play dropped off – Sermanni changed both of his outside midfielders, electing to start Rapinoe and O'Reilly over Press and Heath. Despite Rapinoe's goal, neither player had standout games. Aside from some nice service on dead balls, Rapinoe failed to provide a needed spark. O'Reilly was a non-factor partly do to a mid-first half switch that put her on the left side, where she was ineffective.
The trouble on the wings ended up inhibiting fullbacks Kelley O'Hara and Ali Krieger. Both defenders had strong performances on Saturday, but the combination play between them and their corresponding wingers just wasn't there on Wednesday. O'Hara, so vital on the U.S.'s second goal in Jacksonville, was never a factor, while Krieger was kept from getting forward by a Scotland attack that tended to throw a forward at her while breaking out of their end.
Mixed reviews for central defenders – Sermanni also swapped out both central defenders, replacing Christie Rampone and Becky Sauerbrunn with Whitney Engen and Rachel Buehler.
Engen, making her first start for the national team, looked capable but unsteady, at one point arching her back while attempting to head a ball after being caught turning her back to the field of play. She'll need better performances than this one if she's going to challenge for a regular spot.
Not surprisingly, Buehler was more solid, but her tendency to get caught out of position on forays into the midfield was on display in the first half. Multiple times the veteran came out of defense to challenge for possession only to pull up short and end up trailing the play as the ball moved past her.
It's the type of play Christie Rampone's capable of covering for, but it's also the opposite of what we saw from her replacement on Saturday. While Sauerbrunn was far from mistake-free in Jacksonville, she was better at making decisions on when to jump into midfield, memorably coming forward to head the ball off a throw-in out of the Scottish end in the first half.
Buehler is probably still the first choice at left-center half, but the reality of the U.S. central defense remains unchanged. The back four still depends on Christie Rampone.
Abby Wambach looked better – It still wasn't vintage Wambach, but more active and less mistake-prone than Saturday, the FIFA World Player of the Year bounced back from a bad game in Jacksonville. Her early second half energy helped produce a goal that leaves her five short of Mia Hamm's all-time record.