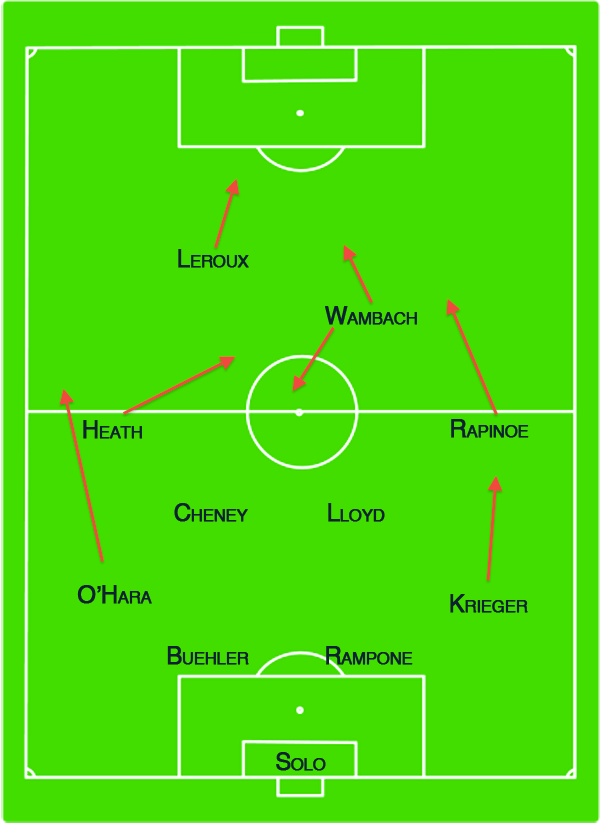 The one surprise on Wednesday was Christen Press, who scored two goals in her international debut while starting out of position on at right midfield. Rightfully overshadowed by that selection was a Tom Sermanni XI that went pretty much by Pia Sundhage's book. If those tenants hold for tonight's rematch in Nashville, the U.S.'s Starting XI will be very easy to predict.
But remember the caveats. We don't know much about Tom Sermanni. We don't know how he's approaching these games. If he's trying to get a good look at everybody, there may be more changes.
Just like this weekend's prediction, I'm taking a conservative tact. The regulars who didn't start on Saturday? I've slid them into the team. Otherwise, the starting XI stays the same.
GOALKEEPERS: Hope Solo is back. She'll almost certainly start in goal, with Saturday's No. 1 Jill Loyden moving to the bench. As we discussed this weekend, Sermanni's selections in goal have given us a good indication of the U.S.'s keeper depth chart. Solo's number one, Loyden has passed Nicole Barnhart as the backup, with Ashlyn Harris fourth.
DEFENDERS: Rachel Buehler missed the beginning of camp for personal reasons and was withheld from Saturday's game in Jacksonville. She'll likely resume her first team spot partnering captain Christie Rampone. Out wide Kelley O'Hara and Ali Krieger, coming off strong outings in Florida, should be back in Sermanni's starting XI. Liverpool center back Whitney Engen and North Carolina's MAC Herman-winner Crystal Dunn will be options on the bench.
MIDFIELDERS: Like Beuhler, Megan Rapinoe was a late arrival to camp and missed Saturday's game. Returning from duty with Lyon, the first choice attacker should be back in the starting lineup. Tobin Heath should return on the left, but we may see a change in the middle. Lauren Cheney was an odd-woman-out on Saturday, Sermanni may use Wednesday as an opportunity to get her in the team. Though my guess is she'll come in for Shannon Boxx and partner Carli Lloyd, Cheney could start at any of the midfield or forward positions. We could see any of Lloyd, Heath, or Boxx slide to the bench.
Heather O'Reilly and Lori Lindsey were also named to the team. O'Reilly should see time on the right at some point in the second half, while Lindsey's normal position is central midfield. She'll come in for Lloyd, if Sermanni starts this XI.
Christen Press is also an option here, but with Rapinoe back, she's more likely to see time at her natural position: forward.
FORWARDS: Abby Wambach is chasing Mia Hamm's all-time goals record. She's also in line to get her 200th cap. With U.S. Soccer touting both marks, expect the States' focal point to be in Sermanni's XI. With Alex Morgan out, Syndey Leroux or Lauren Cheney should get the start in front of Wambach. If Cheney gets the nod in midfield, Leroux's the default choice up top.