I am remarkably proud of our soccer nation today.
Going way back, I have always thought of soccer fans as a slightly more enlightened breed. Historically you cannot have worn the soccer label in this country without some ability to think for yourself; there was always a ninny out there telling you to get in line and support the "traditional" American sports.
Friday proved it, when a person previously reluctant to be the best version of himself brought out the very best side of the collective U.S. soccer supporter nation.
Robbie Rogers did something on Friday that took tremendous courage, coming out as a gay man. The American soccer supporters reacted with an overwhelming, inspiring show of support.
Men's professional sports remain hard-wired into a certain machismo and some corresponding old ways of thinking when it comes to matters of women and sexuality. Individually, we may have become more enlightened and permissive as a society, but evolution within a group dynamic has been harder to come by.
Believe it: what Rogers did took vast stores of backbone.
Even at the highest levels, they did more than just let Rogers know what he did was OK; they acknowledged the breakthrough and the bravery: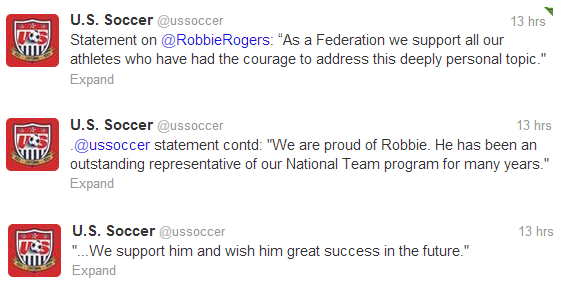 Rogers has appeared 18 times for the full national team. That's exactly what helped make this so significant and newsworthy; Rogers was hardly some obscure figure in the game, once among the most promising young American talent. A 2008 Olympic team member, the speedy left winger quite nearly landed a World Cup roster spot back in 2010, just as he turned 23.
From the playing community, the outpouring was nothing short of inspirational, so much of it delivered publicly via Twitter, so many punctuated by a hashtag of earnest admiration and understanding: #respect
(MORE: Great insight into Rogers' weighty decision)
And so many were more than just "We got your back."  Longtime U.S. goalkeeper Kasey Keller, for instance, said what was on so many minds, something becoming more and more evident as the public support mounted. "The bravery of Robbie Rogers in commendable, I hope he realizes that he doesn't need to retire. He will be more supported than he knows"
MLS players gathered in Arizona for a preseason tournament were scheduled for a round of video interviews, so they took the opportunity to support Rogers on camera.
The Seattle Sounders did a video of their own. That was capped with an MLS public service message where prominent players, including Landon Donovan and Dwayne De Rosario, advised that the league was a no-bullying, no-racism, no-sexism and no-homophobia zone. It also included a statement of support from Marc Burch, who was caught on camera last year in bigoted moment. (Burch subsequently and profusely apologized for his poor choice of words.)
Players from the league champion LA Galaxy voiced their support.
Like Burch, Galaxy midfielder Colin Clark had a particularly bad moment in 2012. He was suspended early last year for directing a homophobic slur toward a young ball boy (for which he went out of his way to humbly make amends). So Clark's show of support particularly resonated.

Meanwhile, the support from fans was similarly overwhelming – and overwhelmingly positive. Even Rogers was taken aback.

Colleague Brian Straus from The Sporting News, also wrote of the stunning stream of  support. He eloquently nailed the U.S. soccer fan dynamic here that creates a more accepting collective.
Thanks to American soccer's unique demographics, there likely is no sports league in this part of the world more prepared to accept an active gay player than MLS. Soccer remains somewhat counter culture in the U.S. and Canada. MLS fans often are young and urban. Many of the league's players are well traveled or well educated. The "New America" that so many pundits discussed during last fall's presidential election—diverse in some ways, cosmopolitan in others—is far more likely to embrace soccer than the old.
We all deserve to be the best that we can be. No one should be relegated to the outer markers, circling the airport, afraid to land at the fullest version of themselves.
American soccer at large took the opportunity to remind Rogers of that, and tell him that we're all good here.