PORTLAND, Ore. — Had the score reflected the unbalanced play, people outside of Portland may have taken notice: The Caleb Porter Project is starting to yield early returns for the Timbers. True, his defense was mistake-prone and made what should have been a comfortable victory into what appears to be a shootout, but for 90 minutes against the Supporters' Shield holders, Porter's product was as advertised. His team passed, pressed, ran and rocked the visiting Earthquakes onto their heels, leaving 14,229 at Jeld-Wen Field with a performance that transcended the result.
"In the end I think we proved to ourselves and each other that we're capable of beating anybody in Major League Soccer," was Porter's bold assessment after the 3-3 result, a game highlighted by a hat trick by new Timber Ryan Johnson. It also featured three defensive mistakes which allowed San Jose to earn a draw.
"There were some moments in the game that we need to address," Porter conceded. "The nice thing is that those are things that are easily addressable."
The first goal, three minutes in, came after a ball-to-hand in the box. Chris Wondolowski buried the opener from the spot. A midfield foul and a converted set piece allowed Victor Bernardez to score San Jose's second, while chaos in the penalty area let former Timber Mike Fucito give the Earthquakes a late equalizer.
The goals weren't enough to cloud Porter's standout Jeld-Wen debut, one that allowed his team to show the stylistic revolution anticipated from the former Akron boss is more than some hyperbolic fable. Returning from their four-game stretch in Arizona, the difference between Porter's teams and the style of former coach John Spencer's was drastic. The Timbers dominated possession, relied on short passing that capitalized on constant off-the-ball movement, and were steadily throwing players at the defense.
The first goal, two minutes after San Jose's opener, illustrated the approach. San Jose left back Justin Morrow had been drawn in, leaving Portland fullback Ryan Miller — advanced to play along San Jose's line — space to receive and play a pass toward the byline. Kalif Alhassen ran through the channel and onto the ball, providing a perfect near-post cross to Ryan Johnson. The Jamaican international's looping header pulled Portland even.
Portland opened up San Jose's midfield for the second, Diego Valeri given too much time to threat a ball behind Bernardez for Ryan Johnson, while the third saw Johnson chip Jon Busch to complete a Portland counter.
(MORE: Ryan Johnson hits for three in Jeld-Wen debut – HIGHLIGHTS)
It may have just a preseason game, but San Jose started seven regulars. Portland started nine players who are likely parts of Porter's First Kick XI, but their setup was slightly different than the one we're likely see against New York on March 3. The relatively flat midfield in Sunday's setup should give away to a midfield diamond, with newly acquired Ben Zemanski playing at its base.
But with time running out on the preseason, it's time to start drawing some conclusions about teams' preparedness. And in that regard, Portland is far ahead of the game. You can see Valeri will be their playmaker, Johnson their push, and (eventually) Nagbe their poacher. You can see a narrow midfield giving way for fullbacks to provide width and pressure.
You can see the chemistry developing among players learning to read each other's movements, and you can see players bursting from midfield seeking to exploit the space exposed by their passing game. It's shocking how much the team is playing to the Caleb Porter hype.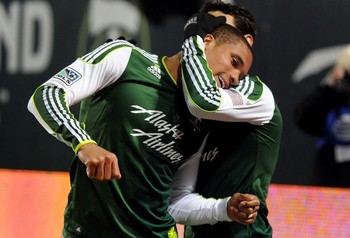 It's the type of approach a stylistic homogenous, tactically risk-averse MLS rarely sees. That was evident by San Jose's reaction. The Earthquakes, playing a standard MLS 4-4-2, saw their midfield flattened and rooted by the Timbers' movement, with the home side habitually breaking down the Earthquakes' left flank. Even after Frank Yallop switched loanee John Bostock with starting right midfielder Shea Salinas, San Jose couldn't stop right back Ryan Miller and right midfielder Kalif Alhassan from teaming with forwards Johnson and Diego Valeri (right) to breach that side. The Timbers' new passing and movement was going to take more than 90 minutes for San Jose to get used to.
"That's going to be a strength of our team," Porter said of his side's style, sentiments that have been echoed since his mid-winter introduction. "We want to be an aggressive team … a proactive team. We want to be on the front foot, and we want teams to have to deal with us. San Jose had to deal with us tonight."
San Jose couldn't say the same of Portland. For most of the night they were without the ball and forced to rely on transition for opportunities. Yet with three goals that came decidedly against the run of play, the Earthquakes highlighted why Portland's 2012 defense ranked 17th in Major League Soccer. Giveaways, soft fouls, and lapses in focus — all correctable offenses — kept the Timbers from victory.
"It's easier to clean up the defensive side," Porter said of his team's progress. "It's easier to sort out a giveaway that can't happen. It's easier to sort out getting your back four tightened up. It's easier to sort out marking a guy on a set piece. Those things will be sorted out …"
Even if the defense stays problematic, Sunday's game represented a huge step forward for the Timbers. Not only do they seem better than last year, but their style of soccer is much improved. That entertainment value is something owner Merritt Paulson has stressed since the Timbers entered Major League Soccer. Even if Portland can't challenge for a playoff spot, a new, more ambitious tactical approach will be a reprieve for Timbers' fans.
"I was pleased because there were moments where we showed Portland Timbers football and our identity and what it's going to be," Porter said. "We also showed we're adjustable as well, and we do what we need to win games.
"That's a mark of a good team in MLS. You know who you are but you also can adjust and be flexible at times if you need to.
This all assumes the team that showed up on Sunday is for real. It could have just been a good night against a team that's not as far along in their preseason preparation. Until Portland can transfer this production onto a regular season game, the revolution's yet to start.
Ultimately, it was just an exhibition, though it was one that will inspire a lot of conviction.
"[San Jose] was the best team in the regular season last year. We went toe-to-toe with this team, and in the end, I thought we were the aggressor looking to win.
"If we would have cleaned up a few mistakes, the game would have been ours. So we take a lot of belief and confidence from this game. "