PORTLAND, Ore. — It reminded me of a conversation almost three years old. There was FC Dallas, at Jeld-Wen Field playing out a 0-0 draw with Sweden's AIK, and David Ferreira's positioning was taking me back to a Skype conversation I had with a colleague in the wake of the 2010 World Cup.
Reductionism, lack of perspective, formation primacy – we were going through our litany of quibbles when we came upon Uruguay. Oh, here was a great example, my friend noted. For all the love of Spain (adoration which was at its apex at the time) and the growing fallacy that formation A always bests formation B, here was La Celeste making an unexpected run to the tournament finals. And they were doing it with a "broken" formation.
Óscar Tábarez had Diego Forlán, Luis Suárez, and Edinson Cavani — as enviable a striking trio as you'd find in the world — and a bunch of players who were better suited to play more defensive roles. Attempts to leverage Nicolas Lodiero or Álvaro Fernandez as a means of connecting to the trio hadn't worked, so as the tournament went on, Uruguay's best setup saw Diego Pérez, Arévalo Rios and Álvaro Perreira sit deep in midfield with Forlán tasked with bridging the gap. With a huge space between forwards and midfielders, Uruguay's midfield was broken. And successfully so.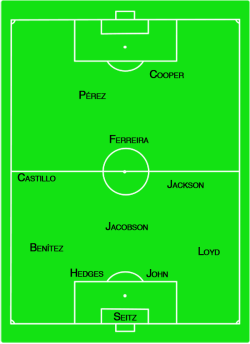 It's rare that you see teams willing to leave such a gaping space in midfield, but there I was on Sunday, witnessing FC Dallas do the same thing. Schellas Hyndman's team had Kenny Cooper and Blas Pérez up front, David Ferreira right behind them, and a huge gap back to their defensive midfielder. Neither Fabian Castillo nor Jackson (the wide midfielders) were coming in to help.
Dallas was broken, and Hyndman knew it.
"We haven't spent enough (time working) in the attacking third," the Dallas head coach said after Sunday's game. "I thought we had, but today's performance showed us we need to put more into our attacking third and developing that structure."
But what is "that structure"? When you have the likes to Forlán, Suárez, and Cavani in your team, you might be able to get away with playing like that – vacating an important area of the field. Suárez is a bulldog, capable of dropping and winning balls sent from the back. Cavani's industry and size gave Tábarez an outlet wide. Forlán, playing as a No. 10, was the tournament's best player. If there's a trio that could fix a broken setup, that's it.
Dallas, however, has problems. Ferreira isn't somebody that's strong or willing enough to win physical battles with an opposition defensive midfielder over the course of 90 minutes. Neither Cooper nor Pérez are great ball-winners in the air, meaning Dallas can't rely on more direct play. The duo also lack the speed, industry, and versatility to mimic Cavani or Suárez. Against AIK, Dallas's broken formation needed fixing.
One solution would be to abandon the setup entirely, something that's unlikely given Dallas's talent. After years of being a 4-5-1 team, Dallas is making a shift to a two-striker setup, one that's been facilitated by acquiring two high profile No. 9s this offseason. While previous teams would rely on left winger Brek Shea to augment the threat sacrificed by choosing five midfielders, now FC Dallas is turning to Cooper, Pérez, and Eric Hassli.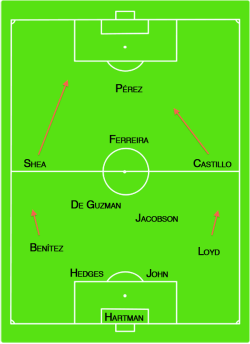 "When we brought Kenny in, when we brought in Eric Hassli, we put a lot of our salary cap into those three players, with Blas," Hyndman explained. "It's kind of putting ourselves in position where we have to find ways of being successful with two strikers."
The alarming part of Dallas's Sunday sacrifices were how easily they were revealed. Take the action along their left side through fullback Jair Benítez, the most obvious of a few examples where Dallas's problems were easily exposed.
The Colombian veteran is a proven Major League Soccer defender, one that's been a part of an MLS Cup finalist, but on Sunday basic pressure from AIK right midfielder Daniel Gustavsson repeatedly forced him into negative balls. The connection between Benítez and Chris Seitz was Dallas's most successful in the first half, though because Benítez is so left foot dominant, the backpasses to his keeper provided small moments of drama. As Benítez turned away from pressure, his want to play everything with his left foot exposed the ball to the middle of the field. As Gustavsson started to pick up on this, he became more daring, trying to pick the ball off Benítez's boot before it was released to Seitz.
Why Benítez was forced into the passes was more important than how the passes were executed. Mickael Tavares, starting in defensive midfield, was often marked by right forward Viktor Lundberg and was unable to create an outlet through the middle. With Benítez in a slightly more advanced position than his central defenders, his angle to left-center half Matt Hedges allowed Lundberg to simultaneously cut off that lane. With AIK's pressure turning Benítez away from left midfielder Fabian Castillo, one of his other potential options, Seitz was both his logical and only choice.
In a normal 4-4-2 – one that isn't broken – Benítez would usually have one more outlet, but after years of playing as a No. 10 in front of two midfielders, David Ferreira isn't accustomed to coming from his position to show for the ball. His best seasons in MLS, including his 2010 MVP campaign, cast him as the most advanced player in a five-man midfield, a role that allowed him to stay high and receive the ball without dropping into the heart of midfield. Though Dallas is no longer playing that system, Ferreira has yet to adjust to a more conventional midfielder's role. On Sunday, it showed, with his positioning leaving Dallas reliant on long balls down the right and combination play down the left to get into the final third.
Those avenues would be welcome choices for Dallas's opponents. They reduce the influence of Cooper, Pérez, and Ferreira – not what Hyndman wants.
"When we were at our best was when we were able to win the ball and go quickly in transition," Hyndman noted, tacitly acknowledging the team's regular buildup was lacking. He also acknowledged the struggles could breed discontent:
"We had a few players that it's going to be very quick for them to be pointing fingers at people, saying 'You weren't here. Or you turned the ball over.' I think that's a normal thing you go through, some frustrations."
As Hyndman reiterated throughout his post-match comments, "it's why we call it preseason," but with two weeks until Dallas hosts Colorado to kick off the season, the team needs answers.
Assuming they intend to keep playing two forwards, the most obvious one is to change Ferreira's role, though that would mean taking your best player and putting him in a less comfortable position. If that's not a recipe for outright failure, it at least represents a potential step backward. Given the 33-year-old's skills, it's unlikely he'd be effective in a deeper role.
A better option for Dallas is to bring the wide midfielders in, changing from the approach that saw Castillo and Jackson deployed very wide against AIK. Instead of playing close to a 4-1-3-2 (a line of three in front of a defensive midfielder in the defensive phase), Dallas could employ a 4-3-1-2 that's closer to what we've seen from Real Salt Lake.
It's a formation in which Jackson would be a good fit, and with Benítez and right back Zach Loyd, Dallas has fullbacks capable of providing width. When defensive midfielder Peter Luccin's in the team, the pieces come together, though the move would require sacrificing Castillo from Sunday's team in favor of Andrew Jacobson.
But as Hyndman noted on Sunday, "Any system you play, anywhere you play it, you're bound to give up something." Sacrificing Castillo may be the lesser of a list of evils that includes dropping a striker or asking David Ferriera to be something he's not.
And read between the lines of Hyndman's Sunday thoughts, and you can see he may already be headed in that direction.
"I'm think maybe about 80 percent," the Dallas boss said when asked how close Sunday's team was to the one that would face Colorado. Explaing the setup would stay basically the same, Hyndman noted "different players" would likely get the nod at FC Dallas Stadium.
"We still got trialists that we're looking at. That and we've got a couple of guys who aren't here right now."
The guys who were there were very much in preseason mode. And because of it, Sunday turned into a great learning experience for Hyndman. Now he knows his team needs some significant tweaks. He has two weeks to make the right ones.