At halftime, Arsenal had 51 percent of the possession, hardly indicative of a team that had been dominated. Yet thanks to a huge disparity in execution on the final third, Bayern Munich took a 2-0 lead into halftime, a scoreline that carried the Germans through the final whistle.
Though Arsenal were able to pull one back after Lukas Podolski headed home a second half corner, the Gunners still face the daunting task in the tie's return leg, especially after allowing Bayern Munich to restore their two-goal lead late. Having dropped their home leg 3-1, Arsenal must now find a way to score at least three on the road against a club that's allowed only seven in league this season.
That their defensive prowess abandoned Bayern for a brief moment in the second half now seems like a footnote, but it did give Arsenal brief reason to hope. After conceding a corner along their left, FCB allowed Arsenal's 55th minute cross to drop in the middle of their area, near the six-yard box. Germany No. 1 Manuel Neuer, committing an ironically characteristic error, failed to catch a ball that bounced for former Bayern attacker Lukas Podolski, who had gotten ball-side of Bastian Schweinsteiger for an easy goal.
It was Arsenal's first shot of the match, a testament to that first half disparity. Despite superficially even play, Bayern still reached halftime without allowing Neuer to be tested. Conversely, their ability to execute the isolated chances they generated led to a comfortable halftime lead.
The first goal came early, an errant fifth minute cross from right ring Thomas Müller finding attacking midfielder Toni Kross just inside Arsenal's penalty area. The German international one-timed a shot into the right of Wojciech Szczesny's net, giving the Gunners' goalkeeper no chance to prevent the opening goal.
Mid-way through the half, Kross hit a perfect in-swinging corner near post where defender Daniel van Buyten, having cut across Aaron Ramsey, headed onto Szczesny. The Arsenal No. 1 did well to push the shot off the line, but with Müller alone in the box to play the rebound, the Gunners found themselves two goals down after 21 minutes.
They were Bayern's only shots of the half – Kroos's goal, van Buyten's header, and Müller's putback – but they highlighted the difference between the two sides. Given as much of the ball as their opponents, the Bundesliga leaders created to clean goals. With the same amount of possession, Arsenal couldn't challenge Manuel Neuer.
"You have to give them credit for their class," Arsenal boss Arsène Wenger said after the match. "In the first half in patches there was a difference in quality."
In the 73rd minute, after Arsenal's ascendancy had forced Jupp Heynckes to sacrifice Kroos for the more defensive Luiz Gustavo, a direct ball that Mario Mandzukic chested down for Arjen Robben gave Bayern a chance to put Phillip Lahm behind the defense. The right back's ball through the six-yard box met Mandzukic as he beat Bacary Sagna, allowing the Croat to put home München's third goal.
It was another example of the match's defining theme: Bayern's superior execution. It wasn't that the Bavarians dominated the game; rather, they converted the chances they created. Arsenal not only failed to create enough opportunities, they didn't execute as well on the ones they did. The prime example: Substitute Olivier Giroud's chance to equalize in the 72nd minute off a cross from Theo Walcott was drilled right at Neuer, failing to convert on Arsenal's best chance to get back in the tie.
That execution gap (and the talent that enables it) is why Arsenal is the middle of a minor identity crisis, and despite a strong second half showing that mitigated their poor start, the night at the Emirates provided further evidence of a team that has slipped from their place among Europe's elite.
Meanwhile, Bayern has affirmed their status as one of the two favorites to claim this year's Champions League.
(MORE: The day's other day, Porto holding serve against Málaga)
Man of the Match: Getting two early goals on the road, Bayern settled into an approach that inhibited standout individual performances, though Toni Kroos's contributions to the game's first two goals are still worth of recognition. A perfect hit on Müller's fifth minute cross left Szczesny flat-footed as the opener sailed into his nett, while a great corner that swung in and dove at the near post allowed van Buyten to take advantage of the space in front of Arsenal's first defender.
Threesome of knowledge: What we learned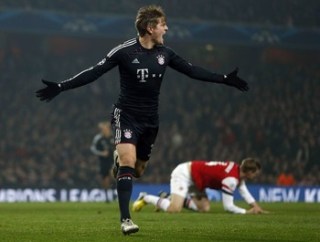 Bayern's midfield was too much for Arsenal's – The talent and flexibility of Kroos, Schweinsteiger, and Javi Martínez were on display on Tuesday, the trio able to control that determinative period of the first half. Though Arsenal had a good amount of the ball, the positioning of Schweinsteiger and Martinez at the base of midfield allowed Bayern to stay organized and prevent Arsenal from mounting a significant threat. Going forward, the duo (Martínez in particular) were able to take advantage of Arsenal's trio of Jack Wilshire, Aaron Ramsey, and Mikel Arteta, moving into available space as well as helping to pressure the sitters into hasty clearances.
That they were able to get that high and provide that help was a major difference between the two sides. Bayern's play and the quality of their midfielders allowed their two deep midfielder to push forward, the 15-20 yards of space they sometimes kept between themselves and their central defenders standing in stark contrast to Arsenal's holders. While Mikel Arteta and Aaron Ramsey were often 8-10 yards away from their defensive line, Bayern was content to let van Buyten and Dante deal with Arsenal's attack.
The positioning was a metaphor for the difference between the two sides, and that was just their deployment. In terms of actual play, if you were to rank the games six starting midfielders based on their Tuesday performance, Bayern's three would be at the top of the list while Arsenal's ranked fourth through sixth. The Gunners' trio were never able to have an impact on the match.
Is it worth it? Moving Cazorla wide to make room for Ramsey? – It's difficult to say how much this mattered. Cazorla playing in the middle wouldn't have prevented either of the first two goals.
Ultimately, that's what dictated how this match played out; however, with Arsène Wenger electing to put Cazorla wide right in the defensive phase and leave Jack Wilshire as the through-the-middle outlet, Arsenal moved their best player farther away from the action. Although he came into the middle in the attacking phase (and Wilshire was active enough in his role trying to connect out of the back), you can't help but wonder if Arsenal would have been a little more potent with their first half possession had Cazorla been the man receiving the ball out of the final third.
It's not unheard of for Arsenal to play like this. When Aaron Ramsey is in the team (which he was on Tuesday), Wenger adjusts by pushing Wilshire forward and Cazorla wide. But that choice comes with costs. Today, Ramsey played a part in both first half goals (see below), Arsenal didn't have Wilshire's quickness and distribution deeper in their formation, and Cazorla was pushed away from the action. It's hard to see how those costs were offset by getting Ramsey into the team.
Bayern is otherworldly right now – Even with Arsenal's dip in quality and Bayern's second half slip, consider the result: Bayern takes a 3-1 lead out of the Emirates.
That's huge. For comparison's sake, look at what Barcelona's taken from the Emirates in recent years. In 2010-11, Barcelona was trailing after their first leg in London, eventually turning around a 2-1 deficit to advance 4-3. The year before, Barcelona was drawn 2-2 at the Emirates before routing Arsenal at the Nou Camp, 4-1.
Even for the half hour the game sat 2-1, Bayern never looked as vulnerable as Barcelona did in those games. That history left a voice in your head saying "Arsenal could do this again," but ultimately, Bayern showed that may be on another level. Tonight's game just wasn't that close.
"We are currently in astonishing form," Heynckes said after the match, "our quality is that we can punish the smallest mistakes of our opponents."
Packaged for takeaway
Bastian Schweinsteiger picked up an 39th minute yellow card and will miss the second leg in Munich. Look for Luiz Gustavo to take his place along side Javi Martínez. Given the score, don't look for it to matter that much.

Other Bayern yellow cards: Phillip Lahm and Thomas Müller. Losing either of them would be a significant blow.
Nacho Monreal, cup-tied thanks to his time with Málaga, was ineligible for tonight's game. As a result, Thomas Vermaelen slid out to left back, with Laurent Koscielny and Per Mertesacker getting the call in central defense. The Belgian international did a good job on Müller.
Aaron Ramsey failed to get to the cross that led to the first goal. It was a difficult play, one that would have required him to react immediately to Müller's ball, but it's one other players would have made. The same could be said on the 21st minute corner, when van Buyten ran into Ramsey's zone to flick the ball on goal. It wasn't a good night for the 22-year-old Welsh international, and approaching five years since he arrive in London from Cardiff City, you wonder if he's ever going to live up to the speculation that surrounded him as a 17-year-old.