If you think today's result will just be a one-off, your memory's short. This is how Chelsea did it last year. This is how Manchester United did it in 2008 and how Chelsea nearly derailed them a year later. This is how Barcelona goes out, but unlike recent years that saw opponents get a goal and hold out, Milan got two. And now one of the tournament favorites is on the brink of leaving UEFA Champions League before they've even managed to threaten their opponent's goal.
That's how surprisingly lopsided today's match was, though that imbalance won't be reflected in the possession stat. At 73 percent, Barcelona held even more of the ball than they're used to. Yet paradoxically, their attack was far more feeble, only putting one shot on Milan goalkeeper Christian Abbiati. Barça never showed the will or ability to solve what's becoming a surprisingly reliable formula.
That formula: Defend. It's not complicated. Just keep defending to the extreme and wait for your chances, no matter how long it takes. If you stay focused, camp behind the ball, and force Barcelona to move through you, they can be beat. All you need is one moment – one good bounce, one swift movement – and you can derail one of the best teams in the world.
"The result is definitely unexpected," Milan midfielder Riccardo Montolivo conceded after his team's 2-0 victory. "We faced the best team in the world."
Milan's first moment came in the 57th minute, the first real chance of a game that had been chance-less. Off a restart near the edge of their attacking third, Milan let midfielder  Montolivo try from distance. His shot from 30 yards out hit a Barcelona player, went off the hand of Cristian Zapata, and fell for Kevin Prince-Boateng. The Milan attacker turned on his left foot and fired with his right from just inside the box, the bang-bang action leaving Victor Valdés flat-footed as the game's winning goal flexed the right side of his net.
It was a stroke of bad luck for the Catalans, but sauntering through their road leg with the intensity of camel, Barça was ripe to be caught. It nearly happened in the 11th minute, when Milan broke with numbers after a corner kick. It almost happened in the 16th minute, when a poor touch from Stephan El Shaarawy is all that prevented a point-blank chance on goal. Thanks to long passes from Montolivo and the constant threat of El Shaarawy getting behind right back Dani Alves, Milan was always one movement away from taking the lead.
"We couldn't create chances, Milan was well-organized," Alves said before conceding, "We could have competed a bit better."
Lightning stuck for a second time in the 80th minute when a ball chipped forward M'Baye Niang allowed the French teenager to find El Shaarawy in the box. The young Italian lifted a ball over the right side of Barça's defense for an oncoming Sulley Muntari, whose finish back across goal put Barcelona on the edge of elimination.
"It was the most important goal of my career," Muntari said afterward.
No doubt Barcelona controlled the match, but their command was passive, their assured but serene possession playing into Milan's hands. With three compact midfielders, wingers tracking deep, and a defensive so far back they rarely had to worry about anything behind them, the Rossoneri willing ceded a control that never mattered. They may have only held 27 percent possession, but putting three shots on goal to Barcelona's one, Milan were the more dangerous side.
"This is a very negative result," Iniesta said after the match. "When you don't show up for the game, this can happen."
With their 2-0 victory, Milan proved more than opportunistic. They were the better side, one that leaves Barcelona needing two goals to have a chance of survival. But even before worry about converting chances, Barça needs to figure out who to create some.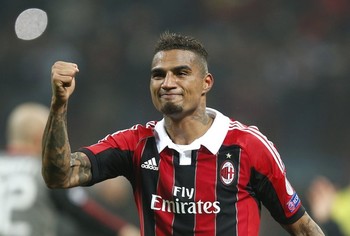 Man of the Match: Montolivo and El Shaarawy were key to how Milan set up, but Kevin Prince Boateng's finish is what set Milan on their way. Not everybody would have gotten that shot on goal, let alone hit a ball so well that the opposition keeper was left flat-footed. Reflexively shooting as he turned on the ball, Prince allowed Milan to reap the rewards of an extreme but highly successful approach.
And the former Ghanian international did his part on the other end, too, coming back from his right wing position to set up in the area normally patrolled by Andrés Iniesta. The Barça star had a quiet day, and although it was unclear Boateng was the cause of that, his positioning and willingness certainly helped, particularly when he was called on to track Jordi Alba's runs (as he memorably did to win a ball behind Milan's line in the 43rd minute).
Threesome of knowledge: What we learned
Allegri, Milan have come a long way – In the wake of the Zlatan Ibrahimovic-Thiago Silva sale, Milan got off to a terrible start to the season. They fell to the bottom half of the Serie A table while struggling to get through their Champions League group.
Now the team sits third and have a path into the Champions League quarterfinals. What happened?
Massimiliano Allegri was given time to figure his new team out, something that didn't look certain to happen as the Rossoneri stumbled out of the gate. But slowly Allegri determined El Shaarawy was capable of carrying the scoring burden. He incorporated Montolivo, tweaked Prince's role, and forged a viable central defense from Philippe Mexes, Cristian Zapata, and Mario Yepes.
Along the way, he moved away from Alexandre Pato. Robinho is no longer a major part of this team. Antonio Nocerino, a find last season, isn't a vital cog in midfield.
Six months after fans were calling for his ouster, Allegri took apart Barcelona. That's how far his team has come.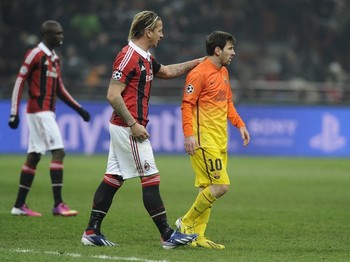 Where did Lionel Messi go? – The best player in the world was a complete non-factor. Milan was tight and compact through the middle, giving Messi no space to work, but even when the Balon d'Or winner started going wide right in an attempt to find room to work, he failed to have an impact on the game. Aside from a 29th  flash when he beat left back Kevin Constant, Messi might as well have been on the sidelines.
For only the second time this season, Messi was held without a shot on goal.
It's not like Barcelona's other stars were much better. Xavi Hernández and Andres Iniesta played a bigger part in the game, but that's to be expected. Milan wasn't crowding the areas were they operate. Cesc Fábregas and Pedro Rodríguez? Their names were rarely called.
Messi, however, usually finds a way to break through. Even when he's off, he's capable of finding a moment of brilliance. Tonight, he wasn't even close.
A portable approach – Milan's tactics weren't complicated. They weren't dependent on anything specific to the San Siro, and as we've seen in recent years, other teams have been able to execute this approach on the road. There's no reason why Milan can't replicate this performance in Spain. Carrying two goals out of the San Siro, they even have license to be more extreme.
Barcelona may be able to break through in Spain, but odds are they'll lose if they don't change things up. They know their recent history. They know they need a Plan B. They can't just assume dogma will win out.
The question is whether they can change. Do they have enough diversity of talent within the team to make the necessary changes? Is there even enough familiarity with a different approach to make those tweaks viable? Is there the will to try?
Barcelona's in big trouble, and their problems transcend the score. They're not a team well equipped to address this kind of challenge. They may be left with no recourse but to play their normal style and hope this time it wins out.
Packaged for takeaway

Victor Valdés actually had a good day, particularly in the first half where a couple of aggressive reads helped him snuff out changes before they developed. But there was little he could have done to prevent either goal.

The matchup between El Shaarawy and Alves was a particularly interesting one, with the young Italian tasked with tracking the Barcelona wingback. Early, it became evident Milan was going to try and exploit Alves's want to push forward, with Montolivo constantly firing diagonals behind the Barça right back. Though the matchup never really bore fruit, it still helped define how Milan set up.
Mario Balotelli is cup-tied, having appeared in the competition with Manchester City. He was seen celebrating on the sidelines during the match's final moments.
Looking at Barcelona's bench, it's unclear how they could have significantly changed their team. Alexis Sanchez came on, and Javier Mascherano eventually replaced a cut Carles Puyol, but the rest of the team represents a series of more-or-less like-for-like options: Alexander Song, Cristian Tello, Martín Montoya, and Thiago Alcantera.
Stay with us throughout Wednesday as we take a look at the day's other match, Turkish champions Galatasaray hosting Germans Schalke 04.