Each day from now until the beginning of Major League Soccer's 18th season, we will preview one Eastern Conference team and one from the West. First kick is March 2.
No. 8 in the West are the Colorado Rapids:
Significant additions and subtractions: Jeff Larentowicz, a midfield fixture in recent years around DSG Park, is now doing his ginger thing in Chicago.
Edson Buddle has moved over from the Galaxy, attempting to jump-start a career that hit the skids last year in Los Angeles. Given the departures of Conor Casey and Omar Cummings, among the league's most lethal strike combos not so far back, expectations are piled up fairly high on Buddle, who continues to operate at the outer markers of the U.S. national team pool.
Nick LaBrocca is back for a second Rapids run. He joins fellow MLS vets Atiba Harris and the versatile Nathan Sturgis in new roles outside Denver.
Strangely enough, Pablo Mastroeni can almost be counted as "new" considering the longtime midfield enforcer missed all but 150 minutes of 2012 with concussion related issues. Everyone around Denver is excited to have the captain back.
Speaking of new-not really new: Colorado may also have a "new" right back. His name is Brian Mullan, and he speaks of the potential change here. Interesting.
Strengths:  First-year manager Oscar Pareja had a vision for how he wanted to play in 2012, but late arrival on the scene at DSG Park reduced the Colombian coach to hammering round pegs into square holes. With a roster more to his liking this season — technical expertise added, a little muscle-and-tussle subtracted — 2012 should offer a fairer test of his ability. It also presents an improved platform for a possible second run at more dynamic, fluid 4-3-3 soccer.
Expect center backs Marvell Wynne and Drew Moor to perk up after a so-so 2012 with the savvy and defensive-minded Mastroeni back to do the midfield screening. They have to; 50 goals allowed won't cut it.
Pressure points: This is certainly not how Pareja wanted to begin what is probably a make-or-break year for him personally. Injuries will take his two premier attackers off the field to begin the season. A knee injury will keep do-all attacker Jaime Castrillon out until May at the earliest. The double whammy is that 2012 assist leader was already out; Martin Rivero broke his foot in a preseason contest and not expected back until mid-March, at least. That's not as long as Castrillon, but still … Yikes!
Even when they come back, Pareja can forge his side into the best possession outfit this side of Barcelona FC, but if the Rapids' finishing cannot improve over 2012, it won't matter.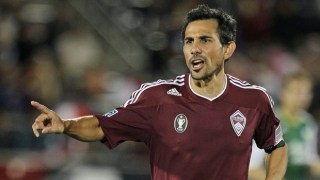 Difference maker: Mastroeni, a veteran of two World Cups with the United States, is such a leader that his presence is more than the sum of his passing and tackling parts. That club record tying six-game losing streak last year? It's harder to see something like that happening with Mastroeni (pictured right) around to inspire something greater from everyone individually and collectively. 
Potential breakout player: Tony Cascio looked like an MLS Rookie of the Year candidate at times in 2012. At other times during an impressive sum of 29 appearances last year he looked like any other ol' mid-first round draft pick. The thing about Cascio, who can play on the flank or as a forward, is that everything looks so instinctive and unforced. He has tremendous upside. 

Bottom line: It may be difficult for Rapids fans to hear that success or failure in 2013 is reduced to providence, but this is where we are with the Rapids, league champs as recently as 2010. If Mastroeni can hold out – far from a guarantee considering how close the head injury concerns came to forcing his retirement last year – and if Castrillon and Rivero return to timely good health, this is a pretty interesting team. If not, they could struggle again.
(MORE: the entire roster of ProSoccerTalk's Major League Soccer previews and predictions)