Each day from now until the beginning of Major League Soccer's 18th season, we will preview one Eastern Conference team and one from the West. MLS first kick is March 2.
No. 6 in the East is the Philadelphia Union:
Significant additions and subtractions: After two injury-slowed years, Conor Casey is healthy and motivated by the sounds of it. If the former Colorado Rapids striker, who moved east in an offseason trade, can find 2010 form (he hit 13 times, tied for sixth best in MLS) the Union will have that veteran finisher so dearly missed last year.
Along with popular forward Sebastian Le Toux, who remains the team's all-time leading scorer despite a year away, is back thanks to a January trade with New York.
Elite center back Carlos Valdes has been loaned to a Colombian club; Jeff Parke, acquired from Seattle in December, isn't quite of Valdes' quality, but he's a reliable MLS defender.
And then there's Freddy Adu, who isn't yet technically gone, but he's certainly not with the team, either. Keep reading.
Strengths: everything to like and not to like is contained in the brat pack of wonderful young talent around PPL Park: Zak MacMath, Jack McInerney , Roger Torrres, Antoine Hoppenot,  Amobi Okugo, Sheanon Willliams are all 22 or younger. The Farfan brothers, Michael and Gabriel, are just 24. Most of them have MLS All-Star potential.
Of course, they are still young. Head coach John Hackworth, blessed with ample patience and equipped with plenty of experience working with younger types, is the right guy to have around them, to nurse them through the inevitable boo-boos and rough patches. That said, there will be mistakes and rough patches.
There's plenty of playmaking potential in Torres and Michael Farfan. And with Casey and Le Toux around, the 20-year-old McInerney need not feel the crushing pressure of having to arrive as a scoring force now.
Guys like Casey, Parke and Brian Carroll add some wizened stability to a locker room full of youth.
Pressure points: When Hackworth talks about roster "constraints" and "challenges," we all know what he's talking about: Adu, whose career wanderings continue. Hackworth wants to move on without the mercurial playmaker, but the club is hog-tied until it can get Adu's DP salary off the books.
We are all assuming center back Bakary Soumare still looks like the game-changer we knew in Chicago, but it has been four years since he ruled as such a force at Toyota Park.
The talented MacMath, 21, had more than his share meaningful mess-ups last year. It seems naïve to believe he's completely past all of them.
There still may be some hangover effect of 2012, and what an odd year it was around PPL Park. Then-coach Peter Nowak tore apart a playoff team, one that seemed to be on the rise. Things clearly were strained behind the scenes and Nowak was fired in June, later to get tangled in a nasty lawsuit with the club.
Hackworth must find the best spot for young Okugo, who filled in splendidly at center back in 2012 but seems set to occupy a holding midfield role for '13.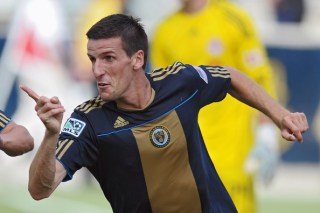 Difference maker: LeToux (pictured right) departed Philadelphia a year ago and got completely lost. He scored five goals while moving coast to coast mid-season, from Vancouver to New York. Perhaps being back in his happy place at PPL Park, where Le Toux struck for a whopping 25 goals between the 2010 and 2011 seasons, can make an All-Star of the Frenchman once again.
Potential breakout player: It could be Michael Farfan – but only if he can hold off Torres as Hackworth's creative influence. Farfan had some remarkable moments last year but the final production (one goal, five assists) must improve. It should, considering the measurably better striker in front of him now.
Bottom line: Last year was all about stabilizing a listing ship; now with a full off-season (short as it was) and with a talented young roster more to his liking, Hackworth can try to move things forward. Whether his team has enough experience to get there … we'll see.
(MORE: the entire roster of ProSoccerTalk's Major League Soccer previews and predictions)