Significant additions and subtractions: Chicago's central midfield needed an upgrade, and by golly did the deciders around Toyota Park give it one. Joel Lindpere, under-appreciated by previous management in New York, was sent West to Chicago. He'll partner with Jeff Larentowicz, a rugged figure with enough skill to be effective. He arrived via trade with Colorado. It's not the best central midfield tandem in MLS, but it's easily top half and perhaps top 6 or 7.
Pavel Pardo's retirement sealed the deal on a need for a central midfield makeover.
Meanwhile, along the outside, Dilly Duka will now apparently be on patrol to the left.
Dominic Oduro, whose production generally failed to match the potential of all that speed, is in Columbus now. In his place (more or less) is Maicon Santos, most recently seen at D.C. United, will provide some depth but is not a first-choice striker.
Strengths: Chris Rolfe was a man on Fire (ahem … sorry) in late summer and early fall, having gotten up to speed after an injury took him away from Chicago's spring matches. Watch him go with a full preseason.
In German veteran Arne Friedrich and 2012 MLS Rookie of the Year Austin Berry, the back line is in great hands. Gonzalo Segares along the left isn't the same force moving forward along the outside that Fire fans knew in the last decade, but he certainly gets the job done defensively.
Third-year man Daniel Paladini can jump into the middle without much dropoff behind Larentowicz and Lindpere, and he's useful as a second-half pace-changer.
Pressure points: Klopas has a big choice to make at right back, where incumbent Jalil Anibaba may have a hard time holding his starting assignment.  Pushing the young defender for that starting spot is converted midfielder Logan Pause and longtime EPL man Pascal Chimbonda.
Goalkeeper Sean Johnson may be only 23 years old, but he's is about to be a fourth year. It's time to start erasing the occasional killer mental mistake.
If MacDonald isn't ringing the scoring bell often enough by mid-season, Klopas and Co. in upper management will need to get busy working the transfer market. Or the trade market. Or the local Polish market. Something! Because this club has had just one 10-goal scorer since 2004. That was Oduro, who had 12 goals back in 2011, a season that looks a bit of a fluke. They have to find a goal scorer for Toyota Park. Period.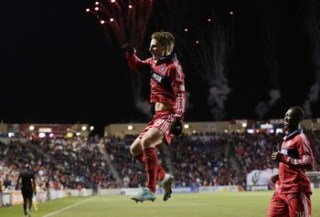 Difference maker: No one should be concerned about Rolfe's lack of preseason scoring. Rolfe (pictured right) always been a streaky type; once the first one goes in, the next big run will be on. Rolfe will not only get his goals (he had 8 in 22 games last year, mostly out of the attacking midfield position), he'll also create off the counter attack. He's good at that.
Potential breakout player: Imposing winger Duka looks like the starter on the left side, having made a departure from his unhappy place in Columbus. Duka seemed to have such potential but got sideways with management around Crew Stadium. Now in Illinois, and still just 23 years old, the former U.S. under-23 has a fresh shot at reestablishing himself as the hot new product.
Bottom line: Chicago's roster is deeper this year, with guys like Pause, Paladini, Santos, Steve Kinney and Well Thompson (another newcomer) in reserve roles. If Rolfe and Friedrich can stay healthy, and if they find that scorer who has been so elusive around Toyota Park, they'll be an Eastern contender.
(MORE: the entire roster of ProSoccerTalk's Major League Soccer previews and predictions)