Each day from now until the beginning of Major League Soccer's 18th season, we will preview one Eastern Conference team and one from the West. First kick is March 2.
No. 3 in the West is Real Salt Lake:
Significant additions and subtractions: A major roster shakeup, unfolding in a burst just after 2012 MLS Cup, was strange stuff for one of the most stable MLS clubs in terms of personnel. Fabian Espindola, scorer of a highly respectable 25 goals around Rio Tinto over the last three seasons, is now in New York. So is huge center back Jamison Olave, who spent years commanding RSL's back line – although he was perhaps a little too brittle for the price. Or so RSL management reckoned.
With all that, it's hard to say who the men in Utah will miss more, Espindola, Olave or Will Johnson, whose leadership, drive and ability to cover midfield ground will be difficult to replace in Utah. The Canadian international is now in Portland.
Strengths: Start with Kyle Beckerman, possibly behind only Osvaldo Alonso in the league's ranking of holding midfielders.
Stability goes a long way in MLS. Jason Kreis may be only 40, but he also carries the league's second-longest running tenure at a club, behind only Dominic "Dean" Kinnear at Houston. Kreis has come a long way from his time (not too awfully long ago) when the high-scoring striker stepped off the field at age 34 and immediately into RSL's managerial seat. (He's still the youngest coach to win an MLS Cup, by the way.)
Kreis and other club leaders love Chris Schuler and Kwame Watson-Siriboe, but neither one can match Olave at his best. They have wonderful potential and are sure to be even better whenever the injured Nat Borchers gets healthy and can provide direction alongside one of them; that probably won't happen until April, earliest.
Pressure points: One of the league's standard bearers in organizational stability is going through its most significant roster shift in years, an overhaul that gets the club younger here and there and deals with the naturally escalating salaries that handcuff any successful club.
Beckerman, for instance, strong shepherd that he is, will have a younger midfield flock around him to guide this year. That will be especially true until injured playmaker Javier Morales gets back on the field.
Chris Wingert and Tony Beltran are fine MLS outside backs. But they no longer have Olave (who was faster than many realized, able to hurry over toward the touchlines in moments of big danger) to go clean up any mistakes. It might even change the way Wingert and Beltran play, perhaps creating a slightly more cautious approach about where to challenge and when to move forward.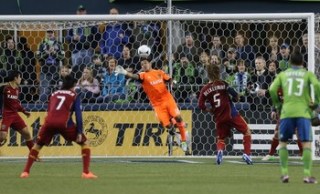 Difference maker: Nick Rimando was good in 2012, whereas he was great in 2011. It would be a stretch to say he was in decline last year; then again, he needs to arrest any slippage now, before we would recognize something we could more accurately define as "decline." With Rimando furthest back and Costa Rican international Alvaro Saborio (17 goals last year, third best in MLS) occupying the highest spot on the field, the club has experienced, dependable bookends.
Potential breakout player: It's a big year for Luis Gil, still only 19, but who has already been part of the RSL roster for two-plus years. The U.S. under-20 has 33 starts for RSL and a major role in the midfield this year, more or less replacing Johnson. He's got tons of skill and he understands exactly how RSL wants to work the diamond midfield and the overall system, back to front. The Californian has "breakout" written all over him.
Bottom line: There's no question the club will miss Olave, Johnson and Espindola, and no one around Rio Tinto relished seeing them go. The moves were all about salary cap and long-range planning. They'll suffer a bit in the spring and perhaps into the summer. The question around Rio Tinto is what the team looks like in the fall, and there's enough reason to believe things will shake out OK.
(MORE: full roster of ProSoccerTalk's Major League Soccer previews and predictions)