Each day from now until the beginning of Major League Soccer's 18th season, we will preview one Eastern Conference team and one from the West. First kick is March 2.
No. 3 in the East is the New York Red Bulls:
Significant additions and subtractions: In a trade with Real Salt Lake the Red Bulls got a reliable, hard-working scorer in Fabian Espindola and one of the league's elite center backs in Jamison Olave. The club also added Brazilian veteran Juninho to boost the attack. (There are lots of Brazilian Juninhos out there; this is the Red Bulls' Juninho.)
The most newsworthy change is Rafa Marquez's departure; if anything goes wrong this year, we can no longer blame the former Mexican international. (And that was typically the first stop along the blame train.)
Also moving out of Red Bull Arena is Sebastian Le Toux, who is back in the venue of his best success, Philadelphia. And Kenny Cooper was traded to Dallas, taking his team-leading 18 goals with him. The team also purged a few mid- to high-salaried veterans, like Jan Gunnar Solli and Teemu Tainio.
Strengths: No MLS roster looks more promising; back to front the Red Bulls have talent and options. Guiding them is now Mike Petke's job, and the players seem to have connected with the longtime club figure – Petke was a former Red Bulls player and then assistant coach – in a way they never did with Hans Backe, who was fired last fall after three seasons in charge.
Petke hopes to get the best of his talented collection of attackers through a loosely structured attack, where interchange is encouraged in what he says will sometimes look like a 4-4-2, other times a 4-1-3-2, a 4-2-3-1 or a 4-3-3.
Goalkeeper Ryan Meara, moving toward a possible Rookie of the Year honor last year before a late summer injury, and Luis Robles give Petke two terrific choices in goal. And speaking of choices, Heath Pearce is in the league's top half of center backs, but probably top five in left backs. That kind of flexibility can only help as Petke builds the match-day lineups.
The central midfield will involve some ordering of Dax McCarty (rewarded with a new contract for that fantastic 2012 campaign), longtime EPL veteran Tim Cahill, Juninho and Thierry Henry.
Pressure points: The club has never won a major trophy, a fairly noticeable black eye for the team representing Major League Soccer's largest media market. As "pressure points" go, that's a pretty substantial one, and an ongoing issue around Red Bull Arena. No one is more aware than Petke, a fan favorite in his playing days and the club's all-time leader in appearance with 169 in league matches.
The trick with Olave is keeping him healthy enough that he justifies that relatively high salary for an MLS center back; Olave has averaged about 24 starts over the last five years, and he never quite looked the same after a hamstring injury last summer.
Henry has plenty of talent around him to provide some relief here and there, and he'll certainly need it. (Plus, Henry doesn't like playing on artificial turf.)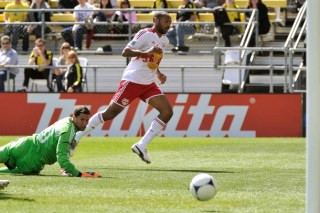 Difference maker: Henry turns 36 in August, but he still looks up for the job. The former French international (and league's highest-paid player) supplied 15 goals and 12 assists last year, which are league MVP-worthy numbers. Plus, he never seemed to click between the white lines with Cooper, so the on-field chemistry with fellow attackers will presumably improve in 2013.
We can be 100 percent sure that Henry can still manufacture some very special moments; some of his goals over the last two years have been absolute beauties.
Potential breakout player: The club has three starting-quality left backs in Pearce, Roy Miller and Conor Lade. So we'll see how much Lade can get on the field.  Sooner or later, the talented, hard-working left back will get the chance to show why a player like Henry spent so much time talking him up last year.
Bottom line: There is a lot of pressure on Petke, 37, to find his feet quickly in this, his first professional head coaching assignment. Assuming he keeps the Red Bulls bus properly in lane, there is zero reason to believe they cannot challenge for the Eastern Conference crown. The roster is well-constructed throughout and blessed with difference makers at the top, even if a couple of them tend to be on the brittle side.
(MORE: full roster of ProSoccerTalk's Major League Soccer previews and predictions)