Each day from now until the beginning of Major League Soccer's 18th season, we will preview one Eastern Conference team and one from the West. First kick is March 2.
No. 1 in the East is D.C. United:
Significant additions and subtractions: The great news for D.C. United: the weight of those big salaries for DP striker Hamdi Salihi and highly paid midfielder Brank Boskovic (once a DP and still on a big salary in 2012) has been lifted. Neither came close to justifying their big numbers, so this really does represent significant addition by subtraction around RFK Stadium.
On the other hand, a lost that actually will be felt is Andy Najar, the talented, home-grown Honduran international who had added even more value with his move to right back. He was sold to Anderlecht in the off-season.
The club prudently added veteran depth (without breaking the bank on it) in guys like John Thorrington and James Riley. Neither will threaten to bust into All-Star status this year, but both carry the hard-earned scars of years in MLS and won't miss a trick in 2013. Thorrington could be an absolute steal if he can stay healthy.
Carlos Ruiz is back in MLS. Sigh. Some of us ask: is that a good thing or a bad thing? (In the linked piece, I put the over/under on his stay at "6 months" … and was promptly informed that I had set a soft line, with everyone rushing to take the imaginary "under.")
Strengths: The roster has a strong balance of young, old and those key glue men, the 26-28 year olds right in the middle. It's that talented bunch of "youth" that remains most impressive and intriguing, even with Najar's loss. Perry Kitchen keeps maturing, now a solid, third-year MLS starter at holding midfield – and he's just 20. Nick DeLeon, full of pace, pep and promise as an outside, attacking midfielder is 22. So is goalkeeper Bill Hamid, another third-year starter.
Pressure points: You can rightly ask whether United general manager Dave Kasper did enough to reinforce a back line that simply was not good enough in 2013. (Or, did they do enough overall.) United's defense was far more solid over the last few weeks, but that was mostly about strategic shifts following Dwayne De Rosario's late-season injury.
Frustratingly inconsistent Lionard Pajoy and just plain frustrating Ruiz as first-choice strikers? Hmmm. Sounds iffy, at very best. (Pontius and De Rosario can also play at forward, depending on manager Ben Olsen wants it configured.)
Throwing balls at referees? Dropping points by losing your cool? Veterans caught head-butting opponents? There's a trend here – and it's got to stop.
Finally, you cannot talk pressure points around D.C. United without mentioning the club's wildly unsustainable stadium situation. Historic as it is (and as festive as it can be for Major League Soccer matches) it remains a colossal financial drain on the club. Major League Soccer commissioner Don Garber has said for years that solving the organization's woeful, harmful facility situation is a league priority.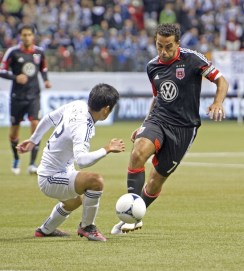 Difference maker: It really is a darn pity De Rosario (pictured) cannot be around for this weekend's opener, nor for next week's home opener at RFK; DCU's hearth, soul and chief creator is suspended for the first two matches. Past this early, avoidable silliness, all looks swell. "De Ro" will be 35 in May, but the guy is a fiend for taking care of himself. If he's losing any zip, he's hiding it awfully well. De Rosario's raw numbers certainly are not reflecting a decline; 7 goals and 12 assists in 2012 represent healthy output, especially considering a long dry spell last spring.
Potential breakout player: There really are some wonderful, evocative options around RFK – more or less depending on your definition of "breakout." Pontius, so strong over his time already at RFK, has the stuff of stardom and regular U.S. national team involvement. He just needs a little luck and some help in timing to break into the upper echelon of  MLS stars. Hamid, Kitchen and DeLeon are valued youngsters with potential to rise (in 2013 or later) into Best XI conversations.  
Bottom line: It would be easier to feel great about United, which came so confoundedly close to an MLS Cup appearance in 2012 in Olsen's second year in charge, if only the rear guard was a wee bit stronger. The back four is OK, a little less so when backed by a young goalkeeper who still has the occasional yukky blunder in him. Other than that, there's so much to like about a young team and a young coach that is still growing into its big boy pants – and just might be all the way into them this year.
(MORE: full roster of ProSoccerTalk's Major League Soccer previews and predictions)