Major League Soccer's 18th season is full of the usual plot and subplot. Here are the top stories to follow as the games begin today – with all teams pointed toward a spot in MLS Cup in December.
11. Top newcomers – There's no David Beckham in this year's crop of foreign MLS imports, but there are plenty of second-tier namey names, such as Portland Timbers center back Mikaël Silvestre, the former French international who spent so many good years at Manchester United. Nigel Reo-Coker, new to Vancouver, put in the EPL years, too. Claudio Bieler wants to be the prolific striker sorely missed in Kansas City lately. Argentine playmaker Diego Valeri has Portland abuzz. Longtime Tottenham man Carlo Cudicini is guarding goal for the champs in Los Angeles.  And we're all waiting to see if Nigerian striker Obafemi Martins will arrive into Seattle, as now expected.
10. Portland Timbers and Caleb Porter – No club will look more different stylistically than the men from Jeld-Wen Field, where the teeming Timbers Army (pictured) will see a bunch that plays nothing like last year's direct-attack pack under Scotsman John Spencer. Caleb Porter, one of the bright, young minds of U.S. coaching, will have the ball on the ground and, according to plan, an attacking mindset. Truly, watching what Porter can make of this team – with a roster that's been rebuilt, now armed with more technical proficiency and a little less "getting stuck in-ness" – will be one of the truly intriguing, ongoing narratives.
9. Andrew Farrell and other rookies – We love rookies because they are the future. And the league's top draft pick, New England defender Andrew Farrell has "future" stamped all over him. Along with generally following his progress, the subplot here is watching where Revs coach Jay Heaps plays the versatile University of Louisville man on the field.
8. World Cup qualifying – Strung throughout most of the regular season will be international biggies in World Cup qualifying and in the CONCACAF Gold Cup. That means two things: occasional interruptions in the league goings-on for some players, and; individual performance in league matches will be assessed in part with an eye toward getting the international call-ups.
7. Chivas USA – What to make of this club, which once tried to become a tool of development for the Chivas mother club back in Mexico, based around cultivating Latin players. It was a disaster, and Chivas USA adjusted. Now under new management, Chivas USA will once again … wait for it … attempt to become a tool of development for the Chivas mother club back in Mexico, based around cultivating Latin players. Yes, this will be absolutely fascinating. With a roster full of players that few in our parts know much about, even the savviest, most observant MLS executives will tell you privately they have zero idea what to expect from Chivas USA. It could be a train wreck. Or Chivas could take the league by storm. Or it could land at any point in between.
6. Kansas City's final push: No club has won more regular season matches over the past season and a half than Sporting KC, and no MLS club plays a more high-pressure system, which makes Peter Vermes' side a cracker to watch. But a smidge of pressure has crept into the SKC effort after crashing out of the playoffs two years running to Houston. Can Vermes' side concoct a final push past the sticking point?
(MORE: full roster of ProSoccerTalk's MLS preseason previews and predictions)
5. Attendance and TV numbers – Gone are the days when this was critical, akin to cautiously watching the readouts on hospital room monitoring equipment. We're past that … but not "there" yet. At 18,807 fans a game in 2012, average MLS attendance is up 17 percent over the last three years. TV numbers are climbing steadily, although still nothing to sing and dance about.  It's soccer. In this country.  Which means there is always work ahead. And it's always a story worth covering.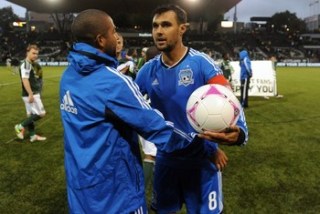 4. "Wonder Wondo," on the hunt for another 27 – Doubt this guy at your own peril at this point. Reigning Golden Boot holder Chris Wondolowski (pictured right) keeps proving everyone wrong, following up on a great two years of scoring with a league record-tying 27 goals last year. The preseason was wrought with injuries for the 2012 Supporters Shield winners, so a slow start could potentially stall momentum on another record chase.
3. The 2013 rebuilds – Toronto FC's latest makeover (in an alarming series of them) is starting slower than anyone around BMO Field would like. Philadelphia has a wonderful cast of young talent still under construction (although minus Freddy Adu). New England and Montreal are somewhere between "there" and "getting there." So is Colorado, another one not quite in rebuilding mode but not far from it. Even trusty old Western Conference work horse Real Salt Lake went through a rare mini-makeover. (Portland's high-profile re-set was discussed above.)
2. Landon Donovan: The LA Galaxy and U.S. national team leading scorer will be back in late March and (presumably) back on the field by mid- to late-April. He'll be fit – because Donovan has always been fit, and mostly injury free – but we'll have to see if the Galaxy's dynamic attacker brings the full backpack of motivation. That's certainly not guaranteed.
1. Galaxy quest for three-peat – No club has won three in a row. Manager Bruce Arena has the league's top center back (Omar Gonzalez) and perhaps the best striker (Robbie Keane). They'll have one of the league's top midfielders if Donovan returns at "Full Donovan." Plus, given the aggressive ownership, we can all be sure that another name brand Designated Player will be en route to the Home Depot Center by this summer, replacing David Beckham's spot now that his cultured right foot is spraying the passes at Paris Saint-Germain.