It has been a bitter-sweet beginning for the Seattle Reign. Owner Bill Predmore and general manager Amy Carnell managed to secure a place National Women's Soccer League. Since then, it's been a bad winter for Reign FC.
First there was the news that Megan Rapinoe would be in France until June. Everybody knew that doing into dispersal, but Seattle but got to deal with that mixed bag.
Then Amy Rodriguez became pregnant – great news for her family, bad news for the Reign. With Rapinoe gone, the U.S. national team forward was going to be counted on to carry the scoring load. Instead she's going to miss the entire 2013 season.
Combine those losses with midfielder Teresa Noyola's Dutch contract running through mid-June and Hope Solo's wrist injury, and Seattle's only had two notable moments this winter: Luring Laura Harvey from Arsenal and seeing Penn State's Christine Nairn fall to them in the College Draft. True, these misfortunes have earned them a lot of attention (look at all the links), but Seattle would prefer to make their name on the field.
And that's why Carnell's getting aggressive – to give the team a chance to be more than a hard-luck team. Over the past 24 hours, the team's been part of the first trade in league history while securing the early return of one of their best players. As a result, Seattle's completely remake their midfield.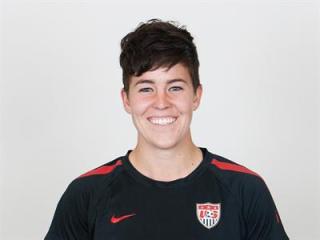 The first move came yesterday when Seattle and the Chicago Red Stars confirmed that Keelin Winters (right), a midfielder on the cusp of some national team run, would move west along with a fourth round draft pick. In return, Chicago receives a first round draft pick and future considerations.
The future considerations seem complicated. Seattle has confirmed Chicago will received one of the Reign's U.S. Soccer allocated players ahead of the 2014 campaign, so it seems Amy Rodriguez will be going to the Red Stars. If, for whatever reason, Rodriguez is doesn't come back for the 2014 season, then Seattle's going to have to send another national team player to Chicago.
Again, that's unconfirmed speculation, but with Rodriguez's status up in the air, it doesn't look like this deal will be resolved until after the season; hence, the future considerations.
My first reaction to the trade: It's a steal for Seattle. I've softened on that a little, but Carnell's done well for her team. I may tend to over-value Winters, but she is a very good deep-sitting midfielder who has enough ability to function in a box-to-box role (Harvey sees her in a defensive role).
For whatever reason, Chicago saw Winters as their third-best option in the middle behind Shannon Boxx and Leslie Osborne. Even if Winters isn't better than the two in 2013 (and she very well might be), she's more valuable in the long run.
To get her, Carnell had to give up Seattle's first round pick, a commodity that could turn into one of Crystal Dunn or Julie Johnston. Both college players project as future national team regulars, but they're also defenders – not midfielders. Everybody needs defenders, of course, but for a team like Seattle in need of impact players, there's an argument for preferring Winters over either defensive prospect.
But the duo's also relatively unproven. Not every college star makes a smooth transition to the pro game. Even if they do, it's no certainty they'll be as good as Winters, who has scored seven goals in 36 games between the Boston Breakers, Seattle Sounders, and German power Turbine Potsdam since 2011.
It's easy to fall in love with Dunn and Johnston's potential, but it's potential. The draft pick is a lottery ticket, one that won't have access to those players if Seattle makes the playoffs. In my mind, it's a one-in-three chance Seattle's pick turns into one of those players. Factor in the probability Winters will remain a better player during the draftee's time with her team, then the likelihood of Carnell giving away the deal's best player becomes pretty low. It's not enough of probability to stop this deal now.
Factor in Seattle's needs — their desire to get some quality players in who can replace the talent they'll miss — and Carnell made the right move. The team that was ambitious enough to pluck Harvey from Arsenal continues to be aggressive as the season approaches.
That aggression manifest again in Seattle's other move: Securing Noyola's early arrival. The Mexican international and former Stanford star was originally slated to finish the European campaign with ADO Den Haag; however, after a deal was reached between the clubs, the 22-year-old former U.S. youth international will join her new club after the Algarve Cup. The 2011 Hermann Trophy winner will be with Seattle for the club's first game on April 14.
Mid-week, Seattle's midfield was Nairn, Canadian international Kaylyn Kyle, then a significant drop. Now they've added Winters, somebody who can serve as an anchor centrally, and Noyola, who can team with Nairn to help augment the roster's lack of goal scoring. If Ohio State alum Tiffany Cameron can carry over some of her NCAA goal scoring prowess (21 goals in 22 games as a senior), Seattle may have enough to survive the spring.
And that's all they need to do. In a league where half the teams will make the playoffs, Harvey only needs to craft a team capable of surviving the spring. They need to stay within reach until Rapinoe returns.
The defense is big problem, and they'll need some heroics from Solo if the team's going to match the front office's ambition. But thanks to their two most recent moves, Seattle's back in the game. There are enough flawed teams in this league to give Seattle hope they can steal enough points to stay afloat.
If Harvey's acumen can match her Arsenal results, the first round pick they gave up is not going to be Crystal Dunn or Julie Johnston. There are enough pieces here to avoid that worst case scenario.