If we examine the back stories on how rivalries achieve their deliciously acrimonious state – real rivalries, that is, and not the manufactured ones fans tend to sniff out and disregard with extreme prejudice – they usually check the box on one or more of the elements you see in the box below.
Here we look at the New York Red Bulls-D.C. United rivalry, and which boxes get checked on this clash of Eastern Conference contenders:
The teams meet at 12:30 p.m. ET Saturday (live on NBC and streamed LIVE online at NBCSports.com) at Red Bull Arena.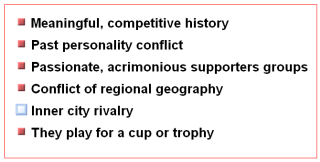 The backstory:
This MLS rivalry was always destiny, as if executed by some royal decree.
New York was the league's flagship franchise; 'twas always so. While the MLS deciders of another day tilted the field much as they could toward New York (much as they could without being even more obvious about it, that is),United and then-manager Bruce Arena boldly built an early league dynasty.
So the clash of Big Market Beast Wanna-be vs. Actual MLS Beast provided a splendid framework in meetings that grew gradually more acrimonious between this pair of 96ers. (That is, two original MLS teams that debuted in the inaugural 1996 season.)
The clubs have met 79 times since the first clash in May of 1996, when the MetroStars regularly rattled around in the painfully ill fitting Giants Stadium.
Moments to remember in this rivalry? Alecko Eskandarian's clever celebration for D.C. United certainly upset the Empire Supporters Club and the Red Bulls faithful. It was spiteful enough to get the man fined!
Eddie Gaven was just 16 when he nailed the game-winner in another memory-maker (having entered the field on a substitution end-run, a little bit of chicanery that has since been eliminated from the game.)
The clubs compete for the Atlantic Cup now; supporters groups on either side established the trophy in 2002.
By the way, if you define "rivalry" to any extent by some reasonable balance of wins, this one has gone askew lately. Since mid-season 2004, D.C. United is 20-6-8 in the series.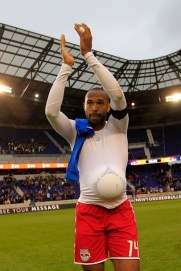 Saturday's match:
Both clubs seem likely to land near the top of the Eastern Conference heap this year. Ben Olsen's team has done fine in two matches without the suspended Dwayne De Rosario, the Black and Red's top attacker. Thierry Henry (pictured) looked dreadful in his team's 3-3 draw in Portland to open the season but did improve dramatically in the 2-1 loss at San Jose. This is New York's home opener; Olsen could make things awfully tough on rookie head coach Mike Petke, who would be loath to see his team go winless in his  first three contests as a pro coach.
MLS on NBC makes its 2013 debut when Arlo White and Kyle Martino call New York Red Bulls against D.C. United at 12:30 p.m. ET. NBC Sports Network carries two contests after that (Sporting KC vs. Chicago Fire, then Seattle vs. Portland). In between, "The Breakaway" will show goals from foursome of matches NBC is not carrying.
ProSoccerTalk's series of Rivalry Week backstories:
FC Dallas-Houston Dynamo
LA Galaxy-Chivas USA