If we examine the back stories on how rivalries achieve their deliciously acrimonious state – real rivalries, that is, and not the manufactured ones fans tend to sniff out and disregard with extreme prejudice – they usually check the box on one or more of the elements you see in the box below.
Here we look at the Real Salt Lake-Colorado Rapids rivalry, and which boxes get checked on this clash of  Rocky Mountain clubs:
The teams meet at 6 p.m.ET Saturday at Rio Tinto Stadium.
The backstory:
Once more or less a rivalry of convenience, this bit of Mountain Time hostility has blossomed into a series with a genuine sense of Old West orneriness.
The Colorado Rapids-Real Salt Lake rivalry was once just about geography, about two teams with a bond as outsiders in a league where the Rocky Mountain teams struggled to catch their fair share of national media love. But it got to be something very different – and in a big hurry.
Now the Rocky Mountain Cup is truly one of the most fiercely contested pieces of rivalry-related hardware.
Personalities drove this one, and the most unlikely pair of them lit the fuse. Things were already hot when, after a contentious 2006 contest, Rapids captain and U.S. international Pablo Mastroeni got in a screaming match with then-RSL owner Dave Checketts. Checketts is a mellow fellow, so this was truly a bizarre scene, but a maddening and memorable one for supporters on either side.
"Everything really traces back to that point," former RSL midfielder Andy Williams told MLSSoccer.com.
Next up in the construction of this one, a real multi-layered toxic brew:
A year after the Mastroeni-Checketts fussing fight, Kyle Beckerman ensconced himself as a rivalry centerpiece. Beckerman's combative midfield ways were done back then in the name of the Colorado Rapids. So Beckerman took serious umbrage when RSL fans took umbrage about his fiery celebration. "They run their mouths the whole game," Beckerman said. "If they don't want us to celebrate, win the game."
So the reaction was a little, uh, cool and awkward when Beckerman was traded later that year. To RSL!
The faithful from Rio Tinto embraced Beckerman soon enough, and he became a central figure in the club's rise – all the way to a 2009 MLS title. (Not to be outdone, Colorado won in 2010.)
So Beckerman was an RSL man during the rivalry's defining moment. The team's met on the final match day of 2008, with a playoff spot guaranteed for a winner that day at Dicks Sporting Goods Park. Colorado had a 1-0 lead late. Make that, "very late."
But a stoppage-time strike from RSL's Yura Movsisyan was an absolute crusher for the Rapids. The 1-1 draw, a glorious moment no RSL fan of the time could possibly forget, clinched RSL's first playoff berth (and Jason Kreis' team hasn't missed on playoff qualification since). The Rapids missed out on post-season play that year.
Saturday's match: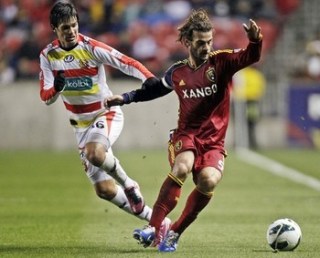 Colorado is eaten up with injuries to key performers; Mastroeni, Martin Rivero and Jaime Castrillo (a.k.a. the center of the park for Oscar Pareja's team) are keeping each other company on the injury shelf. Not surprisingly, the team is 0-2.
Things look better for Beckerman and RSL, which opened with a win over terrific 2-0 win at San Jose and game close to getting a result a week later at RFK Stadium, where a second-half D.C. United goal made the difference. RSL is in semi-transition, having jettisoned three relatively pricey veterans in a painful, strategic salary cap-related maneuver.
MLS on NBC makes its 2013 debut when Arlo White and Kyle Martino call New York Red Bulls against D.C. United at 12:30 p.m. ET. NBC Sports Network carries two contests after that (Sporting KC vs. Chicago Fire, then Seattle vs. Portland). In between, "The Breakaway" will show goals from foursome of matches NBC is not carrying.
ProSoccerTalk's series of Rivalry Week back stories:
FC Dallas-Houston Dynamo
LA Galaxy-Chivas USA