If we examine the back stories on how rivalries achieve their deliciously acrimonious state – real rivalries, that is, and not the manufactured ones fans tend to sniff out and disregard with extreme prejudice – they usually check the box on one or more of the elements you see in the box below.
Here we look at the Portland Timbers-Seattle Sounders rivalry, and which boxes get checked on this clash of Eastern Conference contenders:
The teams meet at 8 p.m. ET Saturday (NBC Sports Network) at CenturyLink Field.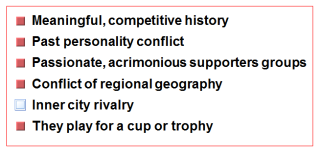 The backstory:
Anyone soul who has stood among the deafening shouts of the Timbers Army or the impassioned screams of the Emerald City Supporters would certainly recognize this one as the gold standard of MLS rivalries. This Pacific Northwest maelstrom of shaped-charged hostility has it all.
It starts with rich layers of history dating back to the North American Soccer League, a league before it's time, certainly, and undone by the weight of its own grand designs. But it did create history, a good chunk coming from Portland, Seattle and Vancouver. Other rivals may not enjoy each other's company, but none have such deep, deep roots as this one, dating back to the NASL salad days of the late 1970s.
So when Seattle came aboard as Major League Soccer as its 15th franchise in 2009, with Portland and Vancouver soon to follow as Nos. 17 and 18, all the tribal identities of the wonderful supporters groups were always destined to clash (not literally … we hope) in a way yet unseen in Major League Soccer.
Said commissioner Don Garber at the time: "Our sport is driven by rivalries. It's part of what makes the sport so special in Europe and Latin America, and it's what helps make the supporters so passionate about their teams. Now we're going to have an opportunity to create that in the Pacific Northwest."
If he only knew how great it would be.
The scenes are just so perfectly set, with teeming downtown grounds, the Timbers Army and the Emerald City Supporters in such fine color and voice, and waiting lines for tickets to matches that truly matter. All of them. But especially ones that count in the Cascadia Cup.
Memorable series moments from the series? Since it started in 1975, probably too many to count. Here's a start. And there's some great background here.
Personally, I'll never forget the billboard. Erected in the shadow of Seattle's rave green ground, Portland had a huge billboard erected prior to the 2011 season (the Timbers' first in MLS) proclaiming Stumptown "Soccer City USA." Good one, Merritt Paulson!
Saturday's match: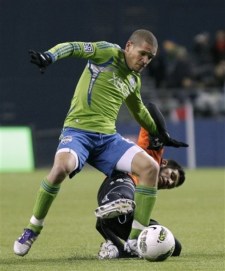 Seattle can be pardoned for an MLS season opening stinker (a loss at home to Montreal) thanks to its subsequent, successful passage through two legs of CONCACAF Champions League quarterfinal play. Take that, Tigres!
Osvaldo Alonso (pictured) is still The Man, and the league's top holding midfielder. (Still a "holding" midfielder, even though he's playing a little higher up the field this year.)
Portland has been the Kim Kardashian of MLS sides. You know, pretty easy on the eyes but not much substance, not in wins at least. New manager Caleb Porter has the Timbers passing with style and playing defense higher up the field, but there's been only a draw and a loss at home to show for it.
On the other hand, new playmaker Diego Valeri does look good, doesn't he?
(MORE: Cascadia Cup leaves Seattle no time to dwell on history)
MLS on NBC makes its 2013 debut when Arlo White and Kyle Martino call New York Red Bulls against D.C. United at 12:30 p.m. ET. NBC Sports Network carries two contests after that (Sporting KC vs. Chicago Fire, then Seattle vs. Portland). In between, "The Breakaway" will show goals from foursome of matches NBC is not carrying.
ProSoccerTalk's series of Rivalry Week back stories:
Seattle Sounders-Portland Timbers
FC Dallas-Houston Dynamo
LA Galaxy-Chivas USA