If we examine the back stories on how rivalries achieve their deliciously acrimonious state – real rivalries, that is, and not the manufactured ones fans tend to sniff out and disregard with extreme prejudice – they usually check the box on one or more of the elements you see in the box below.
Here we look at the Montreal Impact-Toronto FC rivalry, and which boxes get checked on this clash between Canada's two largest cities:
The teams meet at 4 p.m. ET Saturday at Stade Olympique.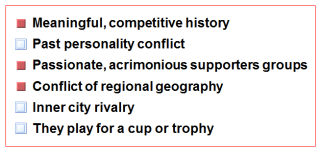 The backstory:
The sporting animosity extends beyond just soccer in this bit of MLS bitterness. When it comes to Toronto and Montreal, Canada's two largest cities, Impact vs. TFC is but one slice of this piping hot rivalry pie.
A lot of this is about hockey, of course; the Canadiens–Maple Leafs rivalry is the stuff of skating legend. It's also about cultural conflict, the tension between primarily English-speaking Toronto and primarily French-speaking Montreal, with all the rancorous undertow that accompanies it. That hot mess has been on the boil for more than 200 years.
Since Toronto has been part of MLS since only 2007, and since Montreal is just a sophomore MLS side, this one will need some time steep. (Just don't try telling that to former Impact coach Jesse Marsch of former Toronto assistant Bob De Klerk, who had to be separated after one emotionally charged meeting a year back.)
As for soccer, as with some other MLS rivalries, this one pre-dates MLS involvement.
Back in the 2009 Canada Cup, Toronto came into Montreal in need of a four-goal victory. Only that less-than-likely result would spare the Reds the ignominy of being an MLS side eliminated from the country's cup competition by a lower-tier outfit. And against the odds, TFC kicked up a historic 6-1 win at Stade Saputo. The habitually rebuilding Reds, still without an MLS playoff appearance, haven't any many nights to celebrate like that one.
The hockey teams have met more than 700 times through the years.  So, a little patience please; I'm sure someone will twist off soon enough and get this Impact-Reds clash where it needs to be.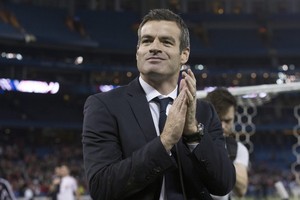 Saturday's match:
Montreal is a pleasant surprise of the young 2013 season, as new manager Marco Schallibaum has won two on the road to launch his MLS account (and the team's second MLS season). Watch for holding midfielder Patrice Bernier, one of the better players too many MLS fans still know little about.
No one around Toronto is too displeased with the Reds first two matches under yet another newbie MLS manager. (In fact, Ryan Nelsen (pictured) is spanking new to the coaching business in general; he was still playing for Queens Park Rangers just two months ago.)
This one will take place at Montreal's Stade Olympique rather than the club's usual home ground, the smaller and more weather exposed Stade Saputo.
MLS on NBC makes its 2013 debut when Arlo White and Kyle Martino call New York Red Bulls against D.C. United at 12:30 p.m. ET. NBC Sports Network carries two contests after that (Sporting KC vs. Chicago Fire, then Seattle vs. Portland). In between, "The Breakaway" will show goals from foursome of matches NBC is not carrying.
ProSoccerTalk's series of Rivalry Week backstories:
FC Dallas-Houston Dynamo
LA Galaxy-Chivas USA