SEATTLE, Wash. — "What," Santos Laguna attacker Herculez Gomez asked on Twitter. "You can sign ringers for CCL?" Hastaged with "#TheMoreTheMerrier", even the American abroad was showing some excitement for Seattle's latest signing.
Nigerian attacker Obafemi Martins touched own at Seattle-Tacoma airport near 5:00 p.m. local time on Friday. A small cadre of reporters met Major League Soccer's newest designated player, with conversation inevitably drifting to Saturday's big game.
"[The club] told me and I saw it on Twitter — the rivalry," Martins said, asked about Seattle and Portland. "I hope we're going to win tomorrow and I hope to see the game."
He may do more than just see the game. Seattle head coach Sigi Schmid was coy when asked about Martins' potential involvement on Friday, even if fans see his long trip ahead of a week with Nigeria as a sign he'll be in uniform.
"[H]e's eligible for (the 18-man lineup) tomorrow," Schmid said after Friday's practice. With Martins still en route from Spain during the Sounders' morning practice, Schmid elected to take a wait-and-see approach.
"He hasn't had a chance to train with us yet or get to know the names of his teammates, but what's really great and encouraging is his desire to want to be here, his desire to undertake the journey and wanting to be part of where we're at, be part of the rivalry. He knows the importance of the game. I know (sporting director Chris Henderson) has been on the phone with him and talked to him about the importance of the game, and he wants to be part of that. His loyalty is to the Seattle Sounders and I think it's a good example that he's showing by the effort that he's making in getting here."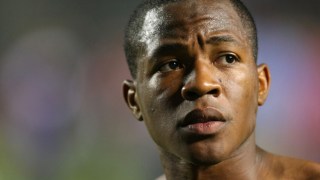 Rivalry within the rivalry
It would be a stretch to say the fans will overshadow a derby pitting a Champions League semifinalist and a Cascadia Cup holder, but for MLS fans across the country, the supporter culture that follows Seattle and Portland distinguishes this rivalry.
That's why a Friday quote from Portland star Darlington Nagbe (right) is both obligatory and, potentially, incendiary:
"Every time we go (to Seattle), our fans are louder than their fans."
That comment got media attention in both Multnomah and King counties, and rightfully so. As much as Nagbe's response is a nod to the Timbers Army, it's a dig at Seattle's various supporters' groups – perhaps an unnecessary one.
But to fully know where Nagbe's coming from, you need to understand four aspects of this rivalry.
Fans are always being lauded – "Regarding our fans is always big in our minds," Schmid said on Thursday. Tthe approach is no less adulatory in Portland, but Merritt Paulson and his team are well-aware of the power of the Timbers Army. From each organization, there are constant nods to the fanbase – signs of acknowledgement and thanks from the club's brass. Whether it's Paulson or Adrian Hanauer, Darlington Nagbe or Steve Zakuani, you won't have to prod long to get a prominent figure to say something nice about the fans. It's the default response.
And the fans are a big part of the rivalry – There's a reason why so many Seattle and Portland games are on national television. The atmospheres are near-unparalleled, and that translates to broadcasts. It also makes the fans part of the story, which is why almost every interview you heard from Cascadia this week touched on the role of fans. Conduct enough of those interviews and keep tweaking how you ask your questions, you'll get a comment like Nagbe's.
From a certain point of view, Nagbe is right – By car, Portland's just is two-to-three hours south of Seattle. It's an easy trip, which is why the Timbers may have four-digits worth of support in CenturyLink's north end. Let in before many of their Sounder counterparts, the Timbers' traveling Army will be have an advantage early. And when they pick their spots right, you'll be able to hear their chants through your speakers during Saturday's game.
But as with any good rivalry, you see what you want – For the most part, Seattle fans will out shout Portland's on Saturday. And they should. They'll likely out-number their competition 39-to-1. But the Timbers fans deserve credit for getting some of their shouts through, just as Seattle's traveling support is also able to find a few moments' glory during their ventures to Portland. If you're Nagbe and  looking at things from the Timbers' point of view, you'll remember the times when the TA's songs came through in Seattle. But a Sounders fan wouldn't be wrong to focus on the times their chants echo through Jeld-Wen.
First of many Akron reunions
With former University of Akron players sprinkled throughout the league, ex-Zips boss Caleb Porter (right) is in for a series of reunions throughout the season. At some point, he'll meet up with Vancouver's Darren Mattocks. Perry Kitchen plays for D.C. United. Kofie Sarkodie's now a starter for Houston.
But Saturday will be something special. Seattle has two ex-Zips, with former MAC Hermann Trophy winner Steve Zakuani expected to start with right back DeAndre Yedlin, who was in Ohio with Porter last fall. Add that to the three Akron players on Portland's roster (Nagbe, Ben Zemanski, Michael Nanchoff) and five Zips will be in uniform on Saturday.
"It's weird having so many of the guys in the league at this level doing so well," Zakuani said. "We were just studying for midterms together two years ago."
It's the second time in four months there's been a mini-reunion in the northwest. Many former Zips were in Portland this winter for Darlington Nagbe's wedding.
"I've known [Darlington] since we were 16 years old when we played in a summer league together back in Ohio," Zakuani said. " So I've known him for a very long time. He's my friend.
"I spoke to him a couple of days ago. I was in his wedding."
Many former Zips stay in touch. Even Yedlin and Zakuani, six years apart in age, had a relationship through the school before they were teammates in Seattle.
"Akron can be something special," Zakuani said.
With the school set to be well-represented at CenturyLink, the school's soccer program could be in line for a special Saturday. So could the man who cultivated Akron's talent factory.
Road demons take a back seat, still linger for Portland
Through their Major League Soccer existence, the Timbers have had two distinct faces. At home, they've proven themselves capable of beating anybody, as Supporters' Shield winners San Jose found out last season. The Earthquakes took only one point from two games at a team that finished eighth in the Western Conference.
On the road, Portland isn't anywhere near as threatening. In their 34 MLS matches away from Jeld-Wen, the Timbers have won only three times. Their one road win of the 2012 season came on the season's last trip, a Cascadia Cup-clinching victory at Vancouver.
"One of the things this club needs to do to have a better identity is do better on the road," new captain Will Johnson told OregonLive.com. Johnson joined Portland this offseason after five years with real Salt Lake.
"The things I've found is getting a mentally tough group of guys who will stick together," Johnson said, asked what it takes to have success on the road. "Who will battle through and weather the storms? If you can get a block (of guys) together and the guys have bought into the fact that, 'Listen, we're going into a street fight. This isn't going to be pretty. It's not going to be fun, but it's what we have to do to get to where we want to go.'"
Their last trip to Seattle was Oct. 7, a 3-0 loss in front of 66,452.