If we examine the back stories on how rivalries achieve their deliciously acrimonious state – real rivalries, that is, and not the manufactured ones fans tend to sniff out and disregard with extreme prejudice – they usually check the box on one or more of the elements you see in the box below.
Here we look at the FC Dallas-Houston Dynamo rivalry, and which boxes get checked in the Texas Derby:
The teams meet at 1 p.m. ET Sunday (ESPN2) at FC Dallas Stadium.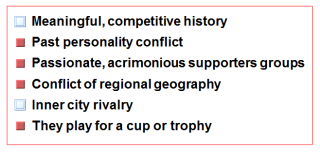 The backstory:
If you live in Dallas, you don't like Houston.
Other way around, too. That's just the way it is.
Informed sources have been trying to dissect this one for decades. Of course, we are just talking about soccer here – no need to delve into the cultural nitty-gritty of it all. In some ways, it's just down to the two largest cities in a large, proud state.
So when Houston relocated from San Jose before the 2006 season, this one was an immediate natural, an I-45 series of contention in soccer to go with the I-45 rivalry in NBA, in NFL, in MLB etc.
And it does get nasty, even in preseason. Like a rather notorious incident about 14 months ago when a clash between Houston's Geoff Cameron and Dallas' Jair Benitez (which may have involved some spitting from the FCD man) nearly launched a full-on donnybrook before the regular season even started.
This piece from Big D Soccer attempted to put the rivalry into some context, although the bottom line was essentially, "fans from Houston don't like fans from Dallas, and it's mutual." From the story: "Their other sports teams may just be pitiable, but the Dynamo have proven themselves worthy of outright scorn."
The Texas Derby also has one of the league's unique, uh, "trophies."  The two clubs compete annually for El Capitán, a replica 18th century howitzer cannon. (And that bad boy goes boom with a menace; the wise fans on either side know to brace themselves.)
On the field, the rivalry has been a bit lopsided; El Capitan has found its home in Houston five times, vs. just twice going north to FC Dallas Stadium. Even in Dallas, the team from North Texas is just 2-3-4 against Houston.
Sunday's match: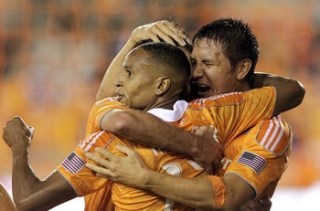 Houston must pick themselves up from the disappointment of its quarterfinal series loss in CONCACAF Champions League; Dominic Kinnear's team fell to Santos Laguna, with the Dynamo defense looking very un-Dynamo-like in the return leg four days ago in Torreon, Mexico.
But the Dynamo did open its MLS account profitably; Ricardo Clark (pictured) ran the show as the the MLS Cup runner-up downed D.C. United in a reprise of last year's Eastern Conference final.
Dallas, notoriously slow starters during Schellas Hyndman's time in charge, has struggled to get its midfield act together, having hung on for a 1-0 win at home over Colorado to open the season, but then falling at Chivas USA in a messy match last weekend in California. Panamanian international Blas Perez should add some pep and passion to the FCD front line, getting into the team for the first time in 2013 after serving a two-game suspension.
The full preview from MLSSoccer.com is here.
MLS on NBC makes its 2013 debut Saturday when Arlo White and Kyle Martino call New York Red Bulls against D.C. United at 12:30 p.m. ET. NBC Sports Network carries two contests after that (Sporting KC vs. Chicago Fire, then Seattle vs. Portland). In between, "The Breakaway" will show goals from foursome of matches NBC is not carrying.
ProSoccerTalk's series of Rivalry Week back stories:
FC Dallas-Houston Dynamo
LA Galaxy-Chivas USA