If we examine the back stories on how rivalries achieve their deliciously acrimonious state – real rivalries, that is, and not the manufactured ones fans tend to sniff out and disregard with extreme prejudice – they usually check the box on one or more of the elements you see in the box below.
Here we look at the Chivas USA-LA Galaxy, and which boxes get checked in the Los Angeles derby:
The teams meet at 5 p.m. ET Sunday at the Home Depot Center.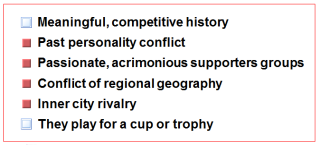 The backstory:
Inner city derbies are the stuff of soccer legend. Two teams competing for the soccer soul of a town? Yes, that's wonderfully provocative stuff.
But what if the logistical proximity is mightier still? When you share a facility – and not just on game day, but every doggone day of the week – there's bound to be some tension.
There certainly is with Chivas USA and the LA Galaxy, Major League Soccer's version of El Clasico.
There's a culture clash here, one that goes beyond the usual crankiness of opposing supporters groups. The Galaxy has attempted to establish itself as the league's glamour team (and they've done a pretty good job of it – or perhaps you haven't heard that David Beckham played six seasons in the Galaxy kit?). In that regard, Chivas USA fans like to see themselves as soccer fans, wondering aloud it the Galaxy is more about glitz?
From a Chivas USA supporter in the MLSSoccer.com piece linked above: "They used to be a team that represents Los Angeles, but not anymore. They should change their name to the Hollywood Galaxy. Most of their "fans" (not all of them) have no clue of what soccer really is."
Given the Goats poor launch in 2005 (four wins in 32 matches … yuk!), this one might have lacked some competitiveness early. Luckily, Bob Bradley's introduction as head coach created stability, and the back-and-forth was on.
Oh, and there was Jesse Marsch.
The hard-nosed Chivas USA midfielder gave this rivalry the hostile moment it needed to really catch fire in a clash with Beckham. Back in 2007, Marsch launched a naughty boot toward the global icon, nearly stirring up a full-fledged donnybrook between the sides.
Good times!
And definitely a good derby rivalry.
Sunday's match: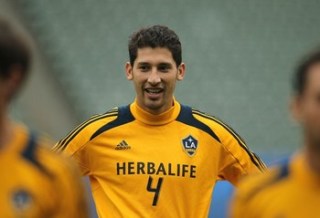 To call Chivas USA  a team in transition is to vastly undersell what is going on. New manager Jose ("Chelis") Luis Sanchez Sola, under a new-old Chivas mothership plan of developing Latino talent, has completely remade the roster.
Chivas collected its first win of the "Chelis" era last week over FC Dallas, but outstanding goalkeeper Dan Kennedy and his teammates have more work to do in this one. The two-time reigning MLS champion Galaxy has been nothing less than outstanding in three outings, two in CONCACAF Champions League and a dominant 4-0 win over Chicago at the Home Depot Center.
And this is without Landon Donovan (who is expected back from Galaxy-approved sabbatical later this month) or without the replacement for high-profile DP David Beckham. Of course, perhaps that's not so surprising with Omar Gonzalez (pictured), the league's top center back, on patrol in the back for L.A.
The full match preview from MLSSoccer.com is here.
MLS on NBC makes its 2013 debut Saturday when Arlo White and Kyle Martino call New York Red Bulls against D.C. United at 12:30 p.m. ET. NBC Sports Network carries two contests after that (Sporting KC vs. Chicago Fire, then Seattle vs. Portland). In between, "The Breakaway" will show goals from foursome of matches NBC is not carrying.
ProSoccerTalk's series of Rivalry Week back stories: