The story here isn't that Rio Ferdinand isn't playing. His withdrawal due to fitness concerns was foreshadowed by Alex Ferguson this weekend. The story is more about how we got here, with the nine-month history of Ferdinand under England boss Roy Hodgson inverting on itself after today's news.
Because of the particular way the 34-year-old has to manage his fitness (subtext: his bad back), Ferdinand isn't prepared to accept Roy Hodgson's recall to the England national team. He called the England boss today to explain the peculiarities of his situation, an explanation the Three Lions boss both bought and appreciated:
"I'm disappointed Rio will not be available but due to the detailed pre-planned training and medical programme he must follow it's not possible," said Hodgson. "However, I was pleased that Rio called and asked to meet with me. It was important to hear from him personally about the way he must manage his body between games."
That must have been a remarkable conversation. Recall last summer, when Rio Ferdinand (above) shared his feelings that his exclusion from England's Euro 2012 squad had less to do with health concerns than internal conflicts. Hodgson, heading into his first major tournament, decided to exclude Ferdinand while professing doubt about whether the veteran defender's health would allow him to compete in a three-plus-week tournament. For Ferdinand, the exclusion had more to do with his inability to play with John Terry, who at the time faced charges on racially abusing Ferdinand's younger brother, QPR defender Anton.
Fast forward nine months, and the tables are turned, even after Hodgson once mistakenly said Ferdinand would no longer be considered. John Terry's retired from international duty, and thanks in part to Michael Dawson's withdrawal from the upcoming qualifiers, Hodgson's thin in the middle. And he's now convinced Ferdinand's fitness won't be a problem.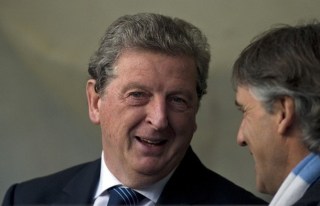 "This is not to say he cannot play back-to-back games – he can and has proven so," Hodgson (right) said on Monday. "He's out this time due to particular pre-planned details already in place for his programme."
Ferdinand could meet England's demands, but to do so, it seems he needs to be at a different point in his program. And not anticipating a callup to the national team, Manchester United's staff probably outlined a routine assuming he'd have a week off. And that didn't happen.
"The issue is not [the amount of games]," Alex Ferguson said this weekend.  "The issue is his whole preparation for football today. It involves treatment, it involves rest, it involves heavy days followed by some light days followed by some easy days."
It sounds like the England callup just came at the wrong time, something Ferdinand had to explain personally.
So it is that Hodgson's reach comes up empty-handed, but give the England boss some credit. Although he's saying the right things and being convivial about the whole situation, Hodgson has ultimately been vindicated. It's still questionable whether fitness concerns were the only reasons Ferdinand didn't go to Euro 2012, but given health is keeping him out of the national team for San Marino and Montenegro, Hodgson would be justified in a "I told you so!"
But that's not the Roy Hodgson we know.
"I must place on record how I was impressed with his commitment to playing for England," Hodgson said. "I look forward to hopefully selecting him for squads in the future."
The feeling is mutual.
"One thing I made clear was that my passion and commitment to represent my country is as strong as ever," said Ferdinand. "It is disappointing that I won't be able to play a part in the upcoming games but I told Roy that I want to continue to be available for England and I look forward to working with him in the future."
It took a long time for them to come together, but Hodgson and Ferdinand are back on the same page. It puts the player back where he belongs – where should have been all along. We don't see him in uniform this week, but there should be a time in the near future where we'll see Ferdinand in all white once more.