There was a time when I partially defended MLS for playing through FIFA dates. Scheduling was just such a bugger for the league. Capping the gushers of financial losses was a priority, and prudent event scheduling was among the safeguards against larger losses still.
But we're past that now. Or should be.
Major League Soccer has expanded the season window, which means they can and have provided some relief here and there during FIFA weekends, like the one coming up. The United States is one of many national teams in action this weekend and early next week.
So why is there a full schedule of MLS matches this weekend? The inertia on this matter is getting harder to accept.
The next matches for prominent leagues in Europe and Mexico? March 30. But eight Major League Soccer contests kick off Saturday or Sunday, smack between the pair of World Cup qualifier dates.
These MLS contests count! Some team will miss the playoffs in 2013 by a point or two, or miss out on higher seeding by a razor-thin margin. (If one of Houston's draws at home last year had become a three-point victory, for example, MLS Cup 2012 would have been in Houston, not Los Angeles. And how different that match might have looked, eh?)
It's just not right for MLS to position itself on one hand as a wanna-be top league around the world – but on the other hand plow stubbornly through competitive matches as clubs do without their valuable difference makers, the men away on international duty. Besides not being fair to ticket buyers and being a drag on quality (which ultimately affects everything), it just doesn't feel right.
The problem, of course, is that going dark on more weekends means adding more of pesky mid-week matches. (Or expanding the playing window further still. But starting in March and ending in December looks like plenty to most of us, including Houston Dynamo GM Chris Canetti, who told me this weekend he thinks the nine-month window is stretched too far already.)
Too many MLS markets still have trouble selling mid-week matches. It's changing. It gets a little better every year, and some markets manage pretty well now.
But MLS hasn't reached the point just yet where enough fans in enough markets will fight through enough icky obstacles to make mid-week matches, or where enough hard-cores will make MLS matches a priority, whether it's on Saturday night or some less-ideal time frame.
The other issues that once kept MLS from avoiding FIFA windows no longer apply. For instance, stadium availability was once a bugger, as so many teams shared a facility, almost always as second-fiddle or lower. Now all but four clubs exercise ultimate control over stadium dates, and even that foursome has favorable negotiating status.
Here's where the pressure is building on this thing: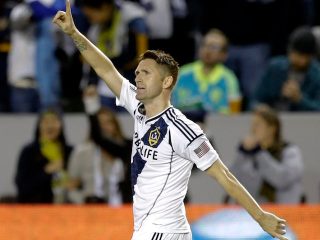 As more high-quality talent migrates into MLS, more players will come up missing on these FIFA dates. So we're not just talking about a few American stars.
L.A. plays Colorado this weekend, but will do so without its two best individuals, Irish international Robbie Keane (pictured) and U.S. center back Omar Gonzalez. Either one of them could have made a case for league MVP in 2012 – and yet the Galaxy is left without them. (OK, OK, I know there aren't too many fans beyond Southern California crying for the two-time defending champs …)
And important Western Conference match will be fought between FC Dallas and Real Salt Lake. Only Dallas will be missing three internationals, including its starting goalkeeper and 2012 leading scorer; RSL will be without five international call-ups, including the team's leading scorer, its goalkeeper and its heart and soul, Kyle Beckerman.
Suddenly, a pretty good match feels a little deflated. And that's what MLS wants?