The U.S. Soccer world may be in an uproar after Sporting News detailed the divisions within the States' locker room, but as the story notes, those divisions didn't just pop-up post-San Pedro Sula. The loss to Honduras has become a flash point for criticism, but it has done little to change what's going on with the team. There have always been doubts, there have always been non-believers, and for Jurgen Klinsmann, there have always been huge challenges to change a culture that's proving more stubborn than expected.
As another veteran of the circuit detailed, all is not lost for Klinsmann, and given some of the responses he gave Sporting News, the U.S. boss is not only aware of the issues but anticipated them. Still, the time for results is nigh, with anything but a win Friday versus Costa Rica turning Tuesday's match in Mexico into a must win. And if the Ticos do get out of Commerce with a result, expect the U.S. pundits to take the Sporting News' work and eviscerate the national team boss.
(MORE: Noah Davis on the chaos in Klinsmann's camp)
"These comments are just normal to me. This team is in a transition. Between two World Cup cycles, faces change. We're doing that, and you also kind of mix up the chemistry. There will be a new group of leaders coming through that process, and that will be responsible for molding everything together."
— Klinsmann, to Sporting News
Those are the personal stakes for Klinsmann heading into Friday's match, though if the Legend of Jurgen holds, he doesn't care. He might not even care enough to address the Sporting News' piece with his team, though he will certainly have read it. The U.S. boss is always aware of the conversation, but as the legend holds he doesn't take any of it personally. Instead of ruminating on what many likened to a dressing down, he's undoubtedly focused on preparing an undermanned team for a game he's called as a must win.
Not exactly the best time to be missing your top goalkeeper and all your choice fullbacks while you're trying to forge a relationship between your new center back combo?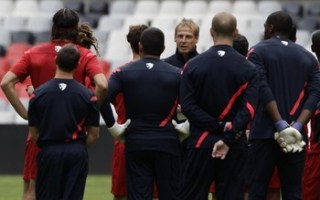 For some, Klinsmann's made his bed, but you can't help but notice a number of factors beyond his control have contrived to set up a trap for the U.S. boss. Klinsmann didn't relish Landon Donovan's health issues ahead of his sabbatical, factors which have left the U.S. without their biggest star for much of Klinsmann's tenure. He didn't contribute to Clint Dempsey's injuries or dip in form, Tim Howard's broken bones, Michael Bradley's lost playing time, or injuries to Steve Cherundolo, Timmy Chandler, Fabian Johnson, and Edgar Castillo. He didn't wreck Omar Gonzalez's knee, and he didn't age Carlos Bocanegra and move him to a second division team that has benched him. If detractors get their chance to toss dirt on Klinsmann's grave, they may want to acknowledge the circumstances that led to his demise.
(MORE: Bocanegra speaks out | Howard follows | Bradley calls out sources)
But let's not get ahead of ourselves. For all their issues, the States are far from doomed. On paper, they have a team that should beat Costa Rica, particularly if the facets Klinsmann has tried to emphasize prove valuable in Commerce. Those facets include fitness, a new more adaptable mentality, but perhaps most importantly (and most maligned) a style of soccer that focuses on technique, possession, and building a style of play that isn't unduly dependent on athleticism.
"It's not the same routine they were used to before we came on board. And my job is to elevate the program and I can't do that by doing the exact same of what they did before me. I can only get to another level by bringing in new players and challenging the older players. By challenging them in every training session, by giving them uncertain feelings here and there—'Do I play or not play?'—and so on."
— Klinsmann, to Sporting News
All of which translates into a method to protect the defense. Eight times in their last 16 games, the U.S. has held at least 59.7 percent of the game's possession. They kept a clean sheet in four of those matches and never gave up more than one goal.
Granted, none of those games were against Costa Rica, and none of them were in The Hex. But they did keep 69.1 of the ball in shutting out Jamaica last year. Against Guatemala, their possession numbers were 62.8 and 74.3. Versus Venezuela, they fished with just under 60 percent of the ball, while 61.9 and 66.1 possession in two games against Canada produced 180 shutout minutes.
All of those matches may prove easier than Friday's, but they outline a recipe. Possession may not necessarily lead to wins, but it's hard to argue with the basic logic supporting its virtue: It's almost impossible for your opponents to score when they don't have the ball. And the best way to protect a potentially suspect defense will be for Michael Bradley, Jermaine Jones, Clint Dempsey and the rest of the team to do what they've proved they can: Keep the ball.
(MORE: Dempsey to captain U.S. vs. Costa Rica, Mexico)
Should that recipe save the U.S. on Friday, Klinsmann will have a measure of vindication in what's been his most trying time. The Sporting News report was damning in its quality – an inscrutable survey from an established source – but it didn't offer conclusions. It left its conclusions to the readers, most of whom let the anxiety surrounding their national team see the features as an indictment. More readily, the article presented a conflict, one which may be resolved on Friday.
If the U.S. lose, the players who detailed Klinsmann's faults will be seen as overlooked canaries in a contaminated coal mine. But if Klinsmann wins and does so with an approach he's fostered over the last year and a half, the besieged boss may deserve a series of anonymous recantations.