DENVER — Where did this perception of a Jurgen Klinsmann spiral come from?
Let's dive into the "Why?" on this sudden, raging unease and unrest over the U.S. manager.
Why, for some fans, media and supporters, was he the darling of our U.S. Soccer establishment one day, a prized innovator ready to get this team off its plateau, then something very different the next? Why was he suddenly a bumbling know-nothing (at least in some eyes), a man who is risking our World Cup and needs bailing out worse than the banking system of 2008?
It really comes down to five perceived problems. Let's look at them:
Treatment of Carlos Bocanegra
I distinctly remember watching Carlos Bocanegra, the once stately U.S. captain, during a couple of sequences in semifinal qualifying. He was caught out of position and just did not have the foot speed to recover. I recall thinking, "Hmmmm. This is a problem."
Players do get older. The quickness and mobility slips away. Some can make positional adjustments and "think" their way into a slightly more prolonged career. But only a precious few can keep their game at international level into their mid 30s, and Bocanegra turns 34 in May.
We all wrote two years ago about the inevitability of it, about how Bocanegra would struggle to be effective as a 35-year-old during the 2014 World Cup. Guys like Omar Gonzalez and Geoff Cameron were always going to pick up the baton at some point.
Is this really so shocking?
VERDICT: Not guilty 
Grand designs abandoned, grand promises not kept
What about that higher defensive line, the sharper passing out of the back, the more attack-minded philosophy as represented through consistently aggressive tactical approach?
Klinsmann did arrive with visions of something better, something more stylistic, something attack-minded that U.S. supporters could really get behind (although the highly pragmatic approach under Bob Bradley doesn't look so doggone bad anymore, now does it?)
On this one, Klinsmann has made little or no progress. His best results have arrived via matches that highly resembled Bradley's blueprint, which was about tightly organized lines of defense, and then offense through counter-punch and set piece magic.
Here, Klinsmann's hands have been tied. His most dynamic man, Landon Donovan, has been scarcely available. His options for wingers and playmakers? Meh.
I know everyone wants to see more – but honestly, you really think Jose Torres is all that? Klinsmann did himself no favors through over-promise. Otherwise …
VERDICT: hung jury 
A semifinal round that didn't go swimmingly
In the end Klinsmann's team finished atop its semifinal round group, earning 13 points to match the team's second-highest total in a semifinal round in the last five World Cup cycles.
But style points were lacking (see above) and it did come down to the final match day, which is probably too close for comfort for either Mexico or the United States, the region's powers.
 VERDICT: hung jury 
Perceptions of player mistreatment (mostly Jozy Altidore)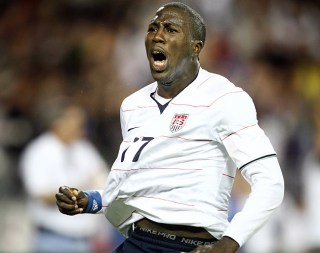 Criticism of Klinsmann on this is rather silly.
The coach upset a bunch of folks by not calling Altidore for two qualifiers last fall, never mind that he was scoring regularly for AZ in the Netherlands.
Klinsmann simply didn't think Altidore was working hard enough – especially as a guy like Terrence Boyd set the example for how to seriously get after it during practices.
I said all along, this was never about Altidore in qualifying; the United States had enough muscle to reach the final round.  This was about building the best Altidore for the long haul – and what manager wouldn't want that?
Klinsmann sent a message. Altidore heard it. The young striker is better off.
VERDICT: not guilty 
Inclusion of multiple German Americans
This is one where Klinsmann has over-reached. Yes, Fabian Johnson, Timothy Chandler, Danny Williams, Jermaine Jones and Boyd are either bright young stars in the making or talented figures who offer the team something more concrete right now. (Jones and Chandler, by the way, were brought into the system under former manager Bob Bradley.)
But there was surely a point of diminishing return here, where Klinsmann began running a risk of doing harm to the domestic coaching establishment, and potentially to his locker room, too.
He is absolutely correct that Chandler, Johnson, etc., are "Americans," and they are 100 percent eligible to play for the national team. He made the point again at Thursday's news conference.
Still, perhaps a little more discretion here, a little more judicious use of this card, would be helpful. In terms of mitigating locker room cliques and ensuring that development here remains a valued cornerstone of the U.S. Soccer organization – rather than just picking off the "passport players" developed in other lands – he's probably got enough players in the pool now who didn't grow up in the United States.
VERDICT: guilty