If there was ever a time to show a preference for the U.S.'s Europe-based soccer players, the upcoming international break would be it. Yet for the women's national team's early April friendlies at Germany and the Netherlands (Apr. 5 and 9), head coach Tom Sermanni has elected to call in a predictable squad. Yes, names like Tyresö's Meghan Klingenberg and Western New York Flash's Adrianna Franch opened some eyes, but throughout the rest of the 23-woman team, the U.S.'s squad offered few surprises:
Goalkeepers: Nicole Barnhart (FC Kansas City), Adrianna Franch (Western New York Flash), Ashlyn Harris (Washington Spirit)
Hope Solo is recovering from a wrist surgery that will keep her out until June. Jill Loyden, who seemed to have claimed the backup's role, is out with a broken hand. That left the veteran Barnhart, the recently capped Harris, and a void.
Sermanni has elected to call in Franch ahead of Jane Campbell, the 18-year-old he brought in to the Jacksonville camp, and Alyssa Naeher, who has only conceded 11 goals in 12 starts for Turbine Potsdam in Germany. That leaves Franch, a recent graduate of Oklahoma State who is set to embark on her first professional season, to join the senior team in Germany.
Though the third-choice keeper will likely be irrelevant, it was one of the most anticipated selections of the April roster. Sermanni elected to go with Franch, somebody he's already seen in a previous camp. rather than take a look at Naeher.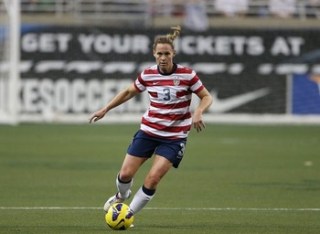 Defenders: Rachel Buehler (Portland Thorns FC), Crystal Dunn (North Carolina), Whitney Engen (Liverpool, England), Julie Johnston (Santa Clara), Meghan Klingenberg (Tyresö, Sweden), Ali Krieger (Washington Spirit), Kelley O'Hara (Sky Blue FC), Christie Rampone (Sky Blue FC, pictured, right), Becky Sauerbrunn (FC Kansas City)
The only real surprise here is Klingenberg, who is just as likely to get time in midfield as defense. The former North Carolina Tar Heel has two career caps, with former head coach Pia Sundhage previously flirting with the idea of converting her to a fullback's role. Just coming off shoulder surgery, the 24-year-old's inclusion was Thursday's biggest surprise.
The recalls of Dunn and Johnston are mild eye raisers, but at this point in the Sermanni era, each seem so close to being regular selections that it's not worth marveling when they get called in. Dunn, in particular, looks to have secured a regular recall, with the MAC Hermann Trophy winner seeming to establish herself as Sermanni's second choice at right back.
Midfielders: Yael Averbuch (Göteborg, Sweden), Shannon Boxx (Chicago Red Stars), Lauren Cheney (FC Kansas City), Tobin Heath (PSG, France), Kristie Mewis (FC Kansas City), Heather O'Reilly (Boston Breakers), Megan Rapinoe (Lyon, France)
Again, no real surprises here, though those wondering if Sermanni was giving players extended tryouts during the Algarve Cup could read something into the continued inclusions of Yael Averbuch and Kristie Mewis. With Carli Lloyd's shoulder injury keeping her out for up to six more weeks, Averbuch should see regular time in the middle of the park.
Mewis, fresh out of Boston College, is more in Dunn and Johnston's boat. It's no surprise to see her called in, but her playing time will still be iffy.
Forwards: Sydney Leroux (Boston Breakers), Alex Morgan (Portland Thorns FC), Christen Press (Tyresö, Sweden), Abby Wambach (Western New York Flash)
Don't expect this foursome to change anytime soon. It is arguably the deepest and most talented position for any team in international soccer.
The foursome also seem to have found a balance. Press is playing more as a right wing/midfielder in Sermanni's typically 4-4-2 formation. Morgan and Wambach are starting up top with Leroux playing the supersub's part. When Wambach needs a rest, she switches with Leroux. Everybody's getting time.
Who didn't get called in?
Lindsey Horan, F, Paris Saint-Germain – If you expected Sermanni to lean toward recalling Europe-based players, the exclusion of Horan was a surprise. The 18-year-old PSG regular has 11 goals in 16 Feminine Division matches, but she also failed to make an impact during limited time at the Algarve Cup.
Sarah Hagen, F, Bayern Munich – The 23-year-old striker has 13 goals in 24 Frauen-Bundesliga appearances, but at 5'11", she also projects as more of a target striker. In a squad that has Abby Wambach to target and Alex Morgan playing along the defense's line, it's difficult to see where she fits.
Hagen deserves a look, and the upcoming camp gave Sermanni a chance to recall her, but for a new coach who is still familiarizing himself with the player pool, the April friendlies may be too soon for Bayern's promising forward.
Amber Brooks, D/M, Bayern Munich – Brooks' double in her Bundesliga debut may have raised her profile ahead of Thursday's callup, but there are still questions as to whether she possesses the quickness to fulfill a defensive midfielder's role. That's the position she's most likely to compete for in the national team.
As a U-level standout and an accomplished collegiate player, Brooks is destined to get a chance. But that opportunity may not come until she returns stateside and can impress Sermanni if (when?) she joins the Portland Thorns.
Camille Levin, D, Göteborg – Having established herself as a regular in Sweden, the former Cardinal seems like another player who will eventually get a call. Yet when you look at the defensive depth in a team that's called in nine players capable of playing at the back, Levin seems squeezed out. She may be making an impact in Sweden, but Sermanni's is a numbers game. Which defender should be dropped to make room for Levin?
The 22-year-old seems destined to get a look, particularly with two-plus years separating Sermanni's team from the next World Cup. On Thursday, the number just didn't work in her favor.
Alyssa Naeher, G, Turbine Potsdam – Long jams on the depth charts of Sermanni's field positions explain why Horan, Hagen, Brooks, and Levin were excluded, but Naeher's snub is a little more confusing. The 24-year-old is starting for the second place team in Germany, one that's established a good defensive record.
Is that enough to stake a place in the team? Not necessarily, but when Hope Solo is out, and Jill Loyden is out, who do you have left?
Sermanni likes Franch enough to justify her recall, but there's a certain logic behind leaving the young keeper with her club ahead of her first pro season. With the Germany-based Naeher performing well ahead of a camp that starts in Germany, this was the time to call her in.
That she wasn't makes you wonder what would have to happen for Alyssa Naeher to get a look with her national team.