For the second straight round, Barcelona will return to Spain with more questions than answers. While today's 90-minute score is far kinder to the Blaugrana than during their Round of 16 scare, today's 2-2 draw at Paris Saint-Germain comes with four ominous words: Lionel Messi is hurt.
The Barcelona star came off at halftime after putting his team up 1-0 in the 38th minute. The final moments of his day were spent near the sideline pushing at what appeared to be a right hamstring problem.
With Cesc Fábregas on in the second half, Barça and PSG looked destined to take the one-goal game back to Catalonia. Then a late rush of goals left the sides on even footing: Zlatan Ibrahimovic's 78th minute goal fulled PSG even; a late Xavi Hernández penalty kick seemed to give Barcelona the win; but Blaise Matuidi's stoppage time tally eventually provided PSG's silver lining.
But until we know more about Messi's injury, it's impossible to put this result in context. If Messi can't play eight days from now, Paris Saint-Germain are in great shape. True, they were drawn in their home leg and allowed two away goals, but for much of the match at the Parc de Princes, they seemed to be the better side. Messi's opener against the run of play changed that dynamic, but with the teams even ahead of kickoff next Wednesday, PSG has reason to hope their plan can send them into the semifinals.
(MORE: Bayern worlds ahead of Juventus.)
Ancelotti's plans go to waste
If Messi plays, however, that plan my prove as irrelevant as it was on Tuesday. So what if PSG were the better team over the first 38 minutes? Ezequiel Lavezzi's shot off the woodwork in the fifth minute ultimately didn't matter. Lucas Moura's success down the right? Ibrahimovic's 18th minute direct kick, forcing a diving stop from Víctor Valdes? Or the shot Ibrahimovic scuffed wide in the 25h after being set up eight yards?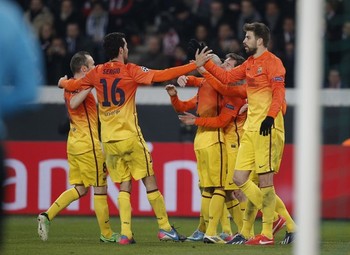 With two pieces of gold in the 38th minute, Barcelona rendered all that insignificant. That's when Daniel Alves, with the outside of this right foot, curled a ball over a defense pushing out from a corner kick. Messi sprinted by Moura and Javier Pastore, past a PSG defense that'd failed to reestablish its shape, and onto Alves's ball. He drilled his left-footed volley into the ground, off Sirigu's left post, and in for the opening goal.
As the teams went in for halftime, you couldn't help but wonder what was going through the mind of Carlo Ancelotti, the PSG coach whose plan seemed so right from the get-go. His team was dropping very deep in defense, his back four willing to camp inside the penalty area long before Barcelona's attack forced them to retreat. Ancelotti allowed his central defenders to come into midfield and challenge the withdrawn Messi, while the team's counterattack was generating threat after threat with Moura on the right. Sometimes those threats resulted in shots on goal, other times they won free kicks that made the surprise selection of David Beckham seem prescient.
But just Lionel Messi can dominate a match (his Tuesday goal lifting his season total to a context-defying 59), the world's best player can just as readily serve as an equalizer. For so many reasons, Paris Saint-Germain looked more likely to find the first goal, with Barcelona's only hints of potential being Andrés Iniesta's 20-plus-yard shots taken in front of a recoiling midfield. Yet with a sharp angle finish that did justice to the brilliant ball he was served, Messi's moment of magic proved more valuable than 38 minutes from PSG's 11 stars.
If it weren't for Víctor Valdes's work before the goal, Messi's may not have been the opener. Defender Gerard Piqué was particularly strong, giving one of his better performances of the season. The near 70 percent possession Barça held during the first half also limited their exposure. And Alves's pass? It was the best of the Champions League season.
But ultimately, it was Messi who made all that work pay off.
(MORE: Three goals in 15 minutes close PSG-Barça – Highlights)
Late match explosion
Barça's clean sheet was ruined in the 79th minute after being left to defend a restart without two defenders. Given how the ball was served, it's unlikely Javier Mascherano or Jordi Alba (injured in the preceding sequence) could have helped when Thiago Silva provided the high point of his stand-out performance, uncoiling on a ball from 12 yards out. The resulting rebound off the left post came to Ibrahimovic, who pulled the Parisians even.
Barcelona regained their lead just before fulltime when Xavi Hernández converted from the spot, the penalty kick rewarded after a clumsy Sirigu takedown of Alexis Sanchez following a backheel from Fábregas. Yet minutes later, a ball knocked down by Ibrahimovic for Blaise Matuidi set up the midfielder for a deflected shot that beat Valdes.
The way PSG scored their goals will be particularly concerning to Barcelona. Defending aerial balls will always be a problem for them, but with Carles Puyol, it becomes a major liability. Silva's play on the 79th minute restart came as Gerard Piqué and little else had to defend Silva, Alex, and Ibrahimovic. Then in stoppage time, a ball lofted from the right by Christophe Jallet allowed Ibrahimovic to set up Matuidi.
(MORE: Highlights of Bayern's cruise past Juve.)
Just deserts and moving on
A sliver of controversy will follow the tie to Barcelona, with Ibrahimovic appearing to have been offside position ahead of his goal. Yet the result was no less than the Parisians deserved. While the teams played an even match after Messi's opener, it was PSG that came out the better team with a superior plan. Had they broken through with one of their early chances, Barcelona would have been left to solve an often debilitating scenario: Breaking down a deep, tightly organized team with a group particularly ill-equipped to bust bunkers.
But thanks to Messi, Barcelona got on the board first, a fact that brings us full circle. Until we know Messi's status for leg two, it's impossible to assess the value of today's result. If he's healthy, Barcelona did well to get two goals in Paris. If he can't go, they may be left wishing they'd got more than one score in the 45 minutes where they had their star.