Anytime Zlatan Ibrahimovic faces Barcelona, the main subplot will be about one of the world's best players facing the team that rejected him. Though Barcelona shelled out what was eventually booked as a $100 million price to get the Swedish superstar from Inter Milan in July 2009, the Catalans shipped him back to Italy 13 months later in what stands as the biggest failure of the all-world striker's career. Despite winning a title in Spain, Ibrahimovic ended the season in Pep Guardiola's dog house, with Barcelona eventually taking 30 cents on the dollar to give AC Milan one of the world's transcendent talents.
While with the Blaugrana, Ibrahimovic (right) collected 22 goals and 13 assists in 46 appearances, many of which failed to give the striker his customary 90 minutes. In the two-plus years that've following, Ibrahimovic has 87 goals and 36 assists across 122 appearances with Milan and his current team, Paris Saint-Germain.
With Guardiola having left Barcelona, much of the underlying conflict between player and club is gone. In the buildup to the teams' UEFA Champions League quarterfinal, Ibrahimovic has shown the same respectful awe most opponents hold ahead of a match against what he calls "the best team in the world." Nearly three season after his disappointing year in Spain, "Ibra" seems to have found peace with his rejection.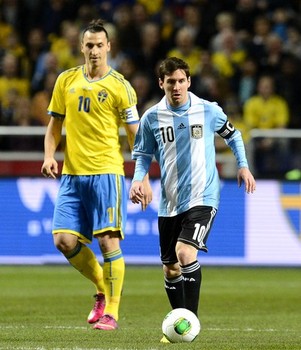 What's left amid Ibrahimovic's continued brilliance and Barcelona's inability (read: unwillingness) to utilize a traditional striker or an attacker with any aerial ability is incredulity. Chalk it up to an anomaly, bad timing, or a conflict of styles between "Ibra" and a fellow superstar (Lionel Messi) being converted to a through-the-middle player, but it's still remarkable one of the world's best clubs couldn't make room for one of the planet's defining talents. Generations from now, fans who won't have the time to watch all of their games will ask why a Messi-Ibrahimovic tandem couldn't be made to work.
But Barça's loss has ultimately become the Parisians' gain, with Ibrahimovic having moved to Ligue 1 this summer. His addition has allowed PSG to put last year's disappointing second place finish behind them. Thanks to Ibra's 25 league goals, PSG sits seven points clear in France. To put Ibrahimovic's performance in perspective, last season's Ligue 1 Player of the Year (Eden Hazard) had 20 goals over the entire season.
Clearly Ibra would be a threat to any team has faces, but with Barcelona's best defender (Carles Puyol) out, he is a particular threat to his former team. With the Parisians presumably willing to sit back, absorb Barça's pressure, and use Javier Pastore, Lucas Moura, and Ezequiel Lavezzi to hit them on the counter, Ibrahimovic could find himself isolated against Gerard Piqué and Javier Mascherano.
That puts the big Swede in a position to be decisive in a match he was supposed to miss. A harsh red card in PSG's first game against Valencia originally had Ibrahimovic suspended for Tuesday's game. After UEFA corrected the error, France's best player is set to take on a side he still calls "without doubt, the best team in the world."
(MORE: Too soon for Bayern-Juventus.)
Notes
In addition to Puyol's absence, Barcelona should be without attacker Pedro Rodríguez. Cristian Tello will likely start up top.
Left back Jordi Alba will return to Barça's XI. Eric Abidal, returning from last year's liver transplant, is expected to make Barcelona's 18.
And David Beckham? Yeah, he'll be there, likely starting on PSG's bench.
PSG is still without midfielder Thiago Motta. Marco Veratti will start along side Blaise Matuidi in Carlo Ancelotti's midfield, though it would be interesting to see Thiago Silva, the team's best defender, put into a midfield role that would allow him more freedom to track Lionel Messi. PSG could then start Alex and Mamadou Sakho in central defense.
Messi set another record this weekend, scoring in his 19th consecutive La Liga match. His seven goals in Champions League trail Burak Yilmaz and Cristiano Ronaldo, who have each scored eight times.
Paris Saint-Germain returns to the quarterfinals for the first time since 1995 when they eliminated Barcelona. That year's semifinal appearance is the club's best showing in Champions League.
Possible lineups
Paris Saint-Germain (4-4-2/4-2-2-2): Salvatore Sirigu; Maxwell, Thiago Silva, Alex, Gregory van der Wiel; Javier Pastore, Marco Veratti, Blaise Matuidi, Lucas Moura; Ezequiel Lavezzi, Zlatan Ibrahimovic.
Barcelona (4-3-3): Víctor Valdés; Jordi Alba, Javier Mascherano, Gerard Piqué, Daniel Alves; Andrés Iniesta, Sergio Busquets, Xavi Hernández; David Villa, Lionel Messi, Cristian Tello.