David Beckham is confident his Paris Saint-Germain side can progress past the all-conquering Barcelona when they meet in the Champions League quarter-final second leg on Wednesday.
Barcelona have not suffered defeat at Camp Nou for over four years in the Champions League, but the English superstar fully believes his side can stun the likes of Lionel Messi, Xavi and Andres Iniesta.
"We have the ability to win the match. We have the players," said the ex-captain of England, in an interview with beIN Sport.
"It's a battle for 90 minutes every time you play Barcelona. They have a lot of the ball, and it's always tough to play against teams like that, but we're capable of going to Barcelona and winning the match."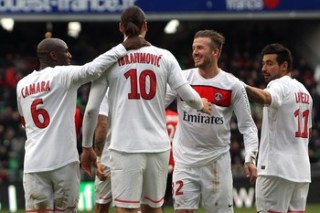 A player returning to Barcelona after a failed spell at the club between 2009 and 2011 is Swedish legend Zlatan Ibrahimovic. The 31-year-old is an arrogant individual and no doubt feels he has a point to prove to his former employers.
Although Beckham can't deny his teammate's brilliance, he fully believes their success is down to a great team ethic.
"Our team is united. Of course people expect a lot of Zlatan Ibrahimovic because he's a leader with all the goals that he scores. He's a really great player and has been a key player at every club he's been at. He's a highly visible player for many people, but we have other important players, very talented players. We really play as a team."
A win for Paris Saint-Germain would result in them making their first Champions League semi-final since 1995.