After years of campaigning for the use of goal-line technology in the Premier League, it now looks like it will be bought into play next season.
It will be used at this summer's Confederations Cup tournament in Brazil, and now the general secretary of the English Football Association, Alex Horne, says the 2013-14 season will finally see it in England.
"Technology that says 'yes, the ball has crossed the line' and lets the referee know makes an awful lot of sense to me,' said Horne in an interview with the BBC.
'The Premier League club meeting is on Thursday so I'm expecting it to go through at that meeting," he continued.
Soccer has fallen behind many of the world's biggest sports in terms of in-play use of technology, but it now looks like they are slowly catching up with them. It's just a shame the decision is about 10 years too late.
Some key moments have been affected by a lack of goal-line technology in recent years in the Premier League, inlcuding: Pedro Mendes for Spurs against Manchester United in 2005 and Clint Hill for QPR against Bolton last season.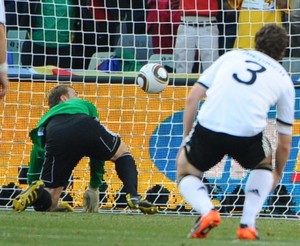 If everything goes to plan, it will be used for the first time in England for the Community Shield; the battle of the Premier League champions and FA Cup winners.