Around this stage of every season pundits, journalists and fans all discuss the best players in the Premier League in each position.
While big-name guys like Luis Suarez, Gareth Bale and Robin Van Persie are an obvious choice offensively, the choice of best goalkeeper is a tougher proposition.
Aston Villa and USA star Brad Guzan has to have a great chance of being named best 'keeper, right?
The 28-year-old is playing in a team near the bottom of the Premier League, but he has been in amazing form all season long. If he hadn't played as well as he has, Villa would already be relegated. Guzan has been great at saving shots, catching crosses and bossing his defence, and he has become a favourite with the fans at Villa Park.
So who else compares with the American in goal this season? The answer is, very few.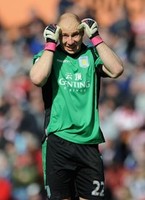 Asmir Begovic of Stoke has been great for another struggling team, and exactly the same thing can be said of Simon Mignolet at Sunderland. Instead of the world-famous 'keepers like Joe Hart, Pepe Reina and Petr Cech being the stars, it has been lesser-known stoppers who have been the best throughout the campaign.
When the Premier League names its 'Team of the Season', Brad Guzan deserves to be the chosen goalkeeper for sure.