As Tottenham's top four challenge slowly falls apart, with injuries and poor form destroying them, and Chelsea continue to suffer with a busy schedule, Arsenal seem to be strolling towards Champions League qualification for next season.
It all seemed so unlikely two months ago.
This is down to one key element: they have a fresh, fit squad who have only had the Premier League to play for since February. While their defeats to Bradford, Blackburn and Bayern Munich in the three major cup competitions were met with anger by Arsenal fans all over the world, they now appear to be benefiting greatly from those losses.
While their two London rivals are playing two games a week at the moment, resulting in fatigue and increased number of injuries, Arsene Wenger's side are enjoying a full week between games to prepare for the next one. This has resulted in an awesome spell of form from them, winning six of their last seven Premier League games. Many of those wins have been in tough games too.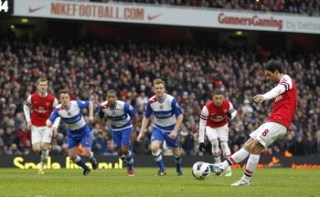 Even without their MVP Jack Wilshere they are winning games for fun; something they were simply not achieving when they were participating in all four competitions earlier in the season.
So, here's a message to all the Arsenal fans out there: although it's nine years without a trophy for your team, Arsenal's poor cup form looks like it's going to earn you a place in the top four of the Premier League rankings.