It takes a lot to contain your emtoin when your team suffers a shock loss, so understand why Málaga chairman Sheikh Abdullah Al Thani let his need to vent get the best of him Tuesday night. But what came out via his Twitter account is a small string of ignorance I would dare any chairman to match if I didn't the dull feeling somebody like Gigi Becali might actually try.
After Borussia Dortmund's two stoppage time goals knocked Málaga out of Champions League, Al Thani tweeted his hopes that UEFA thoroughly investigate the obvious racism that took place at the Westfalenstadion, racism nobody else observed and Al Thani failed to explain: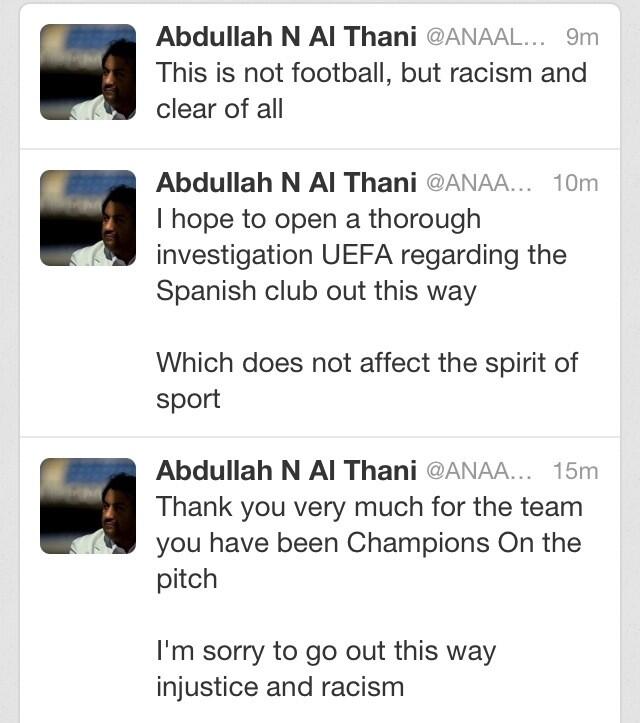 He knows we can see that, right?
Let me try to wrap my head around this one, Sheikh Al Thani. If my inferences are correct, you're imagining a scenario where Málaga was punked, given 180 minutes over seven days to believe they had a legitimate chance to make the Champions League semifinal. Then racism — in some form, but against whom, exactly? — rears its ugly head and ends the Champions League hopes of a club which, although you now clearly love it, your family quasi-abandoned this summer.
If that's the case, what a brilliantly executed plan, so deft in its execution that the symptoms were impossible to detect. Because there we were, millions around the globe, thinking that Málaga were going through to the semifinals before Marco Reus and Felipe Santana got help from some racists – people who finally decided to step in and give Dortmund their pre-determined result.
That's what you're envisioning, right Mr. Al Thani? If so, what incredible cool to risk Willy Caballero saving either of those stoppage time shots, potentially foiling this obvious agenda of bigotry and race-hate. That was some awfully cavalier racist match-fixing.
But no matter how much I load this up with sarcasm, Grantland staff writer Brain Phillips did more in his 140-allotted characters than I could hope to accomplish in this entire post:
Where's Keith Olbermann when you need to pick out a Worst Person In The World? I know in the day and age of the North Korean crisis that award may be a no contest, but Al Thani still managed to throw his hat in the ring.