Manchester City coach Roberto Mancini knows the title race is over this year, but believes his side will boss the Premier League next season.
City's 2-1 win against rivals Manchester United on Monday won't stop Fergie's side winning another title, but Mancini knows his team will be very different threat next campaign.
"We know we can win the title next season but this year we made some mistakes," the Italian told reporters in England.
"It is unfortunate, we can do nothing. This season the title is gone."
"United have won a lot of games and they lost their last game against Norwich in November, a long time ago."
City dominated their great rivals for a lot of the game, and Sergio Aguero's moment of greatness won the blue side of Manchester all three points.
The goal was like his title-winning strike against QPR on the last day of last season, and he was very happy to score the winner.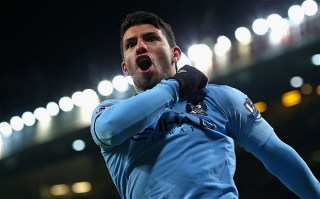 He left a message to his fans on his twitter page (@aguerosergiokun):
"Thrilled about the victory. I'd like to especially dedicate this goal to my son Ben. C'mon @MCFC!! Fight til the end!!"
City's win still gives United a formidable 12 point lead at the top of the standings, and they need just 10 more points from their remaining games to record the 20th league title in their history.